Crypto
Solana Sees 31%+ Price Rise After Crypto Phone's Launch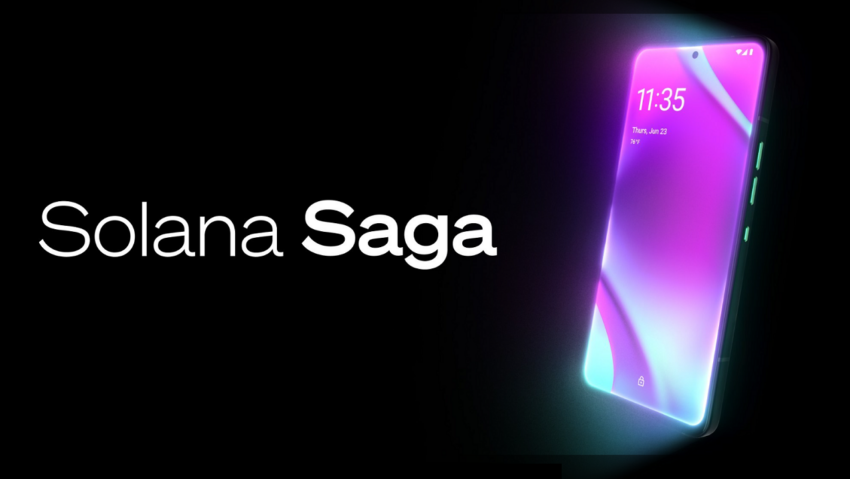 Solana's price saw a massive hike after the flagship Android smartphone called "Saga" was released by Solana network.
The phone represents Solana's entry into the Web3 ecosystem's mobile-focused expansion. Holders' sentiment is seemingly optimistic after the introduction of the Ethereum-killer, the new name for the Solana phone launch.
Buy Solana via FCA Regulated eToro Now
Your capital is at risk.
The Affect Of Saga Announcement On Solana Price
Since its official premiere on Twitter a few days back, Saga has stirred up a lot of discussion on social media. Since then, SOL prices have skyrocketed. As of the time of publication, it has increased by 12.5 per cent in the last day to 40.8 USD. With a 31 per cent bullish spike over the past week, the Solana prices have also significantly rebounded. The volume has also increased by 32 per cent to $1.89 billion in the past day.
As we approach the fourth weekend in June, the price of Solana in the third week has seen a greater pace. A price run has not yet been verified. Since the low of $27.80 on June 12, the price has been able to recoup 40% of lost gains. Due to the lack of volume and investors' uncertainty about the state of the market, value has increased.
In the last seven days, Solana saw a hike from 32 USD to a high of 42.23 USD from 20 to June 26, in a mere time of 7 days, a hike of 31.5 per cent increase.
Solana (SOL) 7 Day statistics according to Coin Market Cap
Following the Saga revelation, the social dominance metric soared.
The live Solana price today, according to CoinMarketCap, is 40.5 USD with a twenty-four-hour trading volume of 1,111,447,188 USD.
Solana is up by about 1.30 per cent in the last 24 hours. Solana is ranked nine with a market cap of USD 13,897,807,900. It has a circulating supply of 342,768,941 SOL coins. You can trade Solana here at Coinbase and Binance, which are some of the top crypto trading platforms.
Invest in Solana via FCA Regulated eToro Now
Your capital is at risk.
Saga- The Crypto Phone Notable Features
The mobile phone will cost roughly $1,000 and be on the market by early 2023, according to Anatoly Yakovenko, CEO of Solana Labs. Solana has shifted its growth strategy to one that is mobile-focused, and "Solana Pay" will be incorporated to support on-chain payments.
Users can download decentralised apps like trading platforms and NFT marketplaces from this device's decentralised app store.
By releasing the "SAGA" smartphone, which focuses on cryptocurrencies and Web 3.0, Solana Labs (SOL) hopes to make blockchain technology accessible to everyone.
This smartphone is available for pre-order in the US for a starting price of $1,000 and will run Google's Android operating system.
Technical Specs
Saga features a 6.67-inch OLED display, with the most recent flagship Snapdragon 8+ Gen 1 Mobile Platform, a 12- GB RAM, and 512- GB of storage.
The Solana blockchain is connected with the distinctive features and functionality of the smartphone, making it easy and secure to conduct web3 transactions and manage digital assets like NFTs and tokens.
The company also unveiled Solana Mobile Stack (SMS). This Android framework enables developers to build robust mobile experiences for wallets and apps running on Solana and to establish a "Secure Element" for managing private keys. In order to integrate this Solana Mobile Stack development kit for decentralised applications and Web3 programmes, Solana Labs is customising an OSOM phone with specialised crypto wallet features.
Several Feature Related to Web3
According to a news release, the Solana Mobile Stack will include a number of solutions, such as a Seed Vault, a software custody solution that secures sensitive data such as private keys, seed phrases, and other passwords on an Android device.

Last but not least, Saga SMS will soon have Solana Pay for Android, a platform that permits mobile payments. In order to enable developers to produce engaging mobile experiences on Solana, the phone seeks to provide a new set of frameworks for apps and wallets.
A number of cryptocurrency businesses, including FTX, Phantom, and Magic Eden, will also be collaborating in the Solana Mobile Stack. Additionally, a 10 million USD developer fund is available for those who create programmes based on SMS.
According to COO Raj Gokal, Solana Labs, indicating the Saga phone said, the builders are at the corner, and they are higher quality than ever before. Solana is prepared for the coming phase of user expansion.
Saga To Improve The Crypto-Mobile Relationship
The reason behind taking the name "Saga" is because the story (the Saga) of cryptocurrency is still being written, said the founder of the Solana network, Raj Gokal.
This launch is the start of the next new chapter in the story for Solana and the crypto revolution. We think that bringing cryptocurrency to mobile devices will increase adoption, improve comprehension, and provide additional opportunities, stated Goyal.
According to Anatoly Yakovenko, Co-founder of Solana, "about seven billion people use smartphones worldwide, and more than a hundred million individuals possess digital assets, and both of those figures will continue to expand."
I really feel that the industry needs to take this action. It's been thirteen years after Bitcoin's inception, and yet we didn't see a single crypto feature at the Apple developer conference, explained Yakovenko as the reason behind launching the Solana crypto phone.
The team at OSOM, a top Android development corporation with experience producing hardware for tech giants and corporations like Apple, Google and Intel, among many others, are the ones who have designed and produced Saga.
Your capital is at risk.
Jason Keats, the Co-founder and CEO of OSOM, said in his statement that their partnership with Solana happened because we realised that the world needs unique hardware to welcome the future, that is, web3, and simultaneously build up a network that looks toward the end without being burdened by past inheritance ecosystems is incredibly thrilling for us.
The Future For Solana
According to current market statistics, Solana is one of the world's fastest blockchains and is considered the top rival of the biggest altcoin, Ethereum.
With this launch, Solana may move beyond merely being a crypto-centric company to one that competes with Apple, Microsoft, and Android. The Solana ecosystem's reach into popular audiences can be increased by concentrating on providing more web3 alternatives to mobile devices, which may encourage other crypto blockchains to follow suit.
The revelation also comes at a difficult time for the cryptocurrency market, which has seen a sharp decline in crypto prices.
Yakovenko appears to be aware that the gadget isn't the most popular but believes that it has the potential to appeal to crypto's most ardent users.
We are going after the real diehards who understand what self-custody is, was Solana's administration's statement.
Your capital is at risk.
According to analysts, the price chart for Solana forecasted that the Ethereum-upward trend would continue in the upcoming weeks. Crypto analyst Brian Bollinger claims that the rising MACD indicator slope suggests an increase in underlying bullishness. Long investments in Solana are becoming more popular, and the altcoin may continue to rise. The 48 USD mark will be the next hurdle for Solana's pricing.
If you are looking to invest in Solana and wondering how to buy Solana (SOL), check these links and start investing today in one of the most successful altcoins today.
Read More:
Lucky Block – Our Recommended Crypto of 2022
New Crypto Games Platform
Featured in Forbes, Nasdaq.com, Yahoo Finance
LBLOCK Token Up 1000%+ From Presale
Listed on Pancakeswap, LBank
Free Tickets to Jackpot Prize Draws for Holders
Passive Income Rewards – Play to Earn Utility
10,000 NFTs Minted in 2022 – Now on NFTLaunchpad.com
$1 Million NFT Jackpot in May 2022
Worldwide Decentralized Competitions
Cryptoassets are a highly volatile unregulated investment product. No UK or EU investor protection.