Crypto
Driverless Cars Smart Portfolio on eToro Up 52% – How to Invest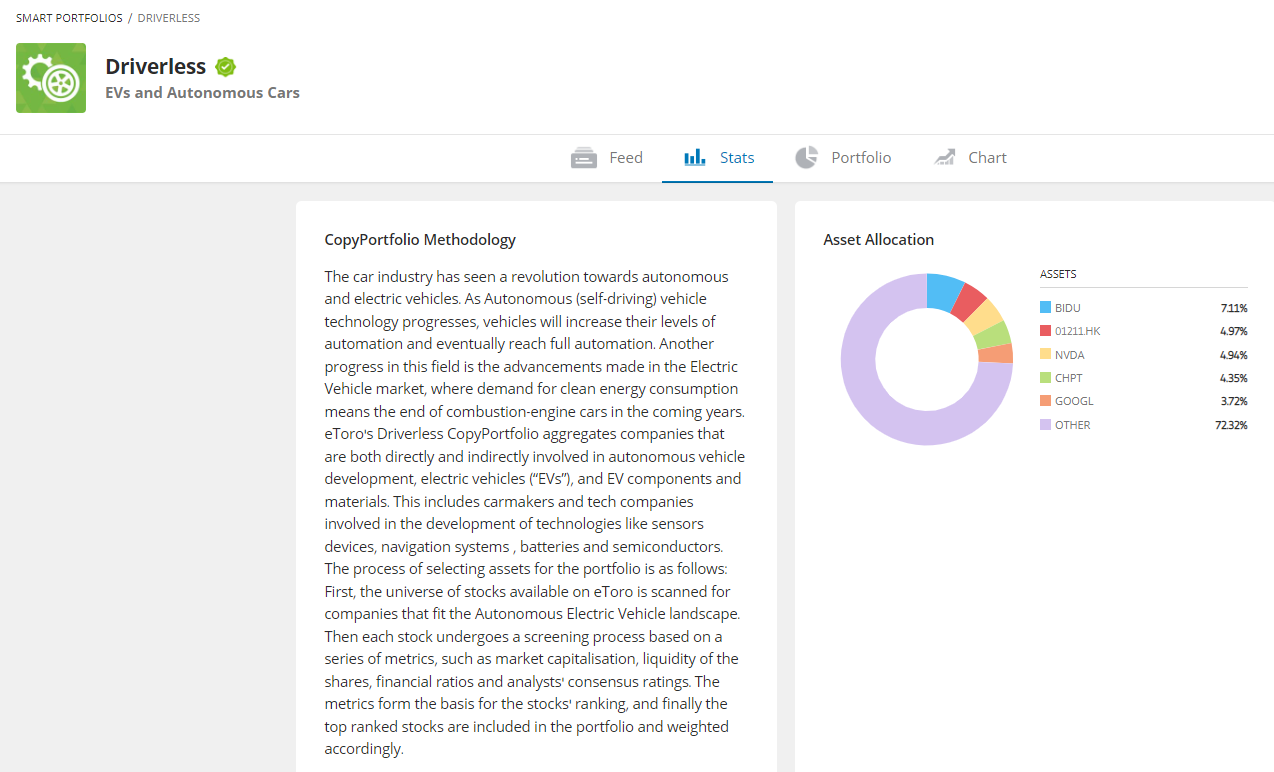 The Driverless Cars smart portfolio on eToro has returned more than 52% in gains over the last couple of years. These returns are nothing but impressive, given they were secured when a pandemic managed to paint most stock portfolios in red.
Multiple technologies have managed to find a commonplace in the way we choose to go about our days. Be it smartphones, or the television. They've changed the way we behave and have almost made us entirely dependent on themselves. One such technology that's expected to take over the automobile sector, and shows incredible promise for the same is driverless cars. Expected to eventually become a market worth 7 trillion dollars.
Skipping on something so massive wouldn't be wise. But it can be tough to research by yourself, and get to know everything in detail about the industry, to then make investing decisions. Save yourself some time, and effort, and choose to invest in the Driverless Cars smart portfolio on eToro.
Here's all you need to know about it.
Check Out Driverless Car Portfolio on eToro
Your capital is at risk
The Driverless Cars Smart Portfolio on eToro
The Driverless Cars portfolio on eToro comprises 34 companies, with NVDA having the highest share. The portfolio currently has assets worth more than $5 million under management and has been the choice of investment for over 2600 investors.
The diverse nature of companies makes the portfolio less prone to risk, as a company-specific decline won't affect the entire portfolio by much. Although all the companies included are notable, there are a few that you must've heard of, and they are- Alphabet, ABB ltd, Tesla Motors, Apple, Intel, Volkswagen, Mercedes group, Honda and BMW.
Amidst the current macroeconomic conditions, the portfolio has seen some negative light. But for close to two years before that, the graph has done nothing but ascended.

Driverless cars portfolio eToro Allocation
In the year 2021, the portfolio managed to return 33.24% in gains. While in the year before that, it delivered more than 71% in returns. In 2019 too, the portfolio managed to impress significantly as it made investors 31.81% richer.
On a scale of 1 to 10, the portfolio has received a risk rating of 7, which is fairly good for a portfolio of this type. A risk rating is used to make investment decisions, educating investors about the volatility in prices the instrument has undergone.
You must have an account on eToro if you plan to invest in this portfolio. If you don't, that's nothing to be worried about. Opening an account on eToro is incredibly simple and can be done in less than a day. Once done, you can open a position ranging between $1000-$5000, depending on the country you are a resident of.
Why Invest in a Driverless Cars Portfolio?
For starters, the autonomous vehicle market is forecasted to grow at an annualized rate of over 60% over the next decade. Businesses are in to make some serious profit as they help the autonomous industry scale to trillions.
As a private investor, you too wanna be part of this & take advantage of the opportunity. However, with the thousands of companies making promising claims, it can be difficult to not just find but also track the best ones.
Your capital is at risk
A portfolio can help you diversify and spread your capital over different companies in different areas of the market. This not only gives you better exposure but also reduces the risk. Resulting in a healthier investment decision.
Read More:
Lucky Block – Our Recommended Crypto of 2022
New Crypto Games Platform
Featured in Forbes, Nasdaq.com, Yahoo Finance
LBLOCK Token Up 1000%+ From Presale
Listed on Pancakeswap, LBank
Free Tickets to Jackpot Prize Draws for Holders
Passive Income Rewards – Play to Earn Utility
10,000 NFTs Minted in 2022 – Now on NFTLaunchpad.com
$1 Million NFT Jackpot in May 2022
Worldwide Decentralized Competitions
Cryptoassets are a highly volatile unregulated investment product. No UK or EU investor protection.