Crypto
Binance shows resistance to the trade volume trend – InsideBitcoins.com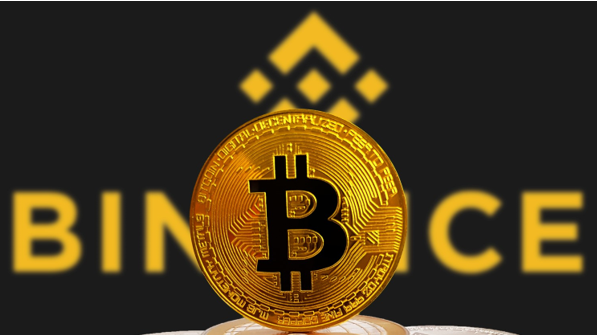 As one of the fastest-growing industries in the world, the cryptocurrency sector has experienced massive popularity in the past two years. This sudden growth was all thanks to the bull market in 2021, which not only managed to create a huge community for the sector but also saw an exponential rise in the value of several projects.
While blockchain as a collective sector may still be in its infancy, it has still positioned itself as an asset class with much potential. This infact can be seen more evidently now, as even certain countries have moved to legalise BTC, the front-runner cryptocurrency as their legal tender.
However, things have been fairly difficult for the investing citizenry these past couple of months. Since the market crash tokens and related assets within the industry have suffered greatly, both in terms of value and engagement. Projects and ecosystems that once recorded millions of dollars worth of trade volume every day have been facing liquidity issues due to a decrease in interest and participation from investors.
Despite all this, there surely have been some winners and losers. While a huge number of organisations struggled to sustain their business and not go bankrupt, some have been enjoying the resources earned during the bull run, which allows them to continuously build their infrastructure now.
Companies like Coinbase had to lay off employees to cut costs, while major projects like Celsius faced severe liquidity crunches. Overall, it had been a fiasco for some organizations that had previously been doing exceptionally well. The sudden market crash not only brought down the value of cryptocurrencies but also impacted major companies while doing so.
Investors, too, are yet to get a clear idea of where the markets may move in the upcoming days and have been skeptical when it comes to parking their funds recently. Although, this hasn't been the case for a few of the aforementioned winners.
Exchanges and their major role in the industry
As an emerging sector, the participation of investors in cryptocurrencies is yet to be mainstream. In fact, a study stated that over 98% of the people didn't even grasp the basics of these digital assets. Due to this, the only straightforward exposure that investors have as a part of the blockchain industry is through exchanges.
While awareness of them being assets with potential can be acquired through mainstream media platforms, it is only through cryptocurrency exchanges that these masses can actually become a part of the industry. Thus, exchanges play a major role within the sector and influence the price movements of cryptocurrencies on a major level.
One such major exchange that has historically been a huge part of the blockchain industry is Binance. As one of the largest exchanges in the world, the developments or actions within its platform are scrutinized by investors and financial analysts. One such instance has recently been recorded, where the exchange has singularly been trading opposite to the volume trend.

Binance resists trade volume trend
Trade volume is an excellent indicator of a prolonged bear market. As traders take advantage of volatility during an initial price slump, trade volume typically surges. Simply put, Trading volume is the total number of shares of security traded during a given period. Investors often use trading volume to confirm a trend's existence or continuation or trend reversal. It generally provides investors with a signal to enter the market.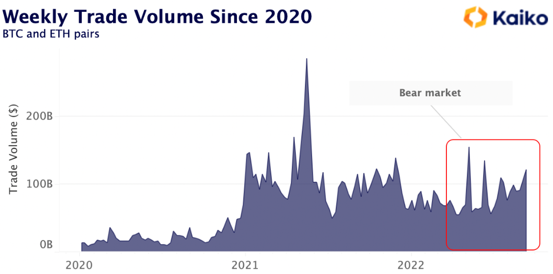 When looking at the combined volume for BTC and ETH pairs across 14 major exchanges, it will be noted that there hasn't been any kind of increasing trade volumes. However, many a time, such aggregated data can be a bit misleading. When separating Binance from other exchanges, it can be noticed that there has been a strong disbalance between the 13 other exchanges and the aforementioned one.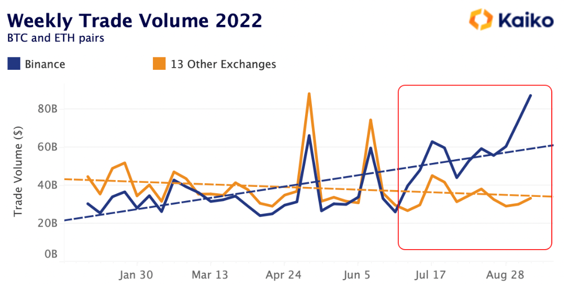 This exceeding volume in Binance may partly be due to it removing fees on BTC/ETH pairs earlier this year. Thus, if only considering the volume traded on Binance, it points out that the market may be in for another crash. This higher demand which puts Binance on a whole different spectrum than its competition is due to the no trading fee feature, which unfortunately many smaller exchanges cannot afford to do.
What is Binance?
Founded in 2017, Binance is the biggest exchange in the world in terms of trading volume, which is evident from the information above. It was founded by ChangPeng Zhao, also popularly known as CZ. The current CEO was a developer who created several high-frequency trading software.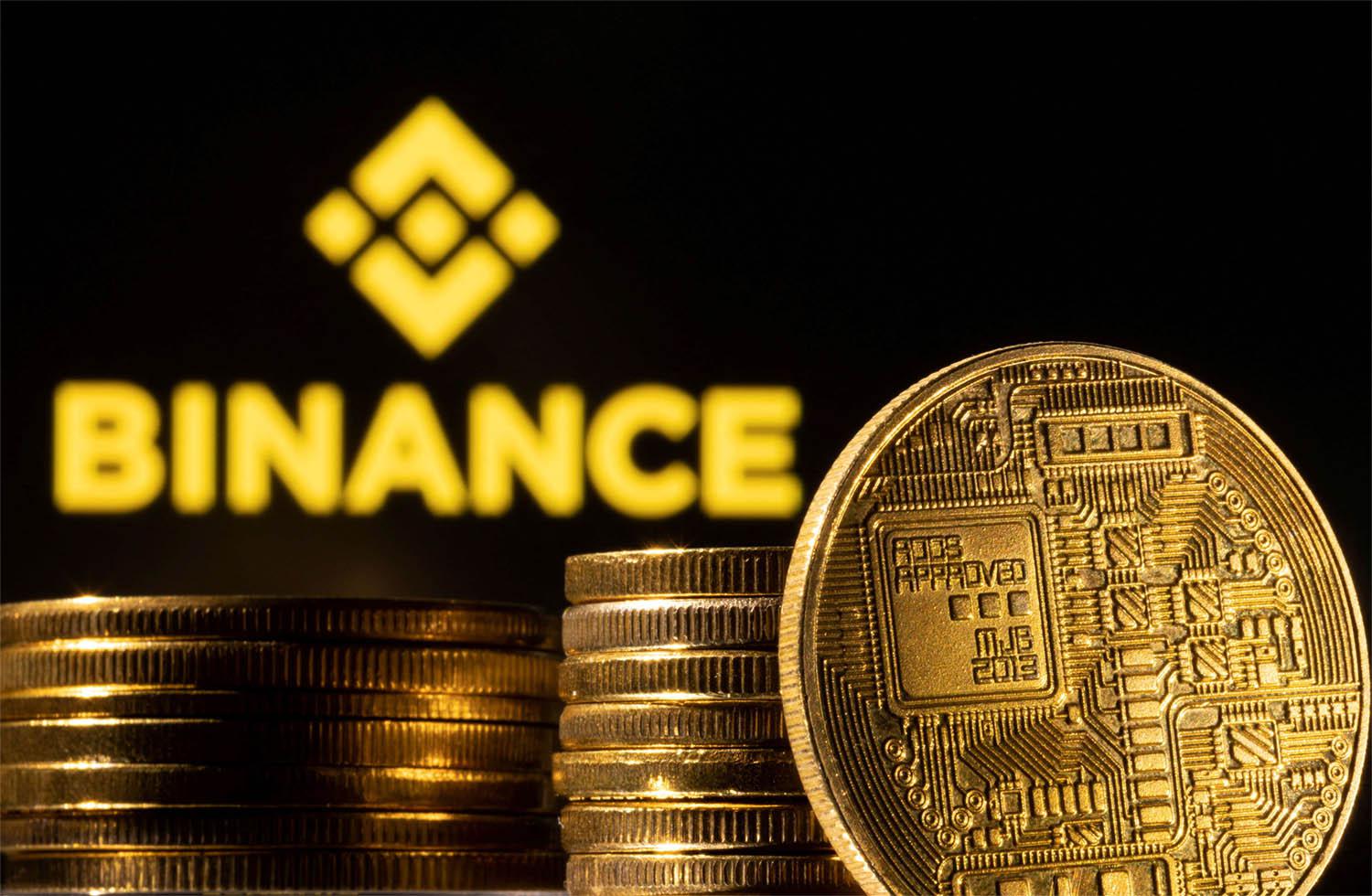 Initially based in China, the company had to relocate its headquarters following China's ban on cryptocurrency trading and related activities. It is registered in the Cayman Islands and was already used by over 28.6 million users back in 2021. Binance has two versions of its exchange offering too. One is for catering to its customer base in the US called Binance US, while the other is a version that is available to other countries it operates in.
How this may affect the market on a whole
Several aspects determine the future movements of the market. While this may not ensure some sort of immediate turn of events in terms of the industry's value, the statistic does depict the shift of users from other exchanges to Binance. This simple change could potentially have a long-term effect.
If only considering Binance's volume, the market may likely see a drop in value sometime soon. But it cannot be speculated with accuracy since a part of the business going to a sole entity may not be unnatural. The kind of growth and trust Binance has built over the years could be the case for a higher number of investors flocking to it.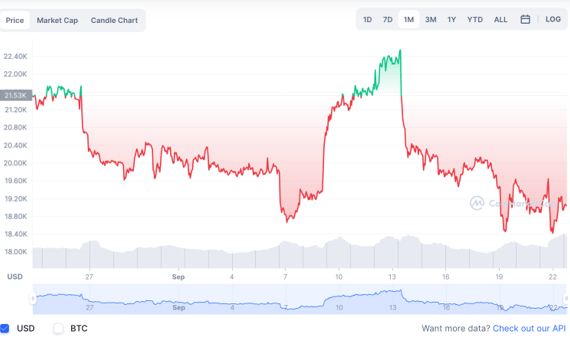 It surely hasn't impacted the cryptocurrency market yet, as prices still seem to be at the levels they have been trading for several months. At the time of writing, BTC, the top cryptocurrency, is trading at around $19,000 with a market cap of more than $360 billion.
Read More
Tamadoge – Play to Earn Meme Coin
Earn TAMA in Battles With Doge Pets
Capped Supply of 2 Bn, Token Burn
Presale Raised $19 Million in Under Two Months
Upcoming ICO on OKX Exchange