Crypto
5 Best Metaverse Altcoins to Buy for High Returns January 2022 Week 4 – InsideBitcoins.com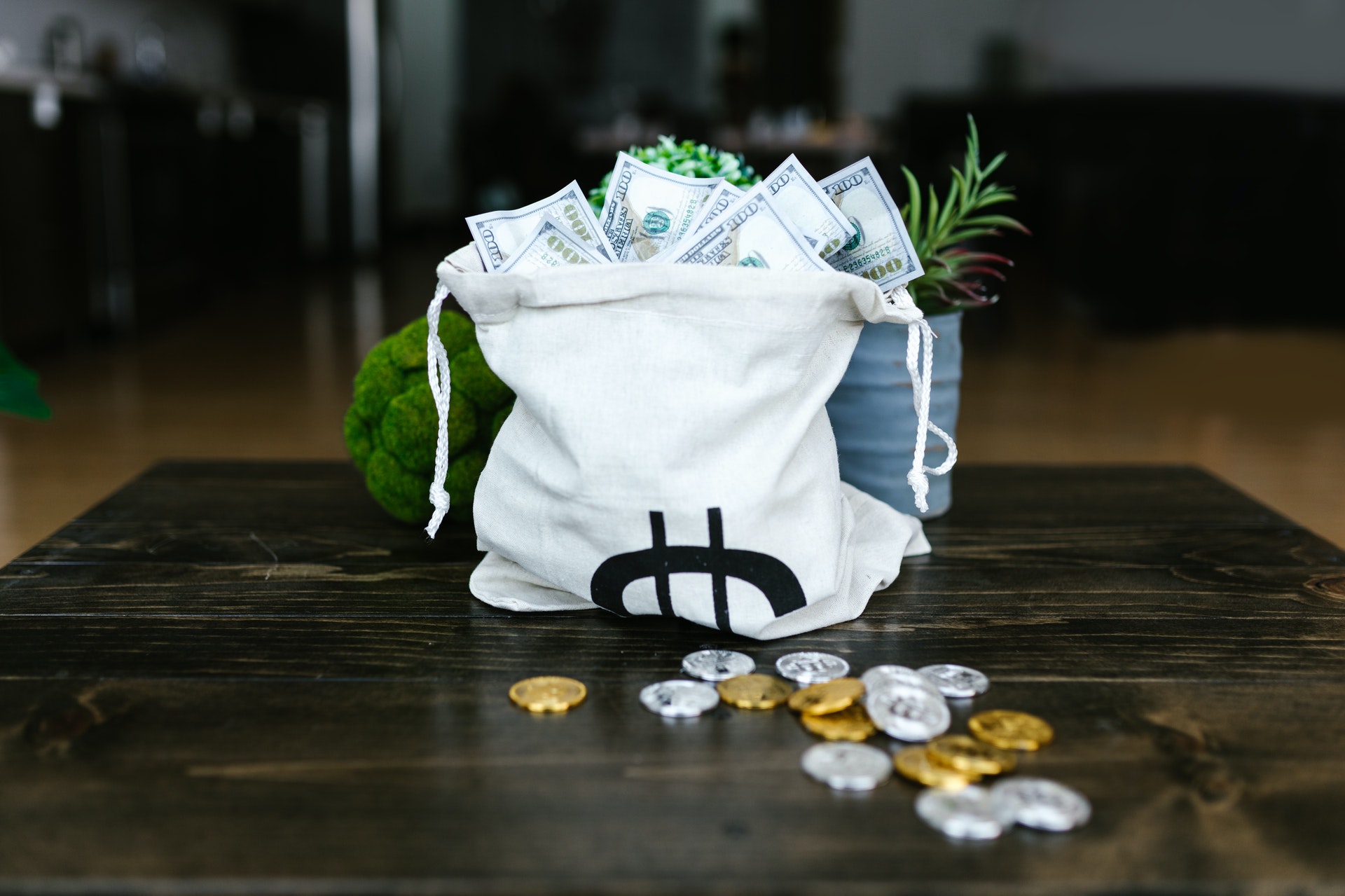 The cryptocurrency market has gained a little after taking a battering over the weekend. Its total cap has risen by 5% in the past 24 hours, to $1.74 trillion. Many major coins have risen along with it, with bitcoin (BTC) jumping by 9% in the past day. However, several of the biggest gainers have been metaverse cryptocurrencies, with decentraland (MANA), for example, rising by 12%. As such, we've put together a list of the 5 best metaverse altcoins to buy for high returns.
5 Best Metaverse Altcoins to Buy for High Returns
1. The Sandbox (SAND)
SAND is up by 11.8% in the past day, rising to $3.04. This represents a hefty 36% fall in the past week and a 56% drop in the last 30 days. SAND is also 64% down on its all-time high of $8.40, set on November 25.
SAND's technical indicators show that it may have just begun recovering. Its relative strength index (in purple above) began rising again after falling below 20 on Monday. Its 30-day moving average (in red) has stopped falling, and may be about to begin rising towards its 200-day (in blue).
Regardless, SAND is certainly one of the most promising metaverse altcoins. Its native platform, The Sandbox, is easily one of the most successful NFT-based metaverse blockchains in the market. It had a very strong 2021, even selling one plot of land for $4.3 million at the start of December. It also turned over $86 million in land sales in the last week of November alone, more than Decentraland or any other metaverse-related platform.
On top of this, it raised $93 million from major VC fund SoftBank at the beginning of November. Meanwhile, its parent company, Animoca Brands, raised a whopping $358 million about a week ago. With this kind of money behind it, expect it to keep growing.
2. Axie Infinity (AXS)
At $51.11, AXS is up by 6% in the past 24 hours. Of course, with the wider market struggling, it's also down by 33% in the past week and by 53% in the past month.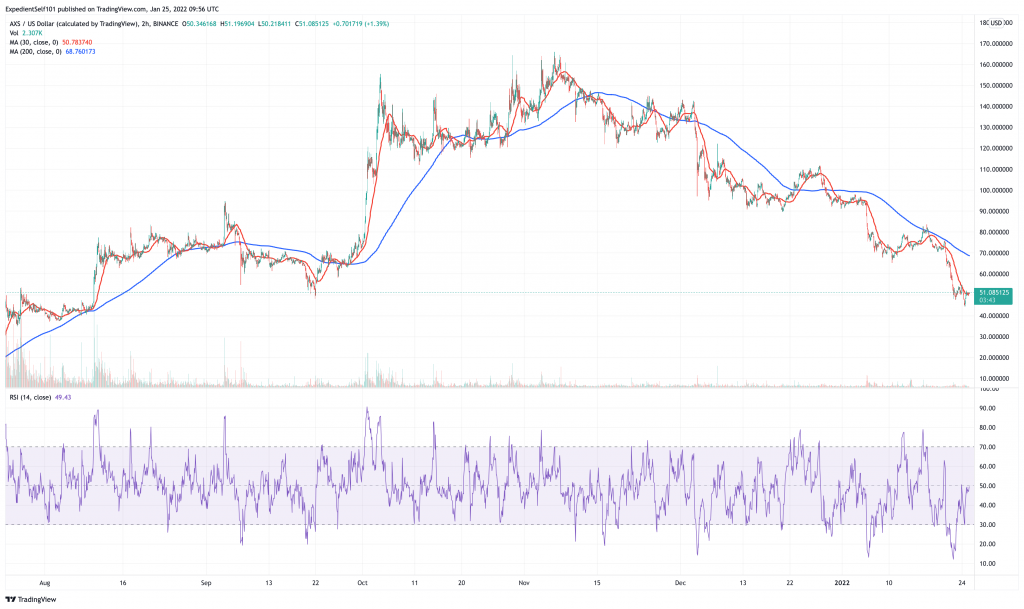 AXS's indicators are much like SAND's. Its RSI neared an extremely low 10 yesterday before bouncing back. At the same time, its 30-day average appears to have stopped its recent decline.
And as with SAND, AXS is a strong metaverse coin in terms of its fundamentals. Its native platform, the NFT-based metaverse game Axie Infinity, continues to boast around 2.3 million daily active users. This has remained more or less stable despite the fact that AXS itself has declined by 69% since reaching a record high in early November.
Axie Infinity also has the benefit that its developer, Sky Mavis, raised $152 million in October from Andreessen Horowitz and Mark Cuban. This bodes well for its future, which is why it's one of our 5 best metaverse altcoins to buy for high returns. Particularly when it has so much ground to recover.
3. Decentraland (MANA)
MANA has risen by an impressive 12% in the past 24 hours, reaching $2.10. This represents a 28% fall in the last week and a 44% rise in the past month.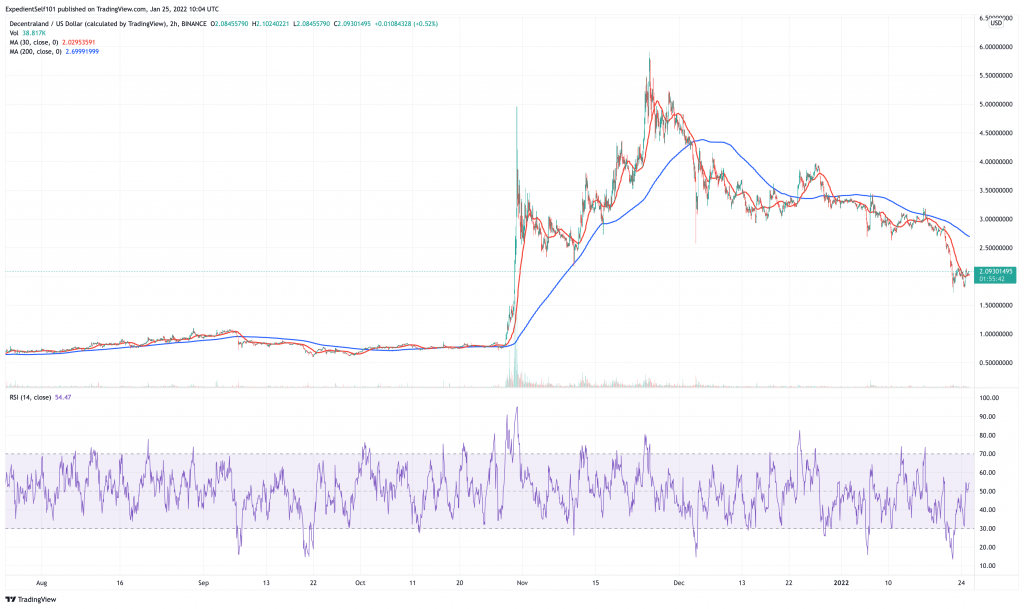 MANA's 30-day average appears to have performed more of a pronounced upwards turn than either AXS' or SAND's. This could indicate that it's about to enjoy a bigger rebound.
Again, Mana is a fundamentally sound metaverse coin. As the native token of Decentraland, it benefits from a strong ecosystem and userbase. Indeed, Decentraland saw an incredible expansion in adoption and value, as highlighted by a recent tweet.
these technicals may continue to disappoint for a while yet.

2021 was the Year of the Metaverse. No one won bigger than @decentraland.

• 33x increase in users
• 41x increase in token price
• $12B peak market cap

…and it's just getting started. https://t.co/JbfkhYytyJ

— Mario Gabriele 🦊 (@mariogabriele) January 9, 2022
Beyond growing strongly towards the end of 2021, Decentraland has also enjoyed a number of significant partnerships and integrations in recent months. For instance, Samsung launched its own virtual world on Decentraland, providing the latter with a significant boost on January 6.
Samsung announces Samsung #837X, an immersive digital world for fans. This new #metaverse connects #technology with culture as users can complete quests for exclusive #NFTs and a live mixed-reality launch party #CES2022 Learn more: https://t.co/UaJms8Ol9u pic.twitter.com/59fJunrMye

— Samsung US Newsroom (@SamsungNewsUS) January 6, 2022
Of course, MANA has since fallen along with the market. But with momentum in its favour, it could provide one of the bigger rallies as the market recovers.
4. Enjin Coin (ENJ)
ENJ is up by 5.4% in the past 24 hours, rising to $1.50. However, as with pretty much every other coin, it has fallen steeply over the past week (-35%) and month (-52%).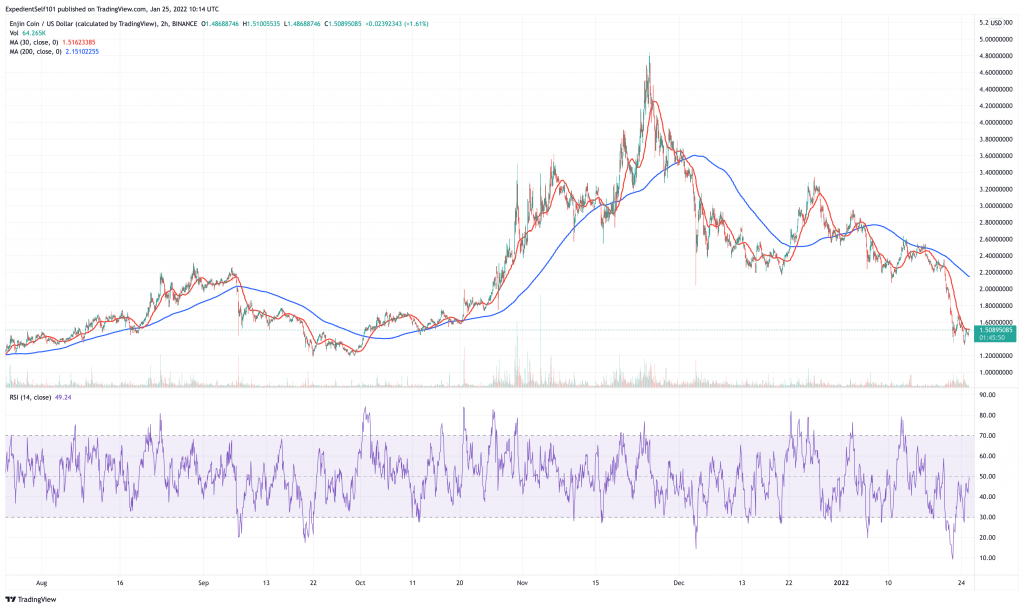 ENJ's technicals are much like the coins above. More fundamentally, ENJ holds plenty of promise, with Enjin providing a platform for developers to build digital assets (e.g. NFTs) that can be integrated into blockchain-based games.
As such, Enjin has the potential for plenty of growth, and marked surpassing 20 million users last year.
👨‍🚀 @enjin exploded to over 20 million users in just a few years. The project started as a social network for gaming communities & later launched a game-changing NFT platform.

Watch our interview with #Enjin: https://t.co/JjSvZcvmdF pic.twitter.com/mFUJDglgEY

— Kraken Exchange (@krakenfx) July 18, 2021
More recently, Enjin has witnessed many, many launches of games using its NFT technology. It also celebrated having won a Polkadot parachain auction for its offshoot Efinity, which will build metaverse infrastructure for apps running on Polkadot.
With 7.7M $DOT contributed by over 20,000 community members, @efinityio has won the 6th @Polkadot parachain auction! 🎉

Thank you to everyone who has supported us in our endeavor to bring #NFTs to Polkadot.

To Efinity and beyond! pic.twitter.com/n2ffJEr53C

— Enjin | We're Hiring! (@enjin) December 30, 2021
It's because of such growth and expansion that ENJ is one of our 5 best metaverse altcoins to buy.
5. Render Token (RNDR)
RNDR is up by an impressive 24% in the past 24 hours, reaching $2.35. It's down by 27% in the past week and by 52% in the past month.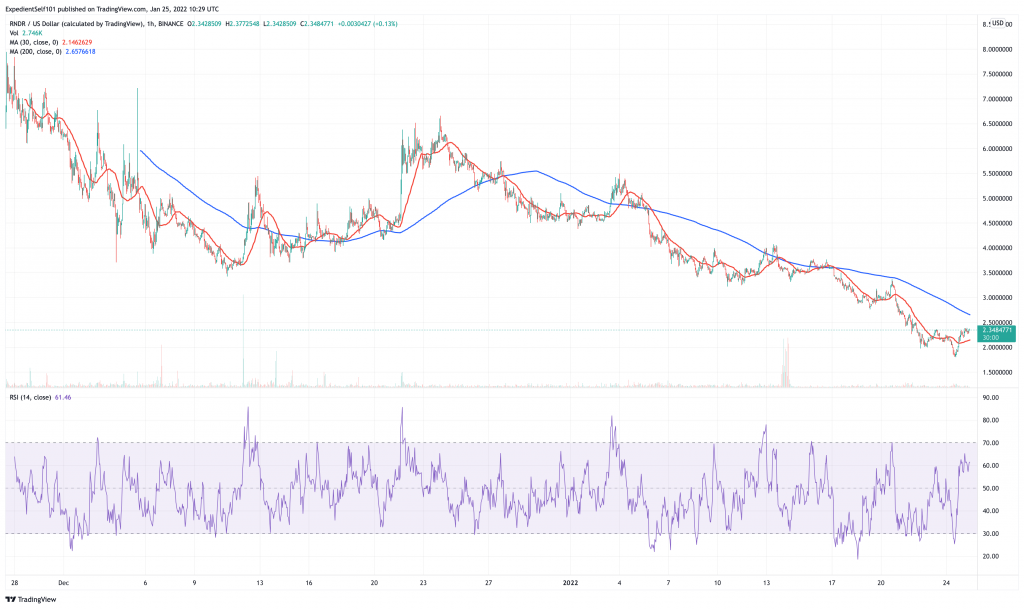 Unsurprisingly for a coin that has risen by nearly 25% in a day, RNDR's RSI has risen to a very strong 60. This suggests some very good momentum, which may or may not continue in the short-term.
RNDR is the native token of the Render Network, which provides graphical rendering infrastructure for apps and platforms looking to build metaverses and games. Because of its fundamental importance to the sector, it could become a very big player in the not-too distant future.
Indeed, with Goldman Sachs recently reporting that it expects the metaverse to become an $8 trillion industry, platforms such as Render could become very big indeed.
They're not wrong. We're just debating the timing of when this becomes a reality – Facebook didn't rebrand to Meta without serious consideration and data. I'm still long infrastructure plays like @RenderToken, we're still in the early days…https://t.co/mchWCZAacm

— Vinny Lingham (@VinnyLingham) January 25, 2022
Capital at risk
Read more: