Poker
With $5m In Guarantees The Omaholic Series Is Back With A Bang!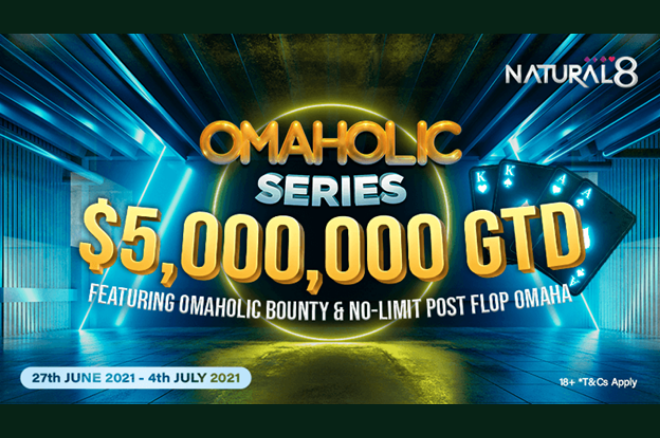 From 27th June until 4th July 2021, fans of Omaha poker tournaments can look forward to the second edition of the Omaholic Series, which was first launched in March 2021. At that time, it became the biggest online Omaha poker festival.
The upcoming Omaholic Series is an 8-day event where hardcore Omaha fans can play to their hearts' content in a series of Omaha poker tournaments. During the festival, the guaranteed prize pools for the usual daily favorites will be boosted, giving every player more value for their buy-ins.
Omaholic Series Highlights
The biggest Omaha Series in the world is back with $5M in Guarantees
The return of No-Limit Post-Flop Omaha!
Daily favorites with BOOSTED prizes
Epic $400K Main Event. Buy in for just $52.50 and stack those bounties
---
Related: The Five Biggest Online Pot-Limit Omaha Pots Of All-Time
---
For those who are interested but have never played Omaha poker before, fret not! Omaha is a variant of poker, and the gameplay and rules between these two are very similar.
The main difference is that in Omaha Poker, all players receive four hole cards instead of the usual two and they have to use two out of these four hole cards and three from the five community cards to make the best hand. The result of this difference is that there will be far more possible hand combinations to be considered, thus increasing its difficulty and making it more exciting.
$400,000 GTD Main Event
One of the main highlights for the second Omaholic Series will be the final stage of Omaholic Bounty Main Event $52.50, where a massive $400,000 guaranteed prize pool awaits the best Omaha players. Being a bounty event, players will collect bounty rewards by knocking out other players. For each player knocked out, an instant cash prize will be awarded and the bounty on the own player also increases at the same time.
Like most events in Natural8, the Omaholic Series also caters to players of all bankrolls. The lowest buy-in for this 8-day event starts from the $10.50 Omaholic Bounty Cooldown with $6,000 in guarantees and goes all the way up to the highest buy-in at the $5,250 Omaholic Bounty SHR with $150,000 in guarantees. There will also be plenty of satellites on offer to give more people a shot at glory. With a range of buy-ins that are suitable for both budget and high-stake players, this series is not to be missed!
In the first Omaholic Series, the No-Limit Post-Flop Omaha format was introduced and it will return again. The Pot-Limit rule will apply for all actions before the flop. However, after the flop, there will be no limit as to how much the players can bet. This means that players are free to bet according to the risks perceived.
So, for those who are looking for excitement as well as a more challenging experience, this would be a good time to test out Omaha poker tournaments as the prizes for the daily favorites will be boosted, thus giving you a bang for your buck!
For full details on this series, visit Natural8.
Sponsor-generated content by Natural8