Poker
Win Your £250K Gtd Goliath Seat This Weekend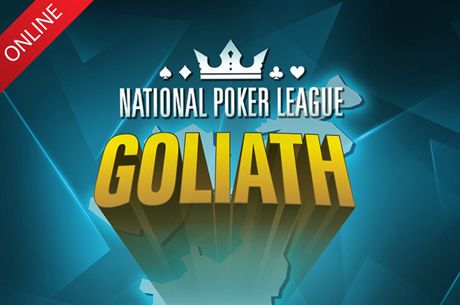 The weekend is here and that means many PokerNews readers have got some time away from the daily work grind. What are your weekend plans? Mow the lawn? Wash the car? What about winning your way into the 2021 Goliath event where a record £250,000 is guaranteed to be won? You could be playing for a slice of £250,000 for a mere £1 outlay!
Win Your Goliath Seat From Only £1
The good folks at Grosvenor Poker have some value-packed Goliath satellites waiting to be taken down by PokerNews readers. These satellites start at an extremely affordable £1, with the most expensive satellite costing £30.
A handful of £1 Goliath satellites take place each day and do so to 8:00 p.m. BST on August 22. These £1 buy-in satellites award £5 tickets for the next highest satellite step. The £5 Goliath satellites payout in £30 tickets, which are used to win your £110 Goliath seat.
Katie Swift: Goliath Absolutely Kickstarted My Poker Career
There are two £30 Goliath satellites remaining on the schedule. The first runs at 8:00 p.m. on August 21 and has 10x £110 seats guaranteed. The second takes place at 8:30 p.m. on August 22 and has a whopping 50x £110 Goliath seats guaranteed! There is a chance Grosvenor Poker will host some more satellites after August 22, but nothing is confirmed.
August 20, at 8:30 p.m., there is a rebuy satellite where 5x £110 Goliath seats are guaranteed. It is likely it will award more seats because people tend to get a little trigger happy in rebuys!
Regardless of if you play satellites and win a seat or you buy in direct, you simply cannot miss the chance to become the Goliath champion. Team Grosvenor's Katie Swift credits her runner-up finish in the 2015 Goliath as the event that kickstarted her poker career. Can you afford to turn down that chance?
The Goliath Is Special
Grosvenor Poker launched the Goliath back in 2011 and it became an instant hit with everyone who played in it, and there were plenty of entrants. Some 1,765 players bought in for £120 in the inaugural Goliath. Lee Rawson outlasted them all.
What happened next was something special; the Goliath's attendance increased every year up to an including 2019. An incredible 9,300 players participated in the 2019 edition, making that year's Goliath one of the largest-ever tournaments in the world. The £911,410 prize pool is the largest created in a £100 buy-in event in the United Kingdom.
Are You Ready to Slay the 2021 GUKPT Goliath?
2020 saw Goliath head online due to the ongoing COVID-19 pandemic. Grosvenor Poker put on a great festival that culminated in the Goliath Main Event. Gerard "WRDortmund7" Barclay came out of top of 2,013 entrants, and scooped £42,248.
This year's Goliath also takes place online at Grosvenor Poker, and it is guaranteed to be even bigger than the 2020 version. This is because Grosvenor Poker decided to slightly reduce the total buy-in to £110, yet multiplied the guarantee by 2.5-times, from £100,000 to a whopping £250,000! 2020's prize pool weighed in at £231,495, so 2021 will be bigger.
| Year | Buy-in | Entrants | Prize pool | Champion | Prize |
| --- | --- | --- | --- | --- | --- |
| 2011 | £100+£20 | 1,765 | £176,500 | Lee Rawson | £32,705 |
| 2012 | £100+£20 | 1,954 | £200,000 | Les Fenton | £35,800 |
| 2013 | £100+£20 | 2,570 | £257,000 | Jake Skidmore | £29,690 |
| 2014 | £100+£20 | 3,394 | £339,400 | Ryan Foster | £62,320 |
| 2015 | £100+£20 | 4,210 | £421,000 | Miikka Toika | £70,800 |
| 2016 | £100+£20 | 5,232 | £523,200 | Vamshi Vandanapu | £62,750 |
| 2017 | £100+£20 | 6,385 | £638,500 | Elliot Marais | £85,760 |
| 2018 | £100+£25 | 7,584 | £758,400 | Florian Duta | £101,450 |
| 2019 | £100+£20 | 9,300 | £911,410 | Lee Reynolds | £64,601 |
| 2020* | £100+£25 | 2,013 | £231,495 | Gerard "WRDortmund7" Barclay | £42,248 |
*held online due to the COVID-19 pandemic