Poker
What Are The Best Features of the partypoker Mobile App?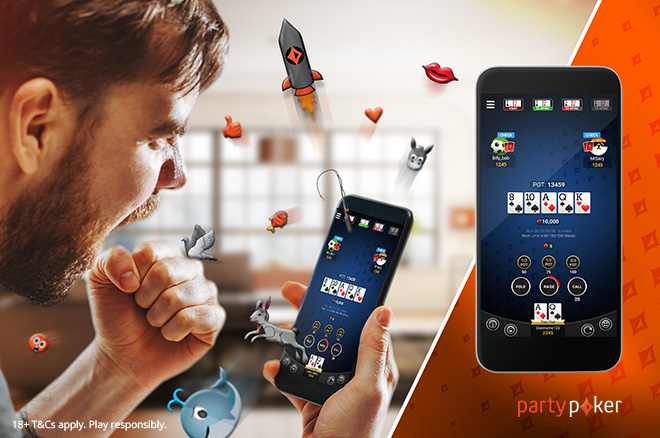 Modern smartphones are much more than just mobile phones. They are essentially miniature handheld PCs that have a wealth of features installed. They also make it possible to play poker on the go with excellent mobile poker app, like the one created by partypoker.
Just like mobile phone technology has come on in leaps and bounds over the years, mobile poker apps have too. Online poker sites invest countless hours and dollars into creating the perfect mobile app for their customers, partypoker included.
The partypoker mobile app is almost unrecognizable from a couple of years ago. You can tell from the second you fire it up that so much thought has gone into the latest incarnation. These are our favorite partypoker mobile app features.
Download the partypoker mobile app for iOS and Android and get started with up to €40 of tournament tickets!
It Is Designed For Portrait Mode
There was a time when mobile phone companies did everything in their power to build the smallest device. Those of you old enough to remember the Nokia 8210 will know exactly what is meant here. Phones have bucked that trend and now bigger is better. My own phone has a 6.7″ screen, which is definitely on the larger side.
Larger phones require two hands to use them horizontally; plus who ever uses their phone in this orientation? The partypoker mobile app works in portrait, allowing you to play poker while using your phone in the most natural way possible.
Playing in portrait instead of horizontal frees up one hand to do other tasks, making the partypoker mobile app a true mobile experience.
Win Up To $500 Extra With partypoker's Hot Tables
The boffins behind the app have thought of everything when it comes to playing in this mode. The betting buttons are within a thumb's reach, while the bet slider can be increased and decreases with a slide of your thumb or finger. Everything is designed around being able to play one-handed, and that makes it stand out from the crowd.
A Full Suite Of Poker Products
Not only can you play poker from your mobile in the most natural way, but the partypoker mobile app also has a full suite of poker products to enjoy. Cash games are there, so are fastforward cash games, both of which feature the new Hot Tables feature.
SNG players can get their grind on while on the move, and it is possible to hit the jackpot, literally, by firing up some SPINS tournaments. Multi-table tournaments are also present and correct, so you need never miss a scheduled tournament ever again.
The layout of all of the poker games available on the partypoker mobile app have been redesigned in order to make them playable one-handed. We reckon once you have played mobile poker like this, you will never want to go back to holding your phone in two hands ever again!
You Don't Need a Huge Bankroll to Become partypoker's Legend of the Week
The Special Gamification Features
You have almost certainly heard of the term "gamification" at some point in your lives. Basically, gamification is adding game-like elements and principles into products to enhance the user's experience. Fitness tracker company Fitbit does this through badges and trophies, partypoker does this on its mobile app with some fun additions.
Throwables are a thing on the partypoker mobile app. You can make your feelings known about how your opponent played a hand by throwing an object at them, in the virtual sense of course! Tomatoes, kisses, even emoji poops are available to sling across the table as you see fit.
It is also possible to peak at what cards would have come next thanks to the "Rabbit Hunt" feature. Once you have collected enough diamonds — you earn them as you play at the tables — you will sometimes see a rabbit appear on your screen as a hand concludes. Tap it and it reveals what community cards would have come out had you stayed in the hand! Do not sit stewing wondering if you would have hit your flush, let the rabbit show you!
Download the partypoker Mobile App Today
The excellent, feature-rich partypoker mobile app is available for Android and iOS-powered devices. Head to the Google Play Store for Android devices, the Apple App Store for iOS devices, or alternatively, visit partypoker's website using your favorite mobile device to be redirected to the mobile app download.
Do not forget that if you download partypoker via PokerNews, you are entitled to up to €40 worth of SPINS and MTT tickets.
Deposit $10 to receive $10 in tickets over the course of a week:
Day 1: 2x $1 SPINS tickets + 1x $3.30 MTT ticket
Day 2: 4x $0.25 SPINS tickets
Day 4: 1x $3.30 MTT ticket
Day 6: 4x $0.25 SPINS tickets
Deposit $20 and receive $30 worth of tickets over the course of a week:
Day 1: 1x $5 SPINS ticket + 1x $3.30 MTT ticket
Day 2: 2x $1 SPINS ticket + 1x $5.50 MTT ticket
Day 4: 1x $5.50 MTT ticket
Day 6: 2x $3 SPINS tickets + 1x$3.30 MTT ticket