Poker
The Kings of Tallinn Returns to Olympic Park Casino on Sept. 11-19

The Kings of Tallinn is about to make its triumphant return to the Estonian capital of Tallinn for nine days of poker action from Sept. 11-19 at Olympic Park Casino and the adjoining Hilton Tallinn Park.
The festival, which lives up to its nickname as the "Largest Poker Festival in Northern Europe", comes off the heals of the highly successful Tallinn Summer Showdown in July with the festival breaking its own records with players eager to get back playing live poker.
The Kings of Tallinn has historically taken place in February since its infancy in 2015, this year it was pushed back to September due to COVID-19 regulations.
This year's schedule boasts 40 action-packed tournaments highlighted by the Kings of Tallinn €1,100 Main Event. Like the Tallinn Summer Showdown, PokerNews will be commentating on the Main Event action with hole-cards exposed on a 30-minute delay on the Olympic Casino social media channels.
Qualify to the Kings of Tallinn Main Event at Olybet Poker
About the Main Event
The Kings of Tallinn Main Event is a deep-stacked affair with players starting with 30,000 in chips during both opening flights on Sept. 15. Most of the tournament features 60-minute blind levels with the only exception being Day 1b, which is a turbocharged affair with 30-minute blind levels.
Players can re-enter as many times as they would please up until the start of the second blind level of Day 2 on Sept. 16. Surviving players will battle for two more days on Sept. 17-18 until a winner is crowned.
Last year, Johan Karlsson and Ermo Kosk were the last two players standing in the Main Event before they agreed to a heads-up deal that guaranteed the duo €105,000 each with still €21,900 and the trophy left to play for. Karlsson came out on top to win the €126,900 top prize and is one of the players expected in attendance to defend his title.
---
Related: Johan Karlsson Wins the 2020 Kings of Tallinn Main Event (€126,900)
---
Many big names have shipped the Kings of Tallinn in prior years including WSOP bracelet winners Ranno Sootla and Juha Helppi with Johan Creutz, Matias Knaapinen, and WPT champion Vitalijs Zavorotnijs also winning titles.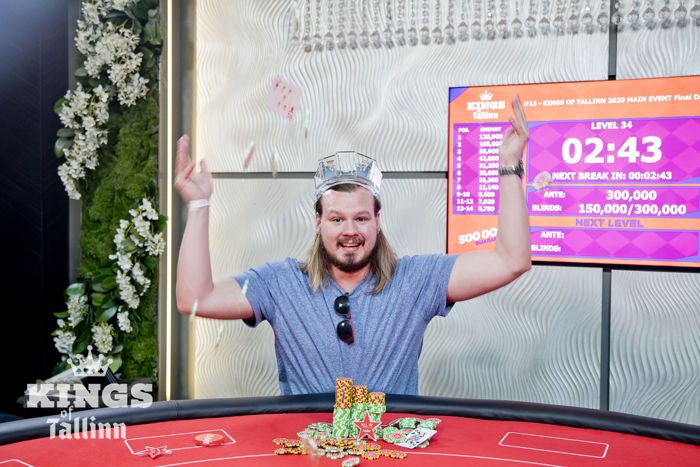 Kings of Tallinn Main Event Champions (2015-2020)
| Year | Field | Prize Pool | Winner | Country | Payout (EUR) |
| --- | --- | --- | --- | --- | --- |
| 2015 | 140 | €137,200 | Ranno Sootla | Estonia | €37,730 |
| 2016 | 198 | €240,100 | Johan Creutz | Sweden | €52,200 |
| 2017 | 247 | €234,650 | Matias Knaapinen | Finland | €45,007 |
| 2018 | 268 | €254,600 | Juha Helppi | Finland | €62,000 |
| 2019 | 375 | €356,250 | Vitalijs Zavorotnijs | Latvia | €85,300 |
| 2020 | 674 | €640,300 | Johan Karlsson | Sweden | €126,900 |
Team Challenge
The Kings of Tallinn features a Team Challenge funded by 2 percent of prize pools of all Kings of Tallinn ranking tournaments with at least 12 unique players.
Registration closes for the Team Challenge after the first break on Day 1a but players planning to play events before this should register their team before they start their first event.
There are four players per each team. Players with difficulties forming a team can ask assistance from the helpful Kings of Tallinn and Olympic Casino staff, who are always ready to assist.
The winning team last year shared more than €24,000 with the runner-up team sharing €8,000.
Schedule Highlights
The Kings of Tallinn has something for everyone with buy-ins ranging from €20 to €3,000. This is also a rare opportunity for players to enjoy poker variants outside of the popular no-limit hold'em with events featuring other poker games including pot-limit Omaha, pot-limit Omaha h/l, pineapple open-face Chinese, Sviten Special, H.O.R.S.E, and Soko.
The festival has always been inclusive of partners with branded tournaments featured throughout the festival. In the past, this meant that other poker operators had branded tournaments sprinkled throughout the schedule.
This year, things are slightly different with sponsors from outside the poker world getting into the mix including the "Liviko Hõbe" €440 Progressive KnockOut on Sept. 15, the Thomas Henry CUP €440 Progressive KnockOut on Sept. 16, and the Saku Special €220 Progressive KnockOut on Sept. 17.
While each tournament is special, some of the tournaments provide a VIP experience to their players by going over and beyond what is typically expected at an event.
One example of this is that players participating in the Kings of Tallinn €3,000 High Roller on Sept. 18-19 will be treated to a complimentary VIP dinner after Level 6.
Another amazing example applies to all players with the OlyBet Lounge is open from Sept. 14-18 where players can enjoy games outside of poker and be treated to snacks, pizza, and beverages on the house. Those that have experienced the OlyBet Lounge before will be pleased to know that there will be more games and also the chance to win random gifts.
Meanwhile, ladies should be pleased that the €60 Ladies Only Event returns on Sept. 18, and the two-day Olybet Special also affords a very reasonable €115 buy-in on Sept. 18-19.
In addition, The €115 Celebrity Event is always one of the most popular events of the festival not only due to its smaller buy-in but because it features many famous local personalities from both Estonia and Finland.
Kings of Tallinn Packages
Olympic Park Casino is making life easier for its players by boasting two Kings of Tallinn Packages.
Head to the Kings of Tallinn website to learn more including about two amazing packages.
Regular Package (€1,600)
€1,100 Main Event ticket
Four nights for two people in Hilton Tallinn Park hotel, incl. breakfast.
Rights to visit SPA and Gym, FREE WIFI connection
VIP Package (€3,500)
€1,100 Main Event ticket
Five nights for two people in Hilton Tallinn Park King Deluxe Suite, incl. breakfast
€1,000 casino deposit money. Can use it for buying tournament tickets, for cash game buy-ins, or for playing other casino games.
Rights to visit SPA and Gym, FREE WIFI connection
Exclusive rights to visit Executive area on hotel 11th floor where snacks and free drinks are available every day (6 p.m. to 8 p.m.)
Transfer from airport to hotel and back to the airport.
Exclusive VIP service
2021 Kings of Tallinn Schedule
| Date | Time (EEST) | Event # | Event | Buy-in |
| --- | --- | --- | --- | --- |
| Sept. 11 | 3 p.m. | 1 | Satellite to the €330 Kings Of Tallinn 2021 Opening Event | €20 + Unlimited €20 rebuys & €20 add-on |
|   | 5 p.m. | 2 | Kings Of Tallinn 2021 Opening Event | €330 |
|   | 9 p.m. | 3 | Satellite to Kings Of Tallinn €550 | €60 + Unlimited €20 rebuys & €20 add-on |
| Sept. 12 | 12 p.m. | 4 | Satellite to the €220 Deep Championship Event | €20 + Unlimited €10 rebuys & €10 add-on |
|   | 2 p.m. | 5 | The €220 NLH Deep Championship Day 1a | €220 |
|   | 7 p.m. | 5 | The €220 NLH Deep Championship Day 1b Turbo | €220 |
| Sept. 13 | 12 p.m. | 6 | Mega Satellite to Kings Of Tallinn €550 | €60 + Unlimited €20 rebuys & €20 add-on |
|   | 2 p.m. | 5 | The €220 NLH Deep Championship Day 1c | €220 |
|   | 5 p.m. | 7 | Kings €550 Day 1a | €550 |
|   | 9 p.m. | 5 | The €220 NLH Deep Championship Final Day | – |
|   | 9 p.m. | 8 | Five Card PLO | €220 |
|   | 11 p.m. | 9 | NLH Hyper Turbo | €115 |
| Sept. 14 | 1 p.m. | 7 | Kings €550 Day 1b | €550 |
|   | 3 p.m. | 10 | Mega Satellite to Kings Of Tallinn 2021 Main Event | €115 |
|   | 6 p.m. |   | Kings of Tallinn 2021 Olybet Cocktail Hour | – |
|   | 7 p.m. | 11 | The Celebrity Event | €115 |
|   | 8 p.m. | 7 | Kings €550 Day 1c Turbo | €550 |
|   | 9 p.m. | 12 | €330 Omaha Hi/Lo | €330 |
|   | 11 p.m. | 13 | Hyper Turbo KnockOut | €115 |
| Sept. 15 | 11:30 a.m. | 14 | Satellite to Kings Of Tallinn 2021 Main Event | €115 |
|   | 12 p.m. | 15 | Kings of Tallinn 2021 Main Event Day 1a | €1,100 |
|   | 3 p.m. | 16 | Sviten Special | €220 |
|   | 8 p.m. | 15 | Kings of Tallinn 2021 Main Event Day 1b Turbo | €1,100 |
|   | 9 p.m. | 17 | "Liviko Hõbe" Progressive KnockOut | €440 |
|   | 9 p.m. | 7 | Kings €550 Final Day | – |
|   | 9 p.m. | 18 | H.O.R.S.E. Day 1 | €330 |
|   | 11 p.m. | 19 | NL Hyper Turbo | €115 |
| Sept. 16 | 12 p.m. | 15 | Kings of Tallinn 2021 Main Event Day 2 | €1,100 |
|   | 2 p.m. | 20 | PLO Satellite to Event #22 | €115 + Unlimited €50 rebuys & €50 add-on |
|   | 3 p.m. | 21 | The €330 NLH Deep Stack Day 1 | €330 |
|   | 5 p.m. | 22 | Kings Of Tallinn 2021 PLO Championship (ROE 4/5 Card) | €1,100 |
|   | 9 p.m. | 23 | Thomas Henry CUP Progressive KnockOut | €440 |
|   | 9 p.m. | 18 | H.O.R.S.E. Final Day | – |
|   | 11 p.m. | 24 | PLO Hyper Turbo | €220 |
| Sept. 17 | 12 p.m. | 15 | Kings of Tallinn 2021 Main Event Day 3 | – |
|   | 12 p.m. | 21 | The €330 NLH Deep Stack Final Day | – |
|   | 12 p.m. | 25 | €550 NLH Deep Stack Turbo (6-Max) | €550 |
|   | 1 p.m. | 26 | Satellite to The €3,000 Kings Of Tallinn 2021 Highroller | €165 |
|   | 3 p.m. | 27 | Open Face Chinese Pineapple | €330 |
|   | 5 p.m. | 28 | Saku Special Progressive KnockOut | €220 |
|   | 7 p.m. | 29 | €550 Omaha (ROE 4/5 Card) | €550 |
|   | 9 p.m. | 30 | NLH €220 | €220 |
|   | 11 p.m. | 31 | NLH €115 Hyper Turbo Win the Button | €115 |
| Sept. 18 | 12 p.m. | 15 | Kings of Tallinn 2021 Main Event Final Day | – |
|   | 12 p.m. | 32 | Satellite to The €3,000 Kings Of Tallinn 2021 Highroller | €165 |
|   | 1 p.m. | 33 | Olybet Special Day 1 | €115 |
|   | 3 p.m. | 34 | The €3,000 Kings of Tallinn 2021 High Roller Day 1 | €3,000 |
|   | 3 p.m. | 35 | Ladies Only Event | €60 |
|   | 5 p.m. | 36 | Soko (five-card Stud) | €115 |
|   | 7 p.m. | 37 | Progressive Knockout Championship Day 1 | €440 |
|   | 9 p.m. | 38 | Pot Limit Omaha Day 1 | €330 |
|   | 11 p.m. | 39 | Hyper Turbo | €115 |
| Sept. 19 | 12 p.m. | 34 | The €3,000 Kings of Tallinn 2021 High Roller Final Day | – |
|   | 12 p.m. | 33 | Olybet Special Final Day | – |
|   | 12 p.m. | 38 | Pot Limit Omaha Final Day | – |
|   | 12 p.m. | 37 | Progressive Knockout Championship Final Day | – |
|   | 1 p.m. | 40 | Hyper Turbo Version of the Main Event | €115 |