Poker
The Chip Race Podcast Celebrates 100th Episode With Special Unibet Poker Tournament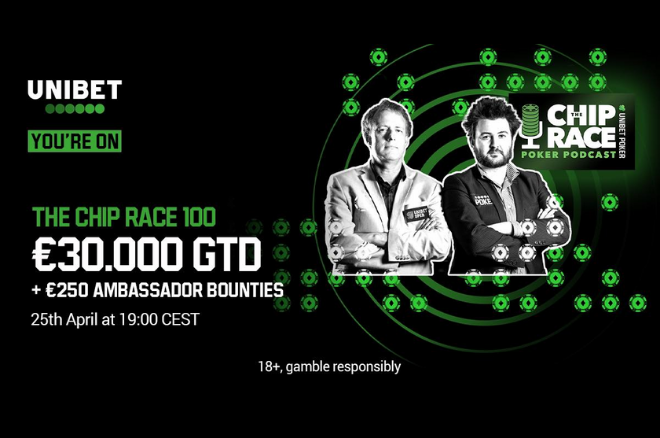 To celebrate the 100th episode of their award-winning podcast 'The Chip Race', Unibet Poker put on a special 2-day PKO tournament with €3500 worth of prizes added.
Unibet global ambassadors Dara O'Kearney and David Lappin had €250 tickets on their heads, as did regional ambassador Ian Simpson. In addition, seven former guests of The Chip Race – Bryan Paris, Ben Wilinofsky, Katie Swift, Sameer Singh, Daragh Davey, Jack Sinclair and Tom Hall – had an extra €100 ticket on their heads.
If you haven't checked out the 100th episode of 'The Chip Race' yet, it is already their most downloaded episode and it stars Doug Polk, Jonathan 'Apestyles' Van Fleet, Annette O'Carroll and a who's who of other poker podcasters.
Guarantee Smashed!
434 players took their seats, building a prizepool of €40,796. When a winner is crowned tonight, that player will win €3149 plus the lion's share of the bounties.
If that wasn't enough, every single person who cashed the event received a copy of 'PKO Poker Strategy' by Dara O'Kearney and Barry Carter.
Rather bizarrely, the Unibet Poker ambassador trio of O'Kearney, Lappin and Simpson found themselves on the same starting table and that made for some early fireworks as O'Kearney's top pair-top kicker held versus the flush draw, open-ended straight draw and overs of Lappin who became the first player to utilise his single permitted re-entry.
Simpson would be next to bust on that table and then Lappin again after his KJ failed to hold versus AQ all-in on a K54 flop. All the while, O'Kearney was building a big stack, merrily accumulating bounties as he maintained a top-10 position throughout Day 1.
Meanwhile on the other tables, there was carnage. Jason Tompkins was one of the first to be eliminated. Not far behind him were PokerNews Live Reporting Manager Yori Epskamp and PokerNews UK Editor Matthew Pitt.
There were plenty of Irish in the field as you would expect for a game celebrating two of its finest. IPO champion Ciaran Cooney bust early. Making it to the second break but not much beyond were partypoker pro Louise Butler, and Winamax WPO Champion Tom Kitt.
Rebecca McAdam built a big stack as did Mark O'Hare, while on the same table one of the stars of the 100th episode Annette O'Carroll made steady progress before busting AQ to AK in 104th.
Special Bounties are Busto
Just before the fourth break we lost most of the special bounties Katie Swift particularly unlucky when her pocket Jacks were rivered by
all-in pre-flop. Willie Elliot built a stack early but ultimately bust in 105th. PokerNews Executive Editor Will Shillibier picked up three bounties but was eliminated in 86th.
EPT champion Ben Wilinofsky made life difficult for himself, getting very short early but testament to the excellent structure, he had plenty of time to let his skills count, building a 30k stack. As the bubble approached, he lost a big flip, however, his 88 losing to AK. Moments later, the popular host of 'The Rake' was gone in 73rd. WSOP Circuit winner Phil Huxley battled gamely but went out in 68th.
Big Names Through To Day 2
After the bubble burst, there was about thirty minutes of play left in Day 1. The expected carnage ensued leaving just 39 players to fight it out on Day 2. The overnight chip-leader is Unibet Poker regular 'LLinusLLomu' with 149,078 chips but most notable amongst the remaining combatants in the field is a trio of Irish players with a connection to 'The Chip Race'.
Host Dara O'Kearney has progressed with 22,798 chips and is in 34th position. Two-time UKIPT Leaderboard champion and former newsman for show Daragh Davey is sitting pretty in 8th position with 87,043 chips. Former guest of the show Rebecca McAdam is in 32nd place with 25,780 chips.
No matter what happens tomorrow, this tournament was a huge success, smashing its €30,000 guarantee, giving away €40,796 plus the bonus bounties and 53 copies of PKO Poker strategy. The Chip Race team are used to putting on a good show and with this special tournament, they stayed true to form.