The £250K Gtd Goliath Shuffles Up and Deals Aug. 25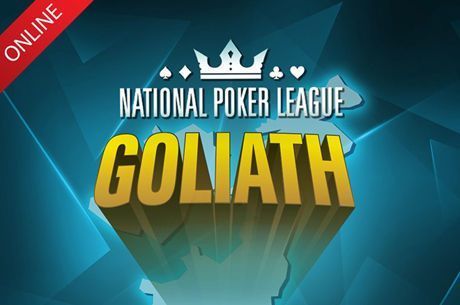 The wait is almost over, the 2021 Goliath Online shuffles up and deals for the first time at 8:00 p.m. BST on August 25! The Goliath is the highlight of the Grosvenor UK Poker Tour (GUKPT) and everything points towards the 2021 edition being extra special.
2021 Goliath Online Schedule
| Date | Time | Flight | Day ends |
| --- | --- | --- | --- |
| Wed 25 Aug | 8:00 p.m. | GOLIATH: Day 1A | Level 17 |
| Thu 26 Aug | 8:00 p.m. | GOLIATH: Day 1B | Level 17 |
| Fri 27 Aug | 8:00 p.m. | GOLIATH: Day 1C | Level 17 |
| Sat 28 Aug | 8:00 p.m. | GOLIATH: Day 1D | Level 17 |
| Sun 29 Aug | 2:00 p.m. | GOLIATH: Day 1E (Turbo) | Level 17 |
| Sun 29 Aug | 8:00 p.m. | GOLIATH: Day 2 | 1:30 a.m. |
| Mon 30 Aug | 8:00 p.m. | GOLIATH: Day 3 | Play until finishes |
This year's Goliath takes place online at Grosvenor Poker as it did in 2020. The uncertainty surrounding the ongoing COVID-19 pandemic forced the GUKPT's hand, and the decision to run the event online again was taken.
Katie Swift: Goliath Absolutely Kickstarted My Poker Career
Last year, some 2,013 players created a £231,495 prize pool, making it the richest online tournament Grosvenor Poker had ever run. That record will be beaten by the 2021 Goliath because Grosvenor Poker has slapped a £250,000 guarantee on the prize pool!
Day 1A kicks off at exactly 8:00 p.m. on August 25. Everyone sits down with 25,000 chips and plays to a 20-minute clock where the blinds start at 50/100. Late registration is open until the end of the 13th level, which is also when re-entries are no longer accepted; up to four re-entries per flight are permitted.
The curtain comes down on the flight's proceedings as soon as the 17th level concludes. Anyone with even a single chip in front of them at this time progresses to Day 2 on August 29.
Day 2 is also played to a 20-minute clock, and the blinds start at 4,000/8,000/800a. Play is scheduled to end at 1:00 a.m. BST on Day 2, with Day 2 commencing at 8:00 p.m. BST on August 30, giving Day 3 players plenty of time to rest – if the excitement has not got too much – before they battle it out for the title and the hefty first-place prize.
Goliath Satellites Galore
Even though the 2021 Goliath Online has an affordable £110 buy-in, there are dozens of satellites running up to an including August 26. These satellites start at only £5, although you can win your way into them from £1 feeders. Imagine turning £1 into a £50,000 payday!
Scores of Grosvenor Poker players have already secured their Goliath seats for a fraction of their cost. A £30 buy-in satellite with 50-seats guaranteed, ran on August 22. It ended up awarding 78 tickets in total, including another to team Grosvenor's Katie Swift, who is hoovering up Goliath seats like they are going out of fashion.
Be sure to check out the Goliath tab in the Grosvenor Poker lobby where you will find all the upcoming satellites.
Follow all the 2021 Goliath action right here
The Goliath Could Influence the National Poker League Standings
Grosvenor Poker is running a year-long promotion known as the National Poker League. Cashing in Grosvenor tournaments award points for the leaderboard, where the top 100 finishers win a prize. However, the leaderboard's champion walks away with a £20,000 sponsorship package for their efforts.
| Place | Prize |
| --- | --- |
| 1 | £20,000 sponsorship package plus trophy |
| 2-5 | 2022 Diamond Package |
| 6-77 | Entry to the NPL Live Play-Off |
| 6-100 | Entry to the NPL Online Play-off |
The £20,000 sponsorship package winner becomes a Team Grosvenor sponsored pro throughout 2022. This includes both live and online tournament entries, plus travel and accommodation costs.
Four Diamond packages are up for grabs, too. These are made up of 50% of the collected prize pool, capped at £10,000.
Missing out on the top five finishing places is not disastrous because places sixth through 100th get to play in a Live Play-Off where 10x Platinum packages are waiting to be won. These are worth up to £5,000, so are not to be sniffed at.
The points totals at the top of the current NPL standings are extremely tight, so winning the Goliath could see those players put a cushion between them and the chasing pack.
GUKPT London champion Euan McNicholas is the man to catch right now, courtesy of his 588.50 points. Ben Teague, known as "BilcksonBaxter," is in second place with 583.58 points. Only 82.35 points separate McNicholas in top spot from Andrew "spand42" Bak in fifth!
| Place | Player | Points |
| --- | --- | --- |
| 1 | Euan "HaveADayOff" McNicholas | 588.50 |
| 2 | Ben "BlicksonBaxter" Teague | 583.58 |
| 3 | Christopher "CPJNS" Johnson | 551.86 |
| 4 | Guy "flora1978" Taylor | 524.09 |
| 5 | Andrew "spand42" Bak | 506.15 |
Stay tuned to PokerNews throughout the 2021 Goliath as we bring you detailed recaps of each day's action via our Live Reporting pages. We cannot wait to see who slays the Goliath, perhaps it will be you?