Poker
Resorts World Las Vegas: Everything You Need to Know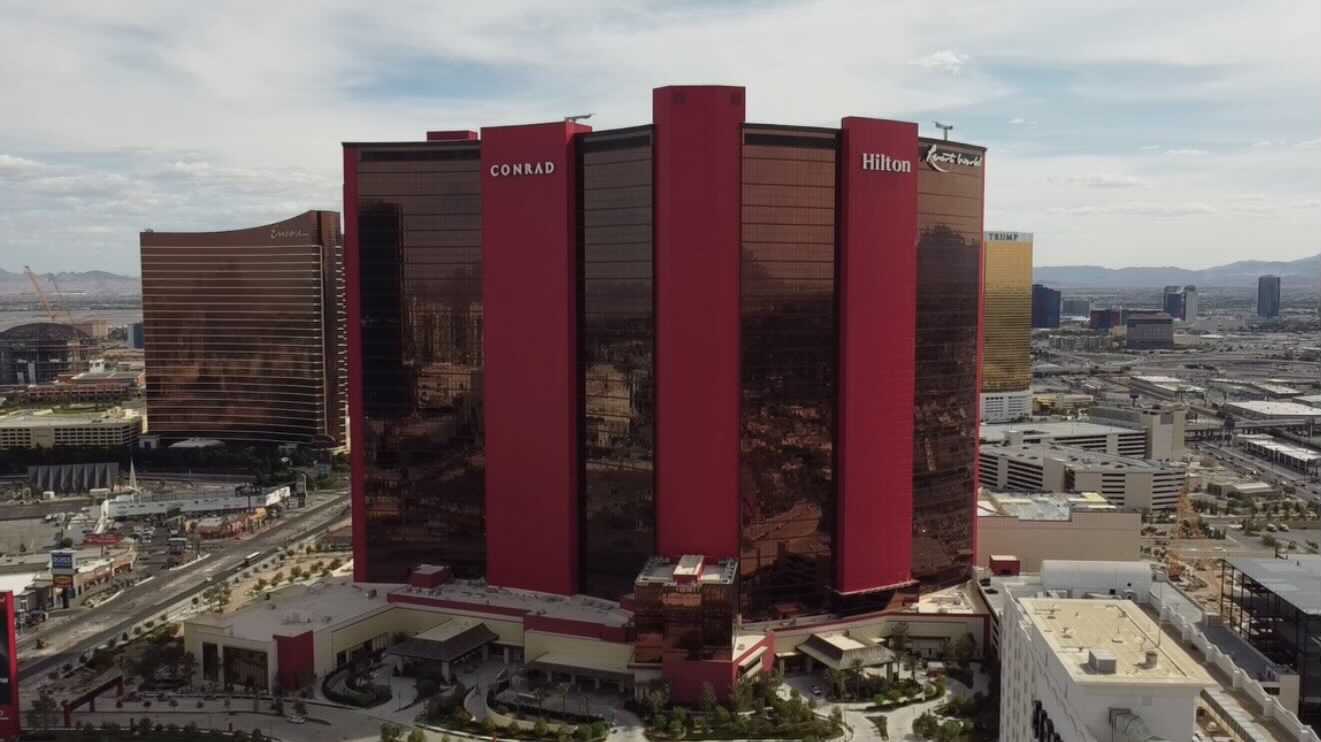 Get ready Las Vegas. The opening of the city's newest resort is less than a month away, with the $4.3 billion Resorts World Las Vegas property set for its grand opening on Thursday, June 24, 2021.
The property has been in development for over ten years, with Resorts World the first brand new casino property on the Las Vegas Strip since the Cosmopolitan opened in 2010.
Resorts World Las Vegas Grand Opening
Resorts World is scheduled to open on Saturday, June 24, 2021.
"After years of planning and constructing this monumental property with some of the most innovative partners in the industry, Resorts World Las Vegas will redefine the hospitality standard in Las Vegas with unmatched dining and entertainment, more variety of hotel accommodations than anywhere else on the Strip, and the city's most progressive technology," said Scott Sibella, President of Resorts World Las Vegas.
"We are filled with gratitude and excitement as we approach our opening this June and hope to play a role in Las Vegas's rebound after what has been an incredibly challenging year for the destination and greater hospitality industry."
Take a fabulous journey into the future of hospitality, entertainment and gaming with @celinedion, @carrieunderwood… https://t.co/9XxIknsBhb
Resorts World Las Vegas Construction
Resorts World is owned by the Genting Group. Founded in 1965, Genting operates resorts in the Americas, Australia, Singapore, the United Kingdom and the Bahamas, attracting over 50 million visitors a year.
The project broke ground in 2015. Designed by Steelman Partners, work on the hotel and casino began in late 2017 and aimed to open in 2020.
However, in 2018 a lawsuit filed by Wynn Resorts briefly halted progress. The lawsuit was based on alleged similarities between Resorts World and the Wynn/Encore properties. The two parties settled their dispute in January 2019, with Genting agreeing to a number of design changes related to the project.
Resorts World Las Vegas Hotels
In February 2020, it was announced that Resorts World Las Vegas would partner with to introduce a multi-brand Las Vegas Resort.
"With our commitment to redefining the luxury hotel standard in Las Vegas, it was only natural for us to partner with Hilton, a leader in the global hospitality industry," said Resorts World Las Vegas President Scott Sibella. "Hilton embodies the values and top-level hospitality that align with Resorts World's priority of bringing an unmatched guest experience to the Las Vegas market."
The resort houses three Hilton Hotels: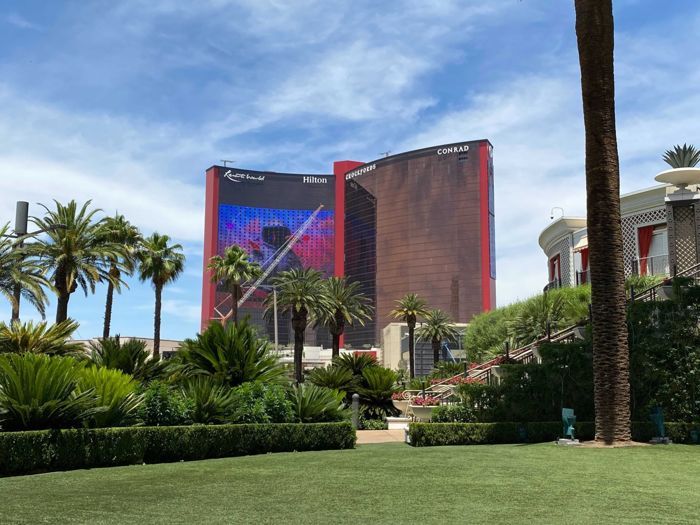 Las Vegas Hilton at Resorts World
The largest hotel as part of the resort is the Las Vegas Hilton. The name of this resort is synonymous with Vegas, with the Las Vegas Hilton once the largest hotel in the world.
This new iteration will house 1,774 guestrooms and suites ranging from 400 to 3,300 square feet. The Las Vegas Hilton aims for a comfortable and refined setting, with a contemporary yet luxurious feel.
Conrad Las Vegas at Resorts World
Featuring 1,496 guestrooms and suites ranging from 550 to 2,800 square feet, Conrad Las Vegas was designed by KNA designs. The hotel features curated art pieces especially commissioned for Resorts World Las Vegas.
These art pieces are present throughout the public areas, as well as on the walls of many guest rooms.
Crockfords Las Vegas, LXR Hotels & Resorts
Hilton's new luxury brand LXR will house the biggest and most luxurious rooms in the resort. With 236 ultra-luxury rooms, suites, villas and palaces ranging from 550 to 7,000 square feet, these rooms have been designed by the same architect for the Resorts World as a whole.
Crockfords Las Vegas features an exclusive entrance and grand lobby for a luxurious private check-in experience, along with a VIP pool and 24-hour dedicated concierge.
Resorts World Las Vegas Casino
In addition to the 3,500 room hotel resort, the casino will house 117,000 square feet of gaming. That's over two football fields worth of slots and table games!
---
How to Pick the Right Slot Machine to Improve Your Winning Chances
---
If you really want to be wowed, head to the 66th Floor and enjoy the Sky Casino!
A world where the action has no end. Now accepting reservations. #StayFabulousVegas #ResortsWorldLV Book now:… https://t.co/H2uDzLscu8
Resorts World Las Vegas Poker Room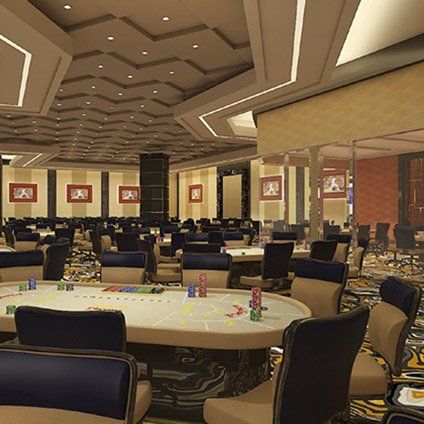 The new resort will feature a dedicated poker room with high-limit areas. Details have not been released about the amount of tables, games or stakes. There has not been any confirmation on any daily tournament offerings.
Other poker rooms in Las Vegas have been removing plexiglass dividers with many poker rooms now returning to nine-handed play. Therefore it is not expected that the poker room at Resorts World Las Vegas will have plexiglass dividers.
However, a mock-up available on the Resorts World Las Vegas website appears to show approximately a dozen poker tables in a spacious luxurious setting.
---
Related: Vegas Reopening Continues With Divider-Free Poker, Lighter Mask Rules
---
Resorts World Las Vegas Dining
The resort features a variety of food options split into four categories:
Famous Foods Street Eats: Boon Tong Ke, FUHU Shack, Sweet Eats, Streetbird Las Vegas, Pepita's Kitchen
Signature Restaurants: Brezza, Kusa Nori, Genting Palace, FUHU
Casual Eateries: Craig's Vegan, Marigold, The Market, Tacos El Cabrón
Bars and Lounges: RedTail, Starlight on 66, Crystal Bar, Gatsby's Cocktail Lounge
Resorts World Las Vegas Clubs
Resorts World Las Vegas has 100,000 square foot entertainment complex, with the Zouk Nightclub and the AYU Dayclub.
It's already been announced that GRAMMY Award-winning recording artist Tiësto will headline both venues.
"Las Vegas is like home to me and I can't wait to feel the energy as we all make our triumphant return to this electric city!" said Tiësto.
Experience Ayu Nights this summer with performances by @djsnake, @tiesto, @Zedd, and more! Dance the night away und… https://t.co/tlzhYroTZO
Resorts World Las Vegas Shopping
In addition to its clubs, casino and dining, Resorts World Las Vegas also offers an extensive retail experience. The 70,000 square foot retail district will feature two mini flagships of experiential retailer Fred Segal, with its selection of highly curated fashion apparel, accessories and more.
The retail district promises to be more than just retail, offering an LA-style bring food and pop-culture together for a truly interactive shopping experience.
Resorts World Las Vegas Residencies
The resort houses a 5,000-capacity concert and entertainment venue simply called 'The Theatre.' Acts already announced include Celine Dion, Carrie Underwood, Katy Perry and Luke Bryan.
We are excited to announce additional show dates added for @katyperry and @LukeBryanOnline, headliners at The Theat… https://t.co/d6Hu4rNDgL
Resorts World Las Vegas Jobs
The Resorts World Las Vegas careers website currently has open positions for:
Porter
Housekeeping
Technician
Food & Beverage
Servers
Managers
Engineers
Security Officers
and many more!
Resorts World Las Vegas FAQs
When is Resorts World Las Vegas opening?

Thursday, June 24, 2021
How do I book a room at Resorts World Las Vegas?
Who Owns Resorts World Las Vegas?

Resorts World Las Vegas is owned by the Genting Group
How much did Resorts World Las Vegas cost to build?

Resorts World Las Vegas is the most expensive resort property ever developed in Las Vegas at a cost of US$ 4.3 billion
What is the newest hotel on the Las Vegas Strip?

Resorts World Las Vegas is the newest hotel on the Las Vegas Strip, opening in 2021.
How big is Resorts World Las Vegas?

3,500 luxury guest rooms and suites encompassing nearly 88 acres