Poker
PokerNews to Live Stream Daily WSOP.com Bracelet Event Action & Final Tables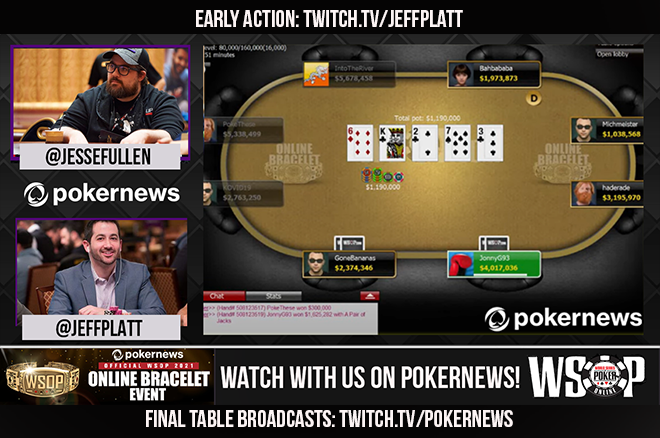 Starting July 1, the World Series of Poker (WSOP) will begin hosting daily online gold bracelet events on WSOP.com. There will be 33 bracelets awarded over 32 days, and PokerNews is excited to announce we'll not only be live reporting all the action but also offering poker fans daily live streams.
Every day, viewers at home will have access to watching the biggest names hunt for bracelets. In conjunction with PokerNews, Jeff Platt will host early action from each tournament at twitch.tv/jeffplatt, starting around the money bubble each day and taking players all the way to the final table.
"I can't wait to interact with that audience again as we crown poker's newest champions."
"I am thrilled to team up with PokerNews to present coverage of the 2021 WSOP Online," said Platt, who is a co-host of the PokerNews Podcast. "We learned last year that the prestige of bracelet events draws an incredibly passionate audience on Twitch. I can't wait to interact with that audience again as we crown poker's newest champions."
After Platt's streams, coverage will then shift to twitch.tv/pokernews where PokerNews' own Jesse Fullen will cover final table action alongside a rotating cast of co-hosts including Alec Torelli, Ryan Laplante, Jesse Sylvia, KL Cleeton, Rampage Poker, and Jaman Burton, among others. The streams will also be featured on YouTube and Facebook.
"WSOP Online will certainly be the biggest online series of the year in the USA. We're thrilled PokerNews has again stepped up to provide fans a way to follow the action," said Ty Stewart, Executive Director of the WSOP. "Jeff Platt's personal streams we're a highlight of last year's online series and we have no doubt the PokerNews final table streams will be an entertaining watch."
Subscribe to PokerNews Twitch for Free Here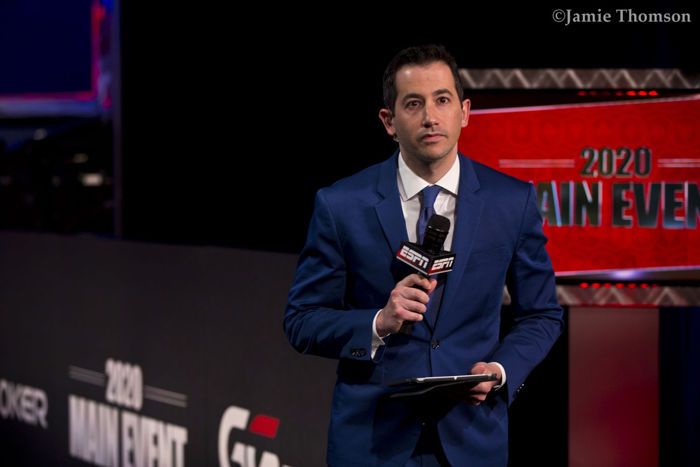 The WSOP.com online bracelet events start at 3 p.m. PT every day, so stream starting times will be dependent upon tournaments (i.e. turbos will be earlier). That said, it's projected Jeff Platt will start his streams most nights around 8:30 p.m. PT while final tables generally begin around 1 a.m. PT.
Due to the late-night broadcast for our American audience, we will air a final table replay the next day at 12 p.m. PT.
Those looking to follow the online action the whole way through will find an easy transition between streams as Platt will automatically send his audience (AKA "Raid") to the PokerNews Twitch channel, where he will join Jesse Fullen for a pre-final table chat to recap what's happened up to that point.
Those looking to jump in and out can follow @PokerNews on Twitter for updates on when streams begin.
Note: Bolded tournaments will feature both early action and final tables on PokerNews platforms (hey, even Jeff Platt needs a day off every once in a while).
Subscribe to Jeff Platt Twitch for Free Here
| Date | Tournament | Early Action Stream/Host | PokerNews Final Table Projected Time |
| --- | --- | --- | --- |
| Thurs. 7/1 | WSOP.com Event #1: No Limit Hold'em The BIG 500 Kick-Off | Jeff Platt | 1:00am PT |
| Fri. 7/2 | WSOP.com Event #2: No Limit Hold'em MonsterStack | Jeff Platt | 2:00am PT |
| Sat. 7/3 | WSOP.com Event #3: No Limit Hold'em Turbo Deepstack | Jeff Platt | 9:00pm PT |
| Sun. 7/4 | WSOP.com Event #4: No Limit Hold'em Super Turbo | Jesse Fullen on PokerNews | 8:00pm PT |
| Mon. 7/5 | WSOP.com Event #5: No Limit Hold'em 8-Max | Jeff Platt | 1:00am PT |
| Tues. 7/6 | WSOP.com Event #6: No Limit Hold'em Deepstack | Jeff Platt | 2:00am PT |
| Wed. 7/7 | WSOP.com Event #7: No Limit Hold'em Lucky 7's | Jeff Platt | 1:00am PT |
| Thurs. 7/8 | WSOP.com Event #8: No Limit Hold'em Crazy Eights | Jeff Platt | 1:00am PT |
| Fri. 7/9 | WSOP.com Event #9: No Limit Hold'em 6-Max | Jeff Platt | 1:00am PT |
| Sat. 7/10 | WSOP.com Event #10: No Limit Hold'em | Jesse Fullen on PokerNews | 1:00am PT |
| Sun. 7/11 | WSOP.com Event #11: No Limit Hold'em Ultra Deepstack | Jeff Platt | 2:00am PT |
| Mon. 7/12 | WSOP.com Event #12: No Limit Hold'em Turbo Deepstack | Jeff Platt | 9:00pm PT |
| Tues. 7/13 | WSOP.com Event #13: No Limit Hold'em Freezeout | Jeff Platt | 1:00am PT |
| Wed. 7/14 | WSOP.com Event #14: No Limit Hold'em | Jeff Platt | 1:00am PT |
| Thurs. 7/15 | WSOP.com Event #15: No Limit Hold'em High Roller Freezeout | Jeff Platt | 1:00am PT |
| Fri. 7/16 | WSOP.com Event #16: PLO8 6-Handed | Jesse Fullen on PokerNews | 1:00am PT |
| Sat. 7/17 | WSOP.com Event #17: No Limit Hold'em 8-Max | Jeff Platt | 1:00am PT |
| Sun. 7/18 | WSOP.com Event #18: No Limit Hold'em North American Open | Jeff Platt | 1:00am PT |
| Mon. 7/19 | WSOP.com Event #19: PLO Crazy Eights – 8 Handed | Jesse Fullen on PokerNews | 1:00am PT |
| Tues. 7/20 | WSOP.com Event #20: No Limit Hold'em High Roller | Jeff Platt | 1:00am PT |
| Wed. 7/21 | WSOP.com Event #21: PLO 6-Handed | Jesse Fullen on PokerNews | 1:00am PT |
| Thurs. 7/22 | WSOP.com Event #22: No Limit Hold'em Knockout | Jeff Platt | 1:00am PT |
| Fri. 7/23 | WSOP.com Event #23: No Limit Hold'em Turbo | Jesse Fullen on PokerNews | 9:00pm PT |
| Sat. 7/24 | WSOP.com Event #24: No Limit Hold'em Monster Stack | Jeff Platt | 1:00am PT |
| Sun. 7/25 | WSOP.com Event #25: No Limit Hold'em Lucky 7's High Roller | Jeff Platt | 1:00am PT |
| Sun. 7/25 | WSOP.com Event #26: No Limit Hold'em The BIG 500 Encore | Jeff Platt | 1:00am PT |
| Mon. 7/26 | WSOP.com Event #27: PLO Championship | Jeff Platt | 1:00am PT |
| Tues. 7/27 | WSOP.com Event #28: No Limit Hold'em High Roller Championship | Jeff Platt | 1:00am PT |
| Wed. 7/28 | WSOP.com Event #29: No Limit Hold'em 8-Max Turbo Deepstack Championship | Jeff Platt | 9:00pm PT |
| Thurs. 7/29 | WSOP.com Event #30: No Limit Hold'em 6-Max Championship | Jeff Platt | 1:00am PT |
| Fri. 7/30 | WSOP.com Event #31: No Limit Hold'em Summer Saver | Jesse Fullen on PokerNews | 1:00am PT |
| Sat. 7/31 | WSOP.com Event #32: No Limit Hold'em Championship | Jeff Platt | 1:00am PT |
| Sun. 8/1 | WSOP.com Event #33: No Limit Hold'em Grand Finale | Jeff Platt | 1:00am PT |