Poker
Player Reaction to Michigan Online Poker; PokerStars Announces MICOOP Schedule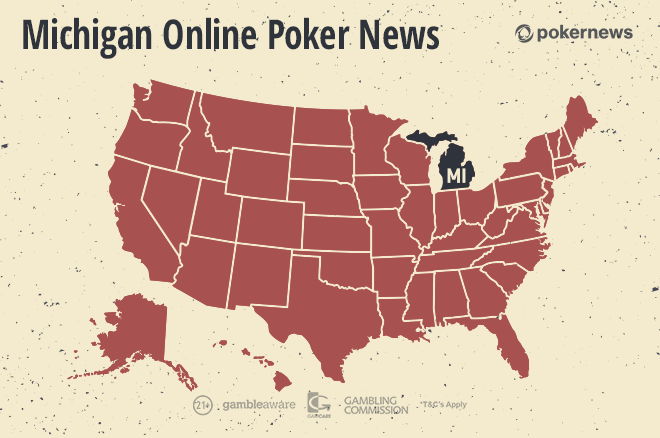 At the end of January, PokerStars launched in Michigan, making it the fifth state to offer legal and regulated online poker. Two weeks in, the numbers have impressed with the Wolverine State surpassing established markets like New Jersey and Pennsylvania.
PokerNews spoke with several Michigan players to get their thoughts on the early days of online poker in their state. Those same players will soon have the opportunity to participate in the first-ever major online series to be held in Michigan as PokerStars has announced the inaugural Michigan Championship of Online Poker (MICOOP) series to run February 20 through March 8.
Download PokerStars Michigan here
First Impressions
Not surprisingly, players flocked to the virtual tables from the get-go. Kyle "louieluck" Thompson was one such player, opting to fire up $10 buy-in tournaments on Day 1.
"That seemed to be where everyone was at, over 200 entries," Thompson told PokerNews. "The structure was good and enough playable stacks late even with just starting at 5k. The software seems good with no issues and easy to navigate."
Kerry Moore was also participating in those same games. He said, "I played for about four hours yesterday. The gameplay was seamless playing on my laptop. I played in a $5 knockout tourney and was surprised with what some people were going all in with. Lots of
,
,
type of all-ins. Also tried a few of the Spin and Go's, but had lengthy waits to get a full table at the $10 level."
Brent Burrows was one of the players competing into the early morning hours on that first night.
"Everything is working perfectly so far. Buttery smooth. It's pretty much just how I remember it. The nostalgia is definitely there despite a more modern looking Pokerstars client. It's 3 a.m. and there are 197 people online. Doesn't seem too bad for the first several hours of opening."
He continued: "I think there's a lot of demand for something like this in Michigan. We have a lot of poker players in general, and the normal live players are itching to play somewhere. With the pandemic, I'm sure it's been tough for most to get out and play. So, this is just what the poker community needed. I'm excited for interstate compacts to potentially come to fruition sometime this year with supposed talks already underway with New Jersey regulators."
Indeed, at the end of December, Governor Gretchen Whitmer did sign a law allowing for interstate play, though that doesn't go into effect until March 29.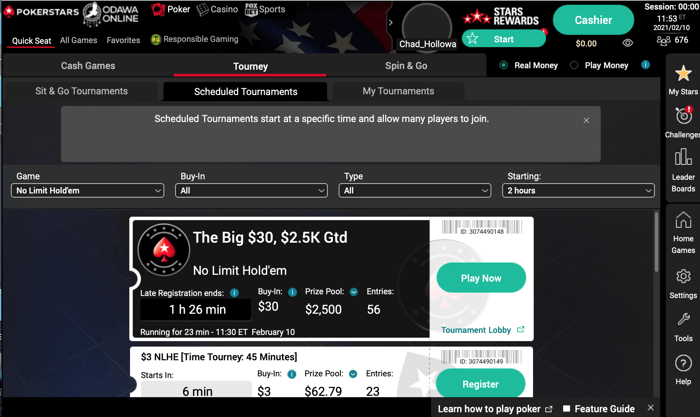 Some Mobile Concerns
The biggest complaint stemming from the first two weeks of play was in regards to the mobile app, which seemed to be causing a lot of players a headache.
"The mobile version is very difficult for the average user. I'd like to think I'm advanced at this stuff and I was having trouble figuring it out," admitted Matthew Ploof. "I found that app after downloading the wrong app twice. I downloaded the casino followed by the play money then finally the real money. The main flaw is you don't have the option to see all cash game tables, and you can't see if the game is running with players or empty. As far as tourneys the mobile does a better job and relaying us the information we want see."
Eric Manssur also had some grips with the mobile experience: "My biggest complaint is when playing via mobile app sometimes when you get moved to a different table it will sit you out. Try connecting and it won't. I've closed the app and opened it only to still be 'sitting out.' Also noticed it happens when playing on the laptop then trying to log onto the app and transfer. It's happened to me a few times."
Andrew LaCross had the same issue: "I've spoken to several others who experienced the same thing. The way the site disconnects for some reason and the amount of time to get reconnected is ridiculous. It's already cost me one $200 pot. Customer service doesn't care. They need to fix it. I have no disconnecting issues with any other sites or apps."
David "steadymobbin420" Poppenfuse: "I've put $50 on total and have had nothing but success profiting $2,000 as of right now playing mostly tourneys. Tourneys are super soft at the moment. My only complaint would be the mobile software, it can be better. Multi-tabling from the computer tends to be little laggy but for the most part it's just fine.
There are always hiccups whenever online poker launches in a new state, and while there have been some regarding PokerStars in Michigan, for the most part, everything has gone well as thousands of players have been grinding the virtual tables with no issue.
Inaugural MICOOP
From February 20 through March 8, PokerStars and FOX Bet will host the inaugural Michigan Championship of Online Poker (MICOOP), which will be comprised of 60 tournaments ranging in buy-ins from $10-$500 and offer $1,000,000 in guaranteed prize pools.
Things will kick off on February 20 with the $100 buy-in, $30K GTD Event #1: Kick Off NLH, and the online festival will conclude with a $300 buy-in, $125K GTD Main Event on March 7-8. In between, there will be a full slate of tournaments including a $500 High Roller, a Mini-Main Event with a $50 buy-in as well as multiple game varieties including Progressive Knockout Tournaments, Pot-Limit Omaha, and mixed games.
"Coming off the launch of our real-money gaming brands in Michigan, it is clear that players want the world-class offerings that only PokerStars can bring," said FOX Bet CEO Kip Levin. "As the sole online and mobile poker product in Michigan, our commitment and investment in PokerStars is vital as we aim to bring all aspects of a great customer experience to the poker community. We are excited for Michiganders to join our most popular series and crown our first big winner who will join in the prestigious footsteps of other Championship Of Online Poker (COOP) champions."
Satellites for the MICOOP are running now for as little as $2. Additionally, players can win their way via freeroll routes.
Main Event Depositor Freeroll: Deposit $30+ with code 'MICOOP' and get a ticket to a MICOOP Depositor Freeroll on March 7, where 35 Main Event seats will be up for grabs.
Second Chance Freerolls: Play a MICOOP event and fail to make the cash, and receive a ticket to a second chance freeroll, running daily.
To enjoy MICOOP, players need to register for PokerStars HERE.
MICOOP Schedule
| Event | Date | Time (ET) | Tournament |
| --- | --- | --- | --- |
| 1 | 20-Feb (Sa) | 6 p.m. | $100 NLHE [MICOOP Kick Off, Nightly Stars SE], $30K Gtd |
| 2 | 20-Feb (Sa) | 7 p.m. | $20 NLHE [Rebuy], $10K Gtd |
| 3 | 20-Feb (Sa) | 8 p.m. | $50 NLHE [8-Max], $20K Gtd |
| 4 | 21-Feb (Su) | 2 p.m. | $100 NLHE [8-Max, Deepstacks], $25K Gtd |
| 5 | 21-Feb (Su) | 4 p.m. | $50 NLHE [Progressive KO, Sunday Warm Up SE], $10K Gtd |
| 6 | 21-Feb (Su) | 5 p.m. | $200 NLHE [Sunday Special SE], $40K Gtd |
| 7 | 21-Feb (Su) | 5:30 p.m. | $25 NLHE [Sunday Special Mini], $12.5K Gtd |
| 8 | 21-Feb (Su) | 7 p.m. | $100 PLO [8-Max], $10K Gtd |
| 9 | 21-Feb (Su) | 8 p.m. | $75 NLHE [Second Chance], $7.5K Gtd |
| 10 | 21-Feb (Su) | 10 p.m. | $50 NLHE [8-Max, Hyper-Turbo, Sunday Supersonic SE], $5K Gtd |
| 11 | 22-Feb (M) | 7 p.m. | $100 NLHE [4-Max], $15K Gtd |
| 12 | 22-Feb (M) | 8 p.m. | $50 NLHE [6-Max, Progressive KO, Battle Royale SE], $20K Gtd |
| 13 | 22-Feb (M) | 9 p.m. | $50 PLO8 [8-Max], $7.5K Gtd |
| 14 | 23-Feb (Tu) | 8 p.m. | $200 NLHE [Super Tuesday SE], $30K Gtd |
| 15 | 23-Feb (Tu) | 8:30 p.m. | $30 NLHE [Super Tuesday Mini], $15K Gtd |
| 16 | 23-Feb (Tu) | 9 p.m. | $50 PL 5-Card Draw [Turbo], $3K Gtd |
| 17 | 24-Feb (W) | 7:30 p.m. | $100 PLO [6-Max], $7.5K Gtd |
| 18 | 24-Feb (W) | 8 p.m. | $500 NLHE [6-Max, High Roller], $35K Gtd |
| 19 | 24-Feb (W) | 8:30 p.m. | $50 NLHE [6-Max], $20K Gtd |
| 20 | 25-Feb (Th) | 8 p.m. | $200 NLHE [Progressive KO, Thursday Thrill SE], $30K Gtd |
| 21 | 25-Feb (Th) | 8:30 p.m. | $30 NLHE [Progressive KO, Thursday Thrill Mini], $15K Gtd |
| 22 | 25-Feb (Th) | 9 p.m. | $30 5-Card PLO [6-Max, Turbo], $3K Gtd |
| 23 | 26-Feb (F) | 5 p.m. | $100 FLHE [6-Max], $5K Gtd |
| 24 | 26-Feb (F) | 8 p.m. | $100 NLHE [Big Antes], $7.5K Gtd |
| 25 | 26-Feb (F) | 8:30 p.m. | $150 NLHE [6-Max, Turbo], $10K Gtd |
| 26 | 27-Feb (Sa) | 6 p.m. | $50 HORSE [Turbo], $3K Gtd |
| 27 | 27-Feb (Sa) | 7 p.m. | $50 NLHE [Rebuy], $10K Gtd |
| 28 | 27-Feb (Sa) | 8 p.m. | $100 NLHE [Turbo, Saturday Speedway SE], $10K Gtd |
| 29 | 28-Feb (Su) | 2 p.m. | $100 NLHE [8-Max, Marathon], $25K Gtd |
| 30 | 28-Feb (Su) | 4 p.m. | $50 NLHE [Sunday Warm Up SE], $12.5K Gtd |
| 31 | 28-Feb (Su) | 5 p.m. | $250 NLHE [Sunday Special SE], $50K Gtd |
| 32 | 28-Feb (Su) | 5:30 p.m. | $30 NLHE [Sunday Special Mini], $15K Gtd |
| 33 | 28-Feb (Su) | 7 p.m. | $50 PLO [8-Max, Turbo], $5K Gtd |
| 34 | 28-Feb (Su) | 8 p.m. | $100 NLHE [6-Max], $10K Gtd |
| 35 | 28-Feb (Su) | 10 p.m. | $75 NLHE [Hyper-Turbo, Sunday Supersonic SE], $10K Gtd |
| 36 | 1-Mar. (M) | 7 p.m. | $50 NLHE [4-Max], $10K Gtd |
| 37 | 1-Mar. (M) | 8 p.m. | $100 NLHE [6-Max, Progressive KO, Battle Royale SE], $25K Gtd |
| 38 | 2-Mar. (Tu) | 8 p.m. | $250 NLHE [Super Tuesday SE], $35K Gtd |
| 39 | 2-Mar. (Tu) | 8:30 p.m. | $50 NLHE [Super Tuesday Mini], $20K Gtd |
| 40 | 2-Mar. (Tu) | 9 p.m. | $50 Stud Hi-Lo, $5K Gtd |
| 41 | 3-Mar. (W) | 8 p.m. | $250 PLO [6-Max, High Roller], $12.5K Gtd |
| 42 | 3-Mar. (W) | 8:30 p.m. | $30 PLO [6-Max], $5K Gtd |
| 43 | 3-Mar. (W) | 9 p.m. | $100 NLHE [6-Max, Turbo], $10K Gtd |
| 44 | 4-Mar. (Th) | 8 p.m. | $250 NLHE [Progressive KO, Thursday Thrill SE], $35K Gtd |
| 45 | 4-Mar. (Th) | 8:30 p.m. | $50 NLHE [Progressive KO, Thursday Thrill Mini], $20K Gtd |
| 46 | 4-Mar. (Th) | 9 p.m. | $20 NLHE [Turbo], $15K Gtd |
| 47 | 5-Mar. (F) | 6 p.m. | $10 NLHE [6-Max, Rebuy], $10K Gtd |
| 48 | 5-Mar. (F) | 8 p.m. | $75 NLHE, $15K Gtd |
| 49 | 5-Mar. (F) | 9:30 p.m. | $20 NLHE [6-Max, Turbo], $5K Gtd |
| 50 | 6-Mar. (Sa) | 6 p.m. | $50 8-Game, $3K Gtd |
| 51 | 6-Mar. (Sa) | 7 p.m. | $50 NLHE [6-Max, Turbo, Zoom], $15K Gtd |
| 52 | 6-Mar. (Sa) | 8 p.m. | $50 NLHE [Turbo, Saturday Speedway SE], $5K Gtd |
| 53 | 7-Mar. (Su) | 2 p.m. | $50 NLHE [8-Max, Marathon], $10K Gtd |
| 54 | 7-Mar. (Su) | 4 p.m. | $100 NLHE [Progressive KO], $30K Gtd |
| 55 | 7-Mar. (Su) | 5 p.m. | $300 NLHE [Main Event], $125K Gtd |
| 56 | 7-Mar. (Su) | 6 p.m. | $50 NLHE [Mini Main Event], $35K Gtd |
| 57 | 7-Mar. (Su) | 7:30 p.m. | $200 NLHE [6-Max, Turbo], $20K Gtd |
| 58 | 7-Mar. (Su) | 10 p.m. | $100 NLHE [Hyper-Turbo, Sunday Supersonic SE], $10K Gtd |
| 59 | 8-Mar. (M) | 7 p.m. | $100 NLHE [Nightly Stars SE], $30K Gtd |
| 60 | 8-Mar. (M) | 9 p.m. | $20 NLHE [Heads-Up, Turbo, Progressive KO, Zoom], $10K Gtd |