Poker
Nick Wright Turns Top Pair Into Bluff, Hellmuth and Negreanu Bicker on Latest Poker After Dark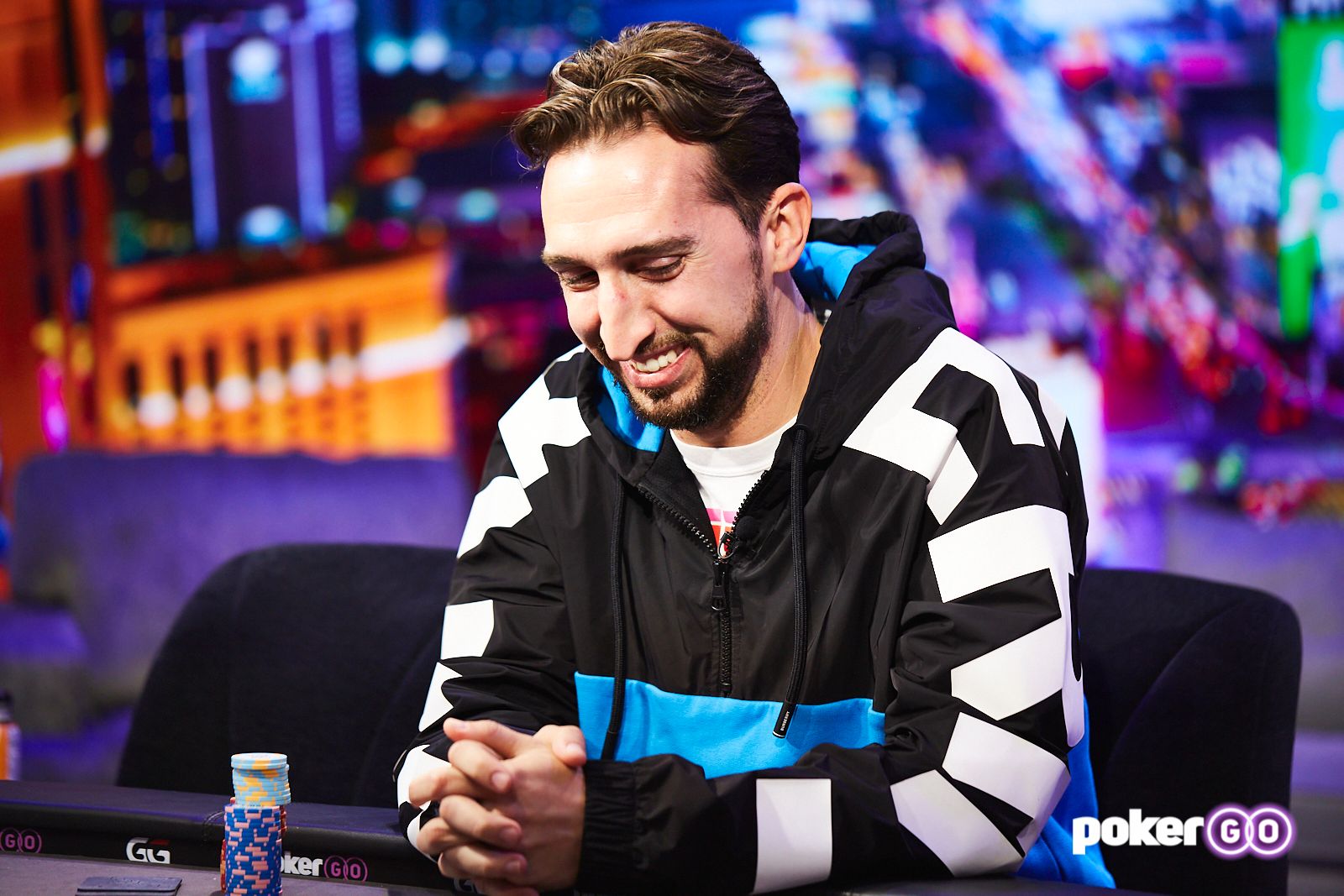 Nick Wright, host of FS1's popular "First Things First" sports TV debate show, returned to the felt on this week's "Poker After Dark" Season 13 first episode for "Fight Night," and he showed even an amateur can have a creative bluff in their arsenal.
The most ardent LeBron James defender you'll probably ever encounter sat down at the table against a few talented poker pros — Maria Ho, Daniel Negreanu, Phil Hellmuth, and Jon Aguiar. He also took on UFC ring announcer Bruce Buffer and daily fantasy sports legend Peter Jennings.
Each player began with 125,000 chips in a sit-n-go style format game.
Wright Gets Creative Against Aguiar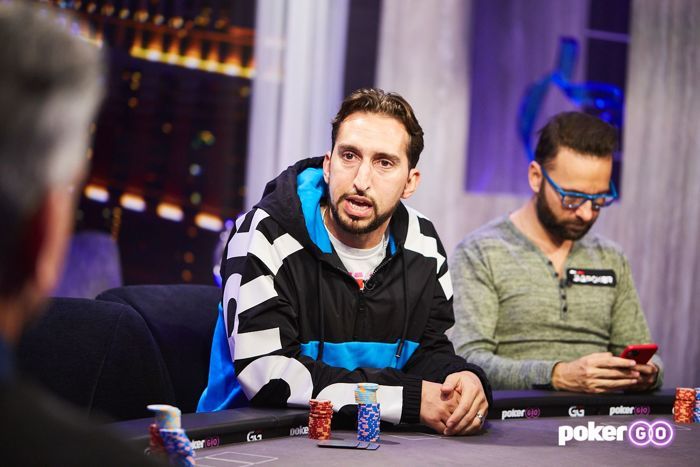 Shortly after Hellmuth inhaled a chicken and bacon avocado sandwich to the delight of PokerGO commentator Ali Nejad, Wright, who made his debut appearance on Poker After Dark last week, tangled in an interesting pot on a dripping wet board against Aguiar.
With
in the hole and 128,000 in his stack, the sports TV personality bumped it up to 5,500. Aguiar came along for the ride with
from the small blind. Both players flopped a big piece of the
flop but they each opted to check. When the
appeared on the turn, the competitors stared at a four-to-a-flush board — neither player holding a diamond — and again they checked.
The river was the
and Aguiar went for thin value, betting out 1,500 into a pot of 14,000. Wright, who showed some creativity in the heads-up match he lost in July to Hellmuth on "High Stakes Duel," considered the reality that top pair might not be good on that wet of a board. So, he raised it up to 8,500 and Aguiar quickly let the best hand go.
Hellmuth and Negreanu Go at It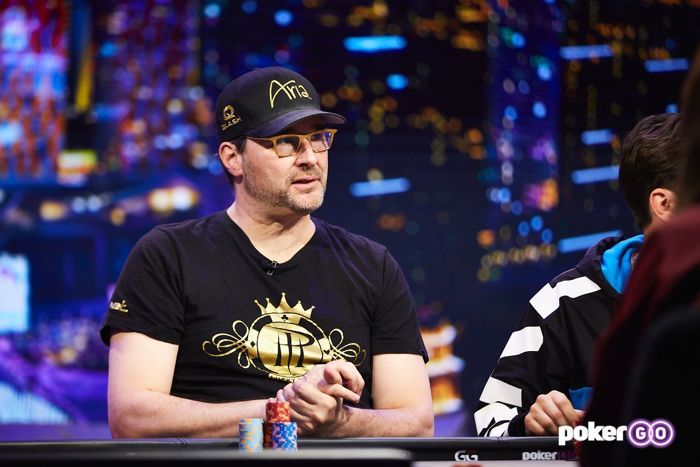 Phil Hellmuth thinks he's the best tournament player in the world, Daniel Negreanu disagrees. The Poker Hall of Famers, two of the most popular pros ever, have gone back and forth the past year over the "Poker Brat's" abilities. That didn't change during "Fight Night" Episdoe 1 on Poker After Dark.
"Here's what pissed me off," Hellmuth told his Poker After Dark opponents. "All throughout the 90s, all I did was play against the greatest players. All through the 80s and 90s because those are the only people that played the tournaments."
"But everybody was bad back then," Aguiar chimed in to which Hellmuth took offense and told his opponents to keep quiet until he's done with his story.
"I don't want to play the f*****g debate game where I just get cut off with b******t," Hellmuth fired back. "Daniel does that to me all the time."
"Daniel hasn't said anything," Wright said.
"You know how many times he's done this?" Negreanu jumped in. "He says, 'don't say anything, let me finish, and then you can talk,' then I don't say a word, then I go, 'okay, Phil, so here's the thing, and then within three seconds he goes bla bla bla bla bla."
"Yeah, but then you call me out and I shut up," the 15-time WSOP bracelet winner responded before going back to his story.
Hellmuth mentioned that "all through the 90s" he played against what he dubs "the greatest players" and said he "beat them all."
"And then all of a sudden they developed this narrative that I'm not good enough against good players," he continued. "So, the very field that has all the great young players is the turbos. And in the last four turbos, I have a first, a sixth, a fifth — three final tables. Some crazy amount, three final tables in five years, and this is the one I'm not supposed to compete because all the GTO guys. It's f*****g aggravating for me."
Hellmuth then went on to defend his poker resume. He said he thought the greatest poker player in the world should be the one who wins the most bracelets, a record he holds. The bickering continued when he accused Negreanu of "studying bad math."
"How do you know it's bad math if you don't study it?" Negreanu asked.
Wright on the Other End of a Bluff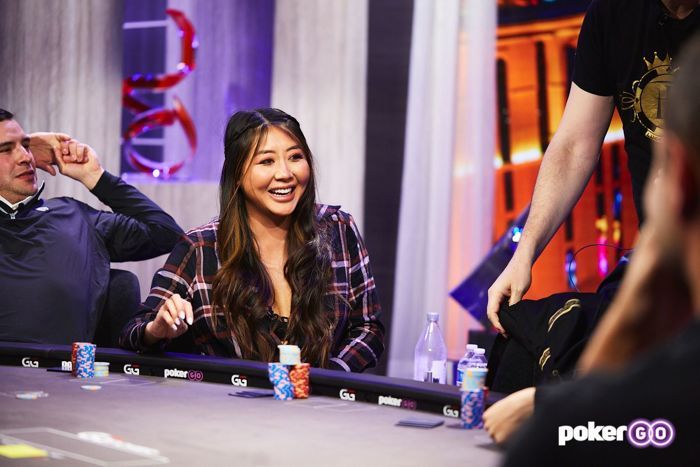 During Hellmuth and Negreanu's back and forth, Maria Ho and Nick Wright were tangled in an exciting pot. Ho raised it up to 6,000 pre-flop with
and the amateur made the call from the small blind with
.
Both players had just over 130,000 in chips and watched the flop come out
, and they each checked. The turn was a
, giving Wright a straight and Ho nothing but bottom pair on a wet board. Still, she called a 5,000-chip bet. When the
appeared on the river, things got interesting.
Ho, who was playing the board, bet out 22,500 into a pot of 27,000. Wright pondered his move and folded his king-high straight, apparently putting his opponent on a flush.
Remember, Poker After Dark will air every Monday but is only available to PokerGO subscribers. If you're not currently subscribed, you can get a monthly subscription for $14.99, a three-month plan for $29.99, and an annual subscription for $99.99. You can also save $10 off an annual subscription by using promo code "PokerNews" at checkout.
*Images courtesy of PokerGO.