Poker
LSPS Champions to Host Inaugural Texas State $1M GTD Main Event in Houston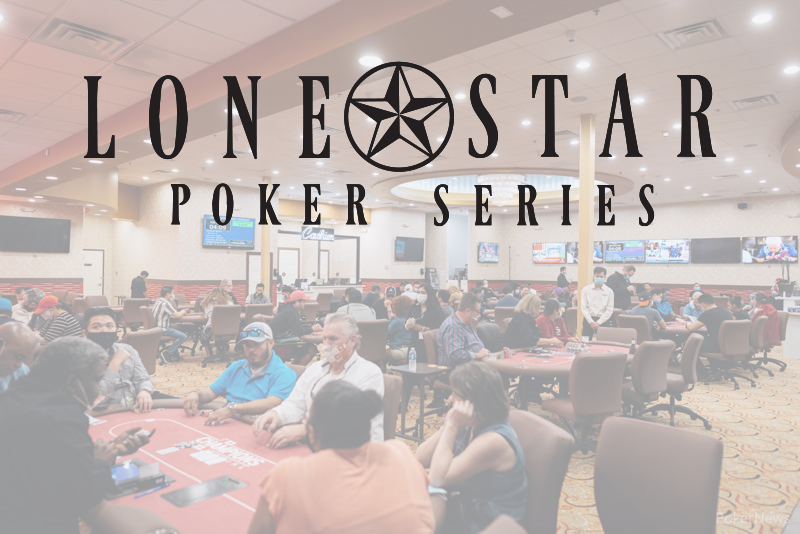 For the first time ever, the state of Texas will play host to a $1,000,000 guaranteed Main Event!
From April 15 through May 3, the Lone Star Poker Series (LSPS) will be at Houston's Champions Poker Club for a 19-event festival with over $1.5 million in guaranteed prize pools. The stop will culminate with the $1,300 buy-in Inaugural Texas State $1 Million Guaranteed Main Event, a tournament that will run from April 27-May 3 and feature five starting flights.
"Several card rooms have had some decent sized prize pools in the past, but Champions Poker Club and the Lone Star Poker Series will be the first to take the risk of announcing and guaranteeing a solid $1,000,000 prize pool," said Kim Stone, who co-founded the tour with Hayden Fortini.
Not only will PokerNews be on-site to offer daily live updates through the series, but fans will also be able to watch a live stream on PokerGO's YouTube channel with fun banter and commentary provided by Jeff Platt and Brent Hanks, the former a co-host on the PokerNews Podcast.
In addition, some well-known poker pros are slated to be in attendance including Matt Berkey, Darren Elias, and a pair of former World Series of Poker Main Event champs – 2003 winner Chris Moneymaker and 2004 champ Greg Raymer.
Other highlights in the series include a $400 buy-in, $150K GTD Spring Series Kick Off, the $600 buy-in Event #11: $30K GTD PLO Championship, and the $600 buy-in Event #18: $25K GTD Spring Series Saver. Additionally, there will be mixed game tournaments, both Tag Team and Seniors Events, and more.
Q&A w/ LSPS Co-Founder Kim Stone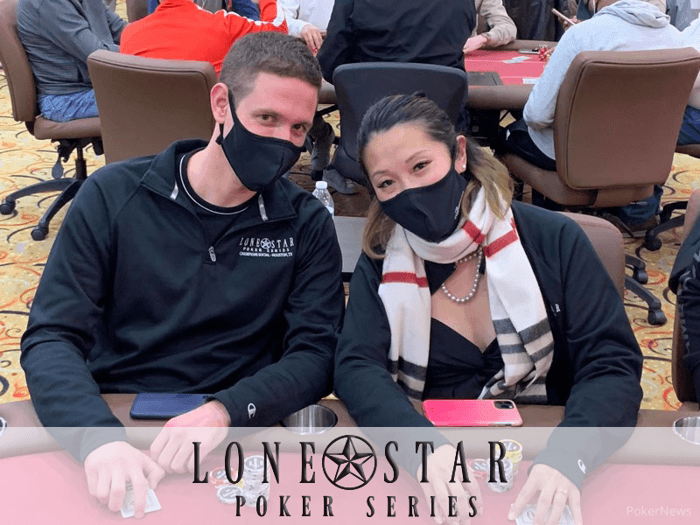 PokerNews: How are you feeling now that the Lone Star Poker Series has a few events under their belt?
Kim Stone: Hayden and I are very pleasantly surprised by how much and how quickly the LSPS brand has taken off. We've even had to postpone a couple of events outside of Houston because of Baby Fortini coming in July. We feel very fortunate that Texas poker players love our events and already have a sense of loyalty and positive expectations for each series we put together When every event ends, they ask us when the next one is to be scheduled. It's very humbling but exciting to be a part of something like this from the very beginning.
What should players look forward to in the upcoming series?
"We are elevating the whole player experience by making all the media outlets available to the players and their families and friends."
Partnering up with Champions Poker Club has been incredible. With their help and their support, we've been able to build up to a truly epic series. We are in the process of building a live stream studio under the design advisement of PokerGO. This is not your typical live stream poker table. You will have to see it to understand how amazing it's going to be. We are elevating the whole player experience by making all the media outlets available to the players and their families and friends.
What sets the Lone Star Poker Series apart from other poker tournaments?
My vision has always been two-fold. First, it's to have the best staff from around the country to elevate the player experience. Hiring highly experienced staff that run some of the largest fields and best structures around the country, allows our not-so-small poker community here in Houston to experience poker in its best form.
Second is to make poker fun again. Tournament poker is highly competitive and sometimes stressful, but it should never lose the core qualities of being a fun, exciting, and competitive way to gamble and potentially win tens of thousands of dollars! I want every player that plays one of our events to enjoy every minute. Fortunately, my partners allow me a lot of room for spending money on the small things that really matter – like the custom-made money clips and trophy buckles made by Max Lang, the $10,000 added money in the Surprise Bounty Event, and of course, the 1 Million Chip Custom Plaques that will be featured on the final tables of the Ultimate Monster and the $1 Million GTD Main Event
Lone Star Poker Series Champions Social Schedule
PokerNews will offer daily live updates throughout the series, which you will be able to follow here.
| Date | Time (CST) | Event | Buy-In | Tournament | Guarantee |
| --- | --- | --- | --- | --- | --- |
| Thursday, April 15 | 10 a.m. | – | $130 | Morning Mega 1 in 6 win $600 seat | 2 seats |
|   | 11 a.m. | 1A | $400 | 2021 Spring Series Kickoff | $150,000 |
|   | 5 p.m. | 1B | $400 | 2021 Spring Series Kickoff | $150,000 |
|   | 8 p.m. | – | $240 | Main Event Turbo Mega 1 in 6.5 win $1,300 seat | 2 seats |
| Friday, April 16 | 10 a.m. | – | $130 | Morning Mega 1 in 6 win $600 seat | 2 seats |
|   | 11 a.m. | 1C | $400 | 2021 Spring Series Kickoff | $150,000 |
|   | 5 p.m. | 1D | $400 | 2021 Spring Series Kickoff | $150,000 |
|   | 8 p.m. | – | $240 | Main Event Turbo Mega 1 in 6.5 win $1,300 seat | 2 seats |
| Saturay, April 17 | 10 a.m. | – | $130 | Morning Mega 1 in 6 win $600 seat | 2 seats |
|   | 11 a.m. | 1E | $400 | 2021 Spring Series Kickoff | $150,000 |
|   | 5 p.m. | 1F | $400 | 2021 Spring Series Kickoff | $150,000 |
|   | 8 p.m. | – | $240 | Main Event Turbo Mega 1 in 6.5 win $1,300 seat | 2 seats |
| Sunday, April 18 | 10 a.m. | – | $130 | Morning Mega 1 in 6 win $600 seat | 2 seats |
|   | 1 p.m. | 1 | – | 2021 Spring Series Kickoff Day 2 | $150,000 |
|   | 2 p.m. | 2 | $400 | Deep Stack Almost Freeze Out (single re-entry) | $15,000 |
|   | 6 p.m. | – | $300 | Main Event Deep Stack Mega 1 in 5 win $1,300 seat | 3 seats |
| Monday, April 19 | 10 a.m. | – | $130 | Morning Mega 1 in 6 win $600 seat | 2 seats |
|   | 10 a.m. | 3 | $400 | Senior's NLH | $10,000 |
|   | 2 p.m. | 4 | $400 | Manic Monday Double Stack Turbo | $10,000 |
|   | 5 p.m. | 5 | $400 | Limit H.O.R.S.E. "Deeper" Stack Turbo | $5,000 |
|   | 8 p.m. | – | $240 | Main Event Turbo Mega 1 in 6.5 win $1,300 seat | 1 seat |
| Tuesday, April 20 | 10 a.m. | – | $130 | Morning Mega 1 in 6 win $600 seat | 2 seats |
|   | 11 a.m. | 6 | $500 | Limit Omaha 8 Championship | $10,000 |
|   | 2 p.m. | 7 | $400 | NLH 6-Max | $10,000 |
|   | 6 p.m. | – | $300 | Main Event Deep Stack Mega 1 in 5 win $1,300 seat | 3 seats |
| Wednesday, April 21 | 10 a.m. | – | $130 | Morning Mega 1 in 6 win $600 seat | 2 seats |
|   | 11 a.m. | 8 | $400 | The Monster NLH | $20,000 |
|   | 3 p.m. | 9 | $400 | 3 Game Big bet Mix 8-Max (NLH, PLO, Big O) | $8,000 |
|   | 6 p.m. | – | $300 | Main Event Deep Stack Mega 1 in 5 win $1,300 seat | 3 seats |
| Thursday, April 22 | 10 a.m. | – | $130 | Morning Mega 1 in 6 win $600 seat | 2 seats |
|   | 11 a.m. | 10 | $400 | NLH Black Chip Bounty | $15,000 |
|   | 2 p.m. | 11 | $600 | 2021 Spring Series PLO Championship | $30,000 |
|   | 5 p.m. | – | $300 | Main Event Deep Stack Mega 1 in 5 win $1,300 seat | 3 seats |
|   | 8 p.m. | – | $240 | Main Event Turbo Mega 1 in 6.5 win $1,300 seat | 1 seat |
| Friday, April 23 | 10 a.m. | – | $130 | Morning Mega 1 in 6 win $600 seat | 2 seats |
|   | 11 a.m. | 12 | $400 | The Ultimate Monster NLH | $25,000 |
|   | 3 p.m. | 13 | $400 | Pot Limit Big O | $8,000 |
|   | 6 p.m. | – | $300 | Main Event Deep Stack Mega 1 in 5 win $1,300 seat | 3 seats |
| Saturday, April 24 | 10 a.m. | – | $130 | Morning Mega 1 in 6 win $600 seat | 2 seats |
|   | Noon | 14 | $600 | Lone Star Surprise Bounty II ($10,000 in added bounties) | $30,000 |
|   | 6 p.m. | 15 | $500 | Tag Team Partner $250/player | $10,000 |
| Sunday, April 25 | 10 a.m. | – | $130 | Morning Mega 1 in 6 win $600 seat | 3 seats |
|   | Noon | 16 | $600 | "Super" Deep Stack Almost Freeze Out (Single Re-entry) | $20,000 |
|   | 4 p.m. | – | $300 | Main Event Deep Stack Mega 1 in 5 win $1,300 seat | 6 seats |
|   | 8 p.m. | – | $240 | Main Event Turbo Mega 1 in 6.5 win $1,300 seat | 3 seats |
| Monday, April 26 | 10 a.m. | – | $240 | Main Event Turbo Mega Monday 1 in 6.5 win $1,300 seat | 3 seats |
|   | Noon | – | $300 | Main Event Deep Stack Mega Monday 1 in 5 win $1,300 seat | 6 seats |
|   | 4 p.m. | – | $300 | Main Event Deep Stack Mega Monday 1 in 5 win $1,300 seat | 6 seats |
|   | 8 p.m. | – | $240 | Main Event Turbo Mega 1 in 6.5 win $1,300 seat | 3 seats |
| Tuesday, April 27 | 10 a.m. | – | $240 | Main Event Turbo Mega 1 in 6.5 win $1,300 seat | 2 seats |
|   | 11 a.m. | 17 | $1,300 | Inaugural Texas State $1M GTD Main Event Day 1A | $1,000,000 |
|   | 8 p.m. | – | $240 | Main Event Turbo Mega 1 in 6.5 win $1,300 seat | 2 seats |
| Wednesday, April 28 | 10 a.m. | – | $240 | Main Event Turbo Mega 1 in 6.5 win $1,300 seat | 2 seats |
|   | 11 a.m. | 17 | $1,300 | Inaugural Texas State $1M GTD Main Event Day 1B | $1,000,000 |
|   | 8 p.m. | – | $240 | Main Event Turbo Mega 1 in 6.5 win $1,300 seat | 2 seats |
| Thursday, April 29 | 10 a.m. | – | $240 | Main Event Turbo Mega 1 in 6.5 win $1,300 seat | 2 seats |
|   | 11 a.m. | 17 | $1,300 | Inaugural Texas State $1M GTD Main Event Day 1C | $1,000,000 |
|   | 8 p.m. | – | $240 | Main Event Turbo Mega 1 in 6.5 win $1,300 seat | 2 seats |
| Friday, April 30 | 10 a.m. | – | $240 | Main Event Turbo Mega 1 in 6.5 win $1,300 seat | 2 seats |
|   | 11 a.m. | 17 | $1,300 | Inaugural Texas State $1M GTD Main Event Day 1D | $1,000,000 |
|   | 8 p.m. | – | $240 | Main Event Turbo Mega 1 in 6.5 win $1,300 seat | 2 seats |
| Saturday, May 1 | 10 a.m. | – | $240 | Main Event Turbo Mega 1 in 6.5 win $1,300 seat | 2 seats |
|   | 11 a.m. | 17 | $1,300 | Inaugural Texas State $1M GTD Main Event Day 1E | $1,000,000 |
| Sunday, May 2 | 10 a.m. | – | $130 | Morning Mega 1 in 6 win $600 seat | 2 seats |
|   | 1 p.m. | 17 | $1,300 | Inaugural Texas State $1M GTD Main Event Day 2 | $1,000,000 |
|   | 2 p.m. | 18 | $600 | NLH Spring Series Saver | $25,000 |
| Monday, May 3 | Noon | 19 | $400 | NLH Second Chance Send Off | $15,000 |
|   | 3 p.m. | 17 | $1,300 | Inaugural Texas State $1M GTD Main Event Day 3 Finale | $1,000,000 |