Poker
Join the Natural8 Lunar New Year Celebrations With Lucky 8s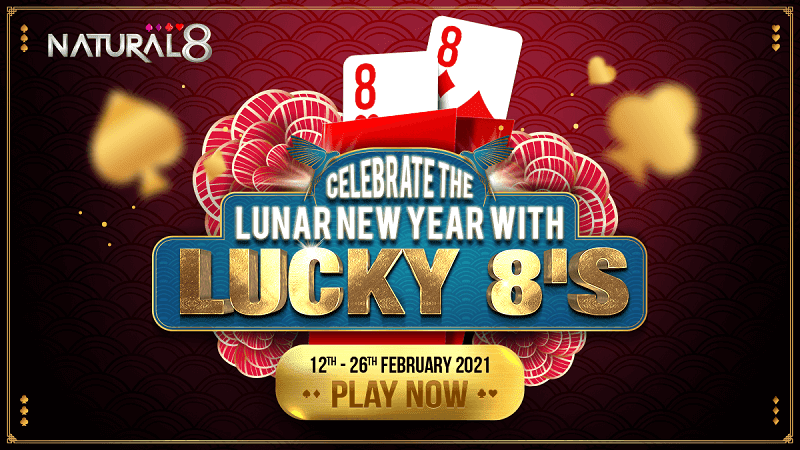 Natural8 is celebrating the Lunar New Year with the Lucky 8s cash games promotion between February 12 and February 26. it's a fun cash game focussed promo that revolves around pocket eights. Eight is, of course, the lucky number in Chinese culture.
$10,000 worth of cash prizes are waiting to be won by Natural8 players in the Lucky 8s promotion. You earn leaderboard points each and every time you are dealt pocket eights as your hole cards.
Natural8 awards you six points for being dealt pocket eights in any Hold'em, Short Deck or Rush & Cash Hold'em cash game. An additional three points are awarded if you win the hand with those "snowmen" and an extra bonus point is given if you show your hand.
AoF Hold'em players receive seven points for finding pocket eights in the hold, plus an additional three points for winning the hand.
Lucky 8s Tiers
There are eight tiers to the Lucky 8s promotion – why would there be any other number? – with your cash reward increasing when you climb to the next tier. There are a limited number of prizes for each tier so it makes sense to hit the tables sooner rather than later to ensure you don't miss out on some free cash.
The cash prizes are awarded instantly and they're worth up to a cool $7,000.
Tier 1: Collect 10 points
Tier 2: Collect 30 points
Tier 3: Collect 100 points
Tier 4: Collect 250 points
Tier 5: Collect 500 points
Tier 6: Collect 1,000 points
Tier 7: Collect 3,000 points
Tier 8: Collect 10,000 points
You'll only ever be competing against your fellow Natural8 players who are grinding the same stakes as you. Nine Hold'em leaderboard are running across the entire range of stakes Natural8 offers, those are from $0.01/$0.02 right up to $5/$10.
Rush & Cash players have seven leaderboards from $0.01/$0.02 to $1/$2, while All-in or Fold players can try to find pocket eights across eight leaderboards where the stakes range from $0.05/$0.10 to $10/$20.
Lastly, Short Deck players have seven leaderboards from $0.02 to $2.
Learn more about the exciting Short Deck format
Choose Your Natural8 Welcome Bonus
Natural8 has two welcome bonuses for PokerNews readers to choose from. The first is a 200% matched bonus where your first deposit of between $10 and $500 is matched 200%. This bonus releases into your account in $5 increments each time you contribute $20 to the cash game rake or tournament fees. You have 90-days to release as much bonus as possible.
You can also choose to receive up to $100 of free play for a $20 deposit. $65 worth of Spin & Gold tickets, $20 cash, and a $15 satellite ticket are all yours for a $20 deposit.