Poker
Joe Stapleton Returns to Stand-Up Comedy Scene for First Time Since COVID-19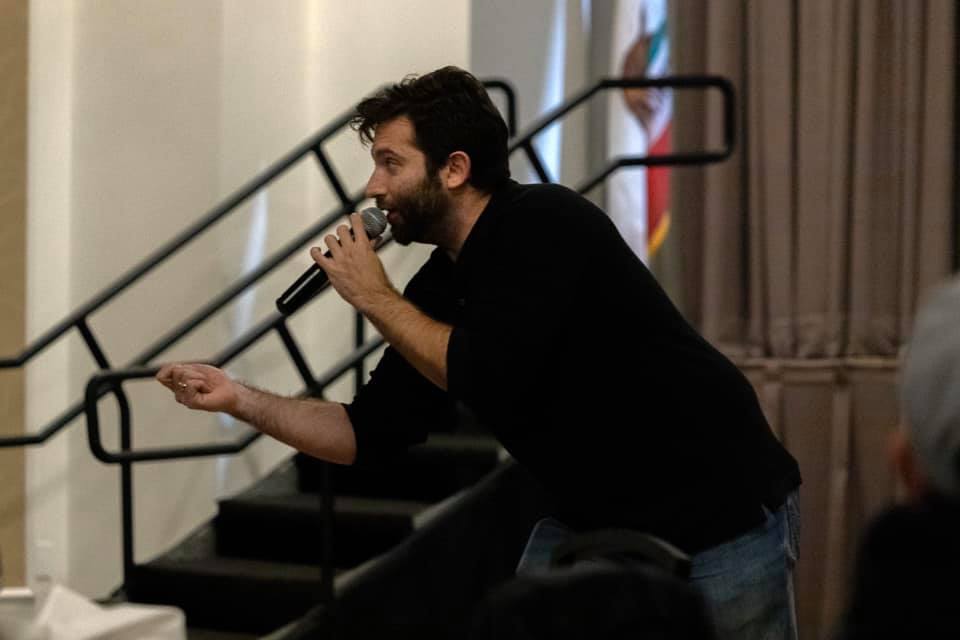 Poker commentator and comedian Joe Stapleton went 18 months without performing his stand-up routine due to COVID-19. But the jokester will get back on the grind August 27 at the Fourth Wall Cafe in Los Angeles, the first of many shows on the horizon for one of poker's goofiest characters.
"Stapes" spoke with PokerNews to discuss his return to stand-up comedy, and it's obvious the PokerStars announcer is pumped and ready to get back on stage. But despite the long layoff, he isn't any more nervous about his upcoming shows than in the past.
"My nervousness about doing stand-up hasn't increased or decreased over the past 18 months, it's consistently quite high," Stapleton said. "But I have been definitely worried about how exactly my act is supposed to have changed in that time."
Same Stapes, New Act
The world has changed significantly since early 2020, as Stapleton acknowledged. Thus, his act must also change accordingly or become stale. Since the last time he stepped on stage, the world has fought through a global health pandemic that has killed millions of people, and the U.S. has switched presidents (Donald Trump to Joe Biden). But the poker commentator doesn't plan on focusing his act on the same topics as every other comedian.
"However, I don't want to spend my entire set talking about how much things have changed," he explained. "It's the first time in modern history that everyone has had almost exactly the same experience for an extended period of time. We all watched Netflix. We all got fat. We all hate wearing masks. Doesn't that make talking about it a little hack? But also isn't it weird to ignore it? It's been an interesting puzzle to try to figure out."
---
Related: PokerStars' Comedy Night at the PCA a Resounding Success
---
What He's Been Up To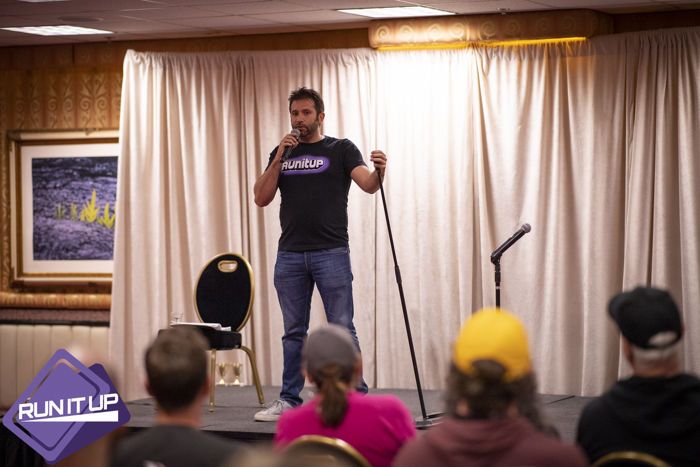 The pandemic has forced most comedians to adapt, or just find a new occupation. Stapleton, however, never relied on income generated from his comedy gig, so his bankroll wasn't harmed by all the COVID-19 restrictions and cancellations.
"We all watched Netflix. We all got fat. We all hate wearing masks. Doesn't that make talking about it a little hack?"
"Poker commentary has always paid the bills for me, and it's not even close," Stapleton says. "If I had to survive on any of the other stuff I do, I'd be back working at the Post Office. And within poker commentary, it's PokerStars by a country mile. If my salary over the years were represented by a pie chart, the PokerStars section would look like Pac-Man with his mouth closed."
During the pandemic, "Stapes" has remained busy even without the stand-up gig. In fact, he said it's been the "busiest year of my life." That's because PokerStars, the poker site he's worked for since the poker boom era, has pivoted to doing coverage of their online events with the absence of live poker tournaments. So, the stand-up comic has actually been even busier the past 18 months providing commentary for numerous livestreamed PokerStars online tournaments.
"I do some voice auditions here and there for various commercials, and occasionally — two or three times a year — get an audition for a cartoon, but with my availability, and talent, very limited, I've only booked one thing," Stapleton laughed, although he was also being serious.
Watch Stapes' commentary on the PokerStars Twitch Channel
Where to Watch 'Stapes' Perform
Stapleton's return to stand-up comedy begins August 27 in Los Angeles, where he resides, at the Fourth Wall Cafe (5220 Hollywood Boulevard) as part of the Fantasy Showcase beginning at 8 p.m. Tickets can be purchased online for just $10.
His second show is scheduled for September 3 at The Comedy Chateau in North Hollywood (4615 Lankershim Boulevard) at 7 p.m. Fans can purchase tickets online for this show as well for $25.
On September 11, Stapleton will perform at the Antelope Valley Comedy Festival in Lancaster, California. The stand-up comedy competition takes place at the Lancaster Performing Arts Center (750 W Lancaster Blvd) and features 47 of the top comedians in the country, plus Joe Stapleton (we're kidding, Joe!), all competing for a $10,000 first place prize. Tickets to the event run from $54 to $79, depending on where you want to sit.