James Kerr Wraps Massive SHR Tampa Series With Main Event Chop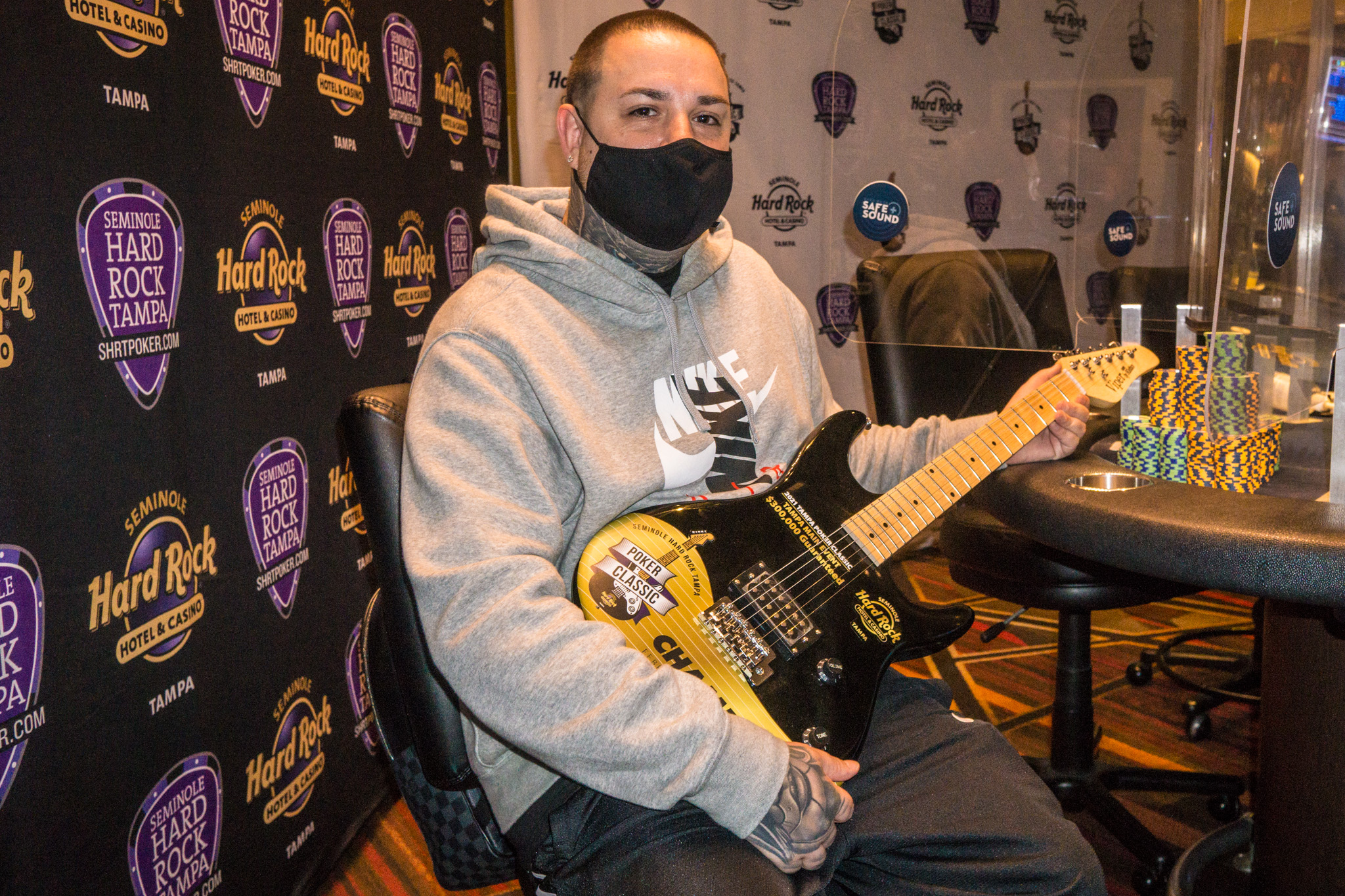 A clear trend looks to be emerging when it comes to live poker events in the U.S. — not many events are running, but those that do run are drawing some pretty huge numbers.
That continued over the weekend with the Seminole Hard Rock Tampa Poker Classic $1,700 Main Event, which drew 959 runners for a prize pool of $1,486,450.
At the close of said Main Event, three players remained, and they drew up a deal that saw each player walk away with hefty prizes of six figures. James Kerr got the biggest of the bunch with $228,038, about $60K less than the original first-place prize, while Alex Ivan took home $197,172 and Kyrylo Kobzyev banked $166,915.
"It was really pretty easy," said Kerr, who told tournament reporters that he "ran like pure God."
Official Final Table Results
| Place | Player | Hometown | Prize |
| --- | --- | --- | --- |
| 1 | James Kerr | Lakeland, Florida | $228,038* |
| 2 | Alex Ivan | Palm Harbor, Florida | $197,172* |
| 3 | Kyrylo Kobzyev | Auburn, Alabama | $166,915* |
| 4 | Gary Bowker | Philadelphia, Pennsylvania | $94,620 |
| 5 | Stephen Brite | Bradenton, Florida | $70,543 |
| 6 | Ken O'Donnell | St Petersburg, Florida | $53,299 |
| 7 | Scott Robbins | Millbury, Massachusetts | $40,819 |
*reflects three-handed deal
Some of the 97 players who made the money but fell short of the final table in the hefty field included Max Young, Hamid Izadi, Byron Kaverman, Justin Zaki and Ricardo Eyzaguirre, recently profiled here on PokerNews.
According to the live updates, Kerr held the lead pretty much the whole way from about 27 players on down after he won a three-way all in with aces, the details of which didn't make it into the updates. He held a pretty solid lead with just under 85 big blinds heading into the final day of play on Monday, which saw seven players advance.
Massive Early Cooler Propels Kerr
With six players remaining, a huge cooler developed in the blinds. Ken O'Donnell had been in good position with the second stack to start the day and had to be feeling pretty good when his limp-raise with pocket kings got shoved on by Kerr. He called off only to be shown black aces, and a bricky jack-high board left him out the door in sixth for an unlucky result, while Kerr's chip lead only grew bigger as he surpassed 100 blinds and held about half of the total chips.
A short-stacked Steve Brite was Kerr's next victim as he tried to resteal over his open with
only to be dominated by
. He flopped a three and turned a gutter but improved no further.
Gary Bowker was the short stack four-handed with about 10 bigs, and he found a nice shoving spot with
only to have Ivan wake up with the aces behind him and bust him.
Negotiations Quickly Started and Completed
No sooner had Bowker hit the payout desk than the others agreed to check the numbers for a potential deal.
Kerr was in control still with 15 million, more than half of the chips, though the others had playable stacks with Ivan on 8.9 million and Kobzyev 4.7 million at 200,000 big blind.
It seems no negotiation was needed as each player accepted the payout that the ICM calculator spit out their stack was worth. Kerr earned his third signature guitar trophy and each player set a new personal best for live cashes.
Side Event Results
Of course, there was also plenty of side action outside of the stellar Main Event. PokerNews has already covered the biggest of the tournaments with a recap of the $600 Reentry, but here's a look at all of the trophy winners throughout the series:
| Date | Tournament | Entries | Prize Pool | Winner | Prize |
| --- | --- | --- | --- | --- | --- |
| Feb. 17 | Event #1: $400 NLH Re-Entry | 411 | $135,630 | John Marlow | $12,932 |
| Feb. 17 | Event #2: $600 NLH Re-Entry | 998 | $513,970 | Michael Drake | $79,319 |
| Feb. 21 | Event #3: $200 NLH Re-Entry | 265 | $42,400 | Hristos Tsironis | $10,404 |
| Feb. 22 | Event #4: $150 NLH Re-Entry | 183 | $21,960 | Vasyl Chubei | $5,983 |
| Feb. 23 | Event #5: $400 NLH Re-Entry | 249 | $82,170 | Wagner Wysotchanski | $17,000 |
| Feb. 24 | Event #6: $600 NLH Re-Entry | 219 | $112,785 | Anthony Askey | $22,798 |
| Feb. 28 | Event #8: $400 NLH Black Chip Bounty | 226 | $53,110 | Kevin Dilk | $12,774 |