Poker
Israelashvili, Dodd & Kwon Among WSOP Spring Online Super Circuit Winners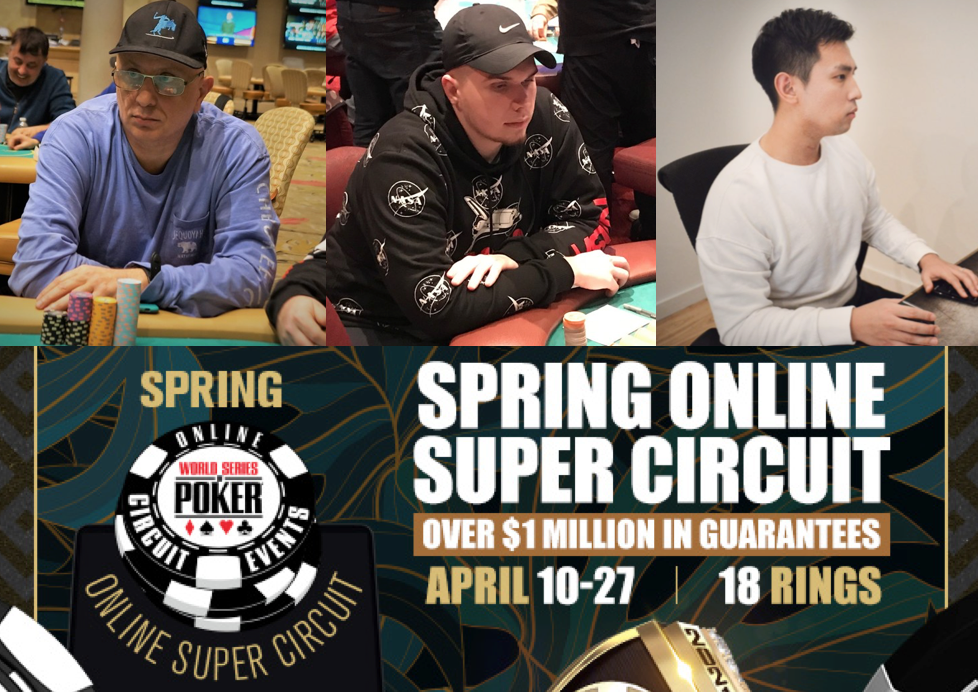 Earlier this week, the World Series of Poker (WSOP) wrapped up its Spring Online Super Circuit, which catered to players in Nevada and New Jersey. The 18-event series guaranteed more than $1 million in guarantees, and after more than two weeks of action, they wound up paying out $2,189,704 in prize money as a combined 5,743 entrants competed.
Among those to win rings during the series were Jerod "whiskeydeck" Smith, 2020 WSOP.com Player of the Year YK "LUCKYSPEWY1" Kwon, and Alexander "losingplayer" Farin, who actually captured a pair of rings.
First, Farin topped a 212-entry field to win Event #4: $150,000 GTD NLH High Roller for $42,233.15, and then nine days later he bested a 181-entry field to win Event #13: $75,000 GTD NLH 6-Max for an additional $16,775.70
All those who captured gold rings are now eligible for the year-end $250K GTD WSOP Online Circuit Championship. There are multiple ways a player can become eligible for that event:
Win a WSOP Gold Ring Event during the 2021 season
Win a $10,000 Player of the Month Leaderboard
Win a Second Chance Fast Forward Be one of the top 50 players on the Cumulative Circuit Leaderboard who are not otherwise eligible (50)
Ryan Dodd Wins Main Event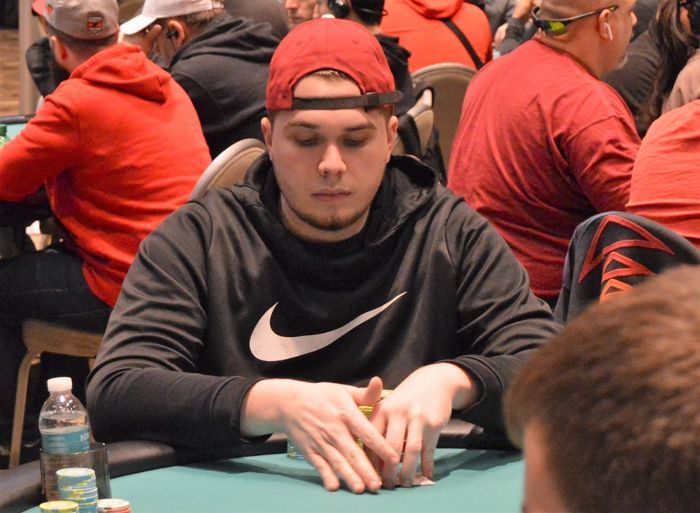 On Sunday, April 25, the $525 buy-in $300K GTD Main Event took place with 397 players rebuying 195 times to create a 592-entry field. The top 80 finishers for a piece of the $300,000 prize pool including
After 10 hours and 35 minutes of play, it was New Jersey's Ryan "WHOSYOURDODD" Dodd besting Fadi "fadiphatu1" Elsmaily emerging victorious to claim a $51,300 top prize and his first WSOPC gold ring.
"It feels great to win my first ring, even better that it was in a Main Event," Dodd told PokerNews. "We have a group that has been studying a lot over the last few months and this is just piggybacking on their successes, so it was nice to finally join the party."
He continued: "One hand really sticks out. I was a short-to-average stack for a while at the final two tables, I got down to around 10 blinds and I was under the fun with aces and I snap-min-opened. The player who had all the chips and was opening every hand min-three-bet me, which I believe was due to him not seeing my open. So when I jammed he was so committed he had to call off with the
suited and I luckily doubled and didn't look back from there."
Among those to cash the tournament but fall short of the final table were Wendy "Cardthartic" Freedman (10th – $4,050), Michael "SammyTwizz" Azzaro (12th – $4,050), Jeremy "nothinpersnl" Kottler (22nd – $1,890), Christopher "pokeher2014" Fuchs (33rd – $1,680), and Ross "BlueTang" Gottlieb (54th – $1,170).
WSOPC Spring Series Main Event Final Table Results
| Place | Player | Prize |
| --- | --- | --- |
| 1 | Ryan "WHOSYOURDODD" Dodd | $51,300 |
| 2 | Fadi "fadiphatu1" Elsmaily | $37,950 |
| 3 | Justin "MadTitan" Turner | $27,990 |
| 4 | Zach "thepepster5" Epstein | $20,580 |
| 5 | Leo "feelsgoodman" Wolpert | $15,990 |
| 6 | "Pokernut" | $12,210 |
| 7 | Krishna "Ninjago" Kalidas | $12,210 |
| 8 | Daniel "TheDinosaur" Marder | $7,050 |
| 9 | "qqlove" | $5,250 |
Israelashvili Bests Schulman in High Roller
The biggest buy-in of the series was the $2,000 buy-in Event #11: $150,000 GTD Super High Roller, which drew 62 players who rebought 35 times. That meant the $184,300 prize pool was paid out to the top 15 finishers, and some of those to cash but fall short of the final table was Adam "rwethereyet" Croffut (10th – $3,612.28), John "macallan25" Riordan (13th – $2,948.80), and Eli "sketchem" Mirlis (15th – $2,948.80), just to name a few.
The final table was a stacked affair including Daniel "DNegs" Negreanu and Tony "Panoramic" Dunst, but in the end, the title came down to a pair of well-respected poker pros in Roland "prngls12" Israelashvili and Nick "cashushklay" Schulman.
After more than six hours of play, the former came out on top to win a $44,784.90 top prize and his seventh career gold ring.
WSOPC Spring Series High Roller Final Table Results
| Place | Player | Prize |
| --- | --- | --- |
| 1 | Roland "prngls12" Israelashvili | $44,784.90 |
| 2 | Nick "cashushklay" Schulman | $33,911.20 |
| 3 | Martin "bathroomline" Zamani | $25,341.25 |
| 4 | Tony "Panoramic" Dunst | $18,982.90 |
| 5 | Ian "apokerjoker2" Steinman | $13,951.51 |
| 6 | Daniel "DNegs" Negreanu | $10,247.08 |
| 7 | YK "LuckySpewy1" Kwon | $7,593.16 |
| 8 | Alfred "5kTonight" Gillette | $5,529 |
| 9 | Anthony "heheh" Zinno | $4,275.76 |
Watch the PokerNews Twitch stream of the Super High Roller here:
| | | | | | | | | | | | | | | | | |
| --- | --- | --- | --- | --- | --- | --- | --- | --- | --- | --- | --- | --- | --- | --- | --- | --- |
| *Date | Tournament | Buy-In | Players | Re-Entries | Total Entries | Prize Pool | Winner | Prize* |   |   |   |   |   |   |   |   |
| Saturday, April 10 | Event #1: $100,000 GTD BIG $500 | $500 | 194 | 123 | 317 | $148,039 | David "pokerstudy12" Diiorio | $29,459.76 |   |   |   |   |   |   |   |   |
| Sunday, April 11 | Event #2: $125,000 GTD NLH Monster Stack | $215 | 558 | 187 | 745 | $149,000 | Jerod "whiskeydeck" Smith | $22,484.10 |   |   |   |   |   |   |   |   |
| Monday, April 12 | Event #3: $75,000 GTD NLH Freezeout | $250 | 376 | 0 | 376 | $87,608 | Nicholas "Got_The_Glow" Brancato | $21,902 |   |   |   |   |   |   |   |   |
| Tuesday, April 13 | Event #4: $150,000 GTD NLH High Roller | $1,000 | 132 | 80 | 212 | $202,460 | Alexander "losingplayer" Farin | $42,233.15 |   |   |   |   |   |   |   |   |
| Wednesday, April 14 | Event #5: $50,000 GTD NLH Turbo | $250 | 206 | 80 | 286 | $67,210 | David "TheClubber" Larson | $12,904.32 |   |   |   |   |   |   |   |   |
| Thursday, April 15 | Event #6: $75,000 GTD NLH | $320 | 233 | 139 | 372 | $111,600 | Raymond "avant9201" Avant | $21,427.20 |   |   |   |   |   |   |   |   |
| Friday, April 16 | Event #7: $50,000 NLH Knockout Freezeout | $300 | 275 | 0 | 275 | $77,550 | Tim "Kiwibird" Raffel | $14,013 |   |   |   |   |   |   |   |   |
| Saturday, April 17 | Event #8: $125,000 GTD NLH Double Stack | $320 | 276 | 118 | 394 | $125,000 | Chris "basile28" Basile | $23,225 |   |   |   |   |   |   |   |   |
| Sunday, April 18 | Event #9: $150,000 GTD NLH Monster Stack | $525 | 251 | 95 | 346 | $173,000 | Daniel "st0neydanza" Dagostino | $32,143.40 |   |   |   |   |   |   |   |   |
| Monday, April 19 | Event #10: $50,000 GTD NLH Turbo | $215 | 233 | 89 | 322 | $64,400 | Roberta "Robinhearts" Schwebach | $12,364.80 |   |   |   |   |   |   |   |   |
| Tuesday, April 20 | Event #11: $150,000 GTD Super High Roller | $2,000 | 62 | 35 | 97 | $184,300 | Roland "prngls12" Israelashvili | $44,784.90 |   |   |   |   |   |   |   |   |
| Wednesday, April 21 | Event #12: $40,000 GTD PLO8 of Better | $215 | 138 | 107 | 245 | $49,000 | Brian "eckstrom" Eckstrom | $10,221.40 |   |   |   |   |   |   |   |   |
| Thursday, April 22 | Event #13: $75,000 GTD NLH 6-Max | $320 | 77 | 104 | 181 | $84,300 | Alexander "losingplayer" Farin | $16,775.70 |   |   |   |   |   |   |   |   |
| Friday, April 23 | Event #14: $50,000 GTD PLO Big $500 | $500 | 57 | 45 | 102 | $50,000 | Kyle "JackintheB0x" Miholich | $12,150 |   |   |   |   |   |   |   |   |
| Saturday, April 24 | Event #15: $125,000 GTD NLH Double Stack | $320 | 248 | 113 | 361 | $125,000 | YK "LUCKYSPEWY1" Kwon | $24,000 |   |   |   |   |   |   |   |   |
| Sunday, April 25 | Event #16: $300,000 GTD NLH Main Event | $525 | 397 | 195 | 592 | $300,000 | Ryan "WHOSYOURDODD" Dodd | $51,300 |   |   |   |   |   |   |   |   |
| Monday, April 26 | Event #17: $75,000 GTD NLH 6-Max | $320 | 192 | 117 | 309 | $92,700 | Ryan "sychoSID" Hohner | $18,447.30 |   |   |   |   |   |   |   |   |
| Tuesday, April 27 | Event #18: $75,000 GTD NLH $500 Freezeout 8-Max | $500 | 211 | 0 | 211 | $98,537 | Russell "AntonChigurth" Powers | $26,112.30 |   |   |   |   |   |   |   |   |