Poker
Hellmuth and Negreanu Face Off for $400,000 in High Stakes Duel II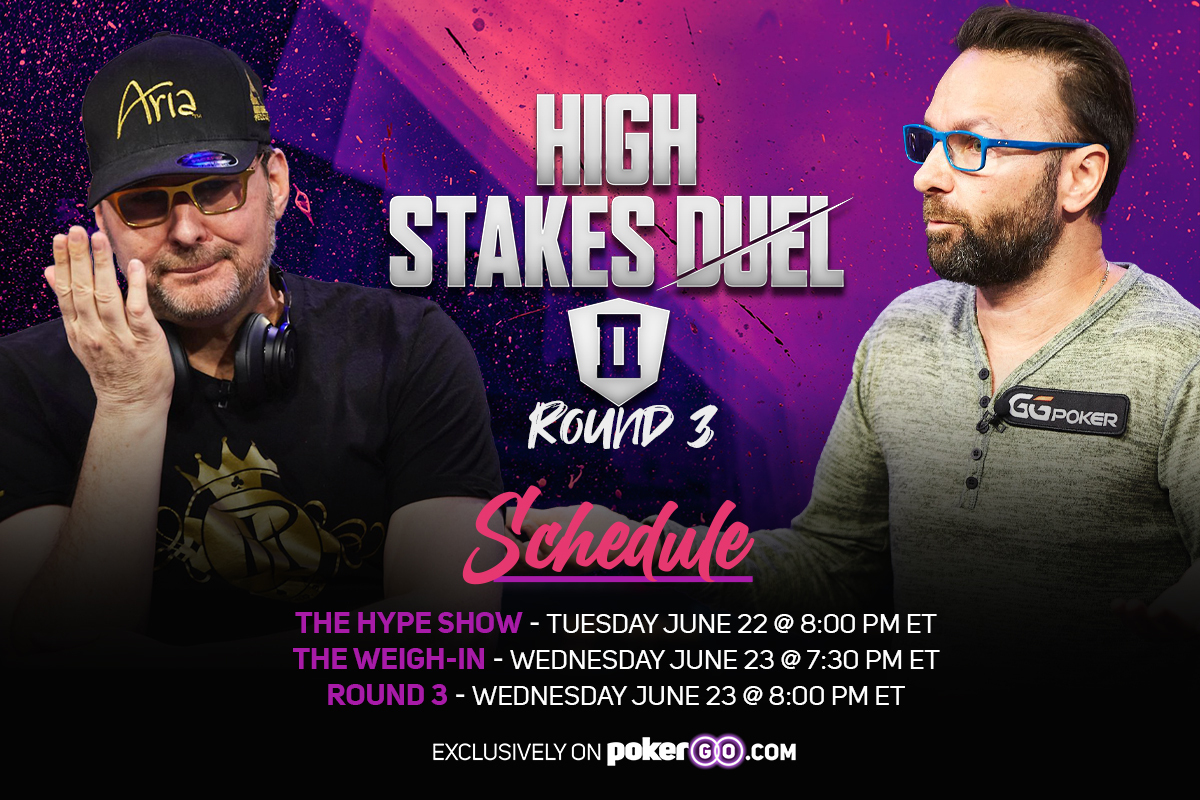 Off the heels of Phil Ivey defeating Patrik Antonius for an exciting conclusion of the WPT $25K Heads Up Poker Championship, the poker world is geared up for yet another exciting heads-up battle Phil Hellmuth and Daniel Negreanu for a $400,000 prize pool in Round 3 of High Stakes Duel II on June 23-24 at the PokerGO Studio at the ARIA Resort and Casino.
Poker fans will be able to follow long on this epic battle between two players that have withstood the test of time at the subscription-based PokerGO at 8 p.m. EDT.
Remember, an annual subscription to PokerGO costs $99.99, but you can save $10 off by using promo code "PokerNews" at checkout. Once you're signed up, the entire saga of Negreanu vs. Hellmuth can be viewed on PokerGO.
Hellmuth Shines as an Underdog
The critics are always after Phil Hellmuth due to his unorthodox style of play but there is no denying the 15-time WSOP bracelet winner has gotten it done time and time against for more than three decades.
Before facing off against Negreanu, Hellmuth was pitting against another poker legend in Antonio Esfandiari in the inaugural High Stakes Duel. Esfandiari was the betting favorite with the poker community once again underestimating the formidable Hellmuth.
Hellmuth went on to win the first $50,000 heads-up match against Esfandiari and won against when the stakes doubled when each player ponied up $100,000. Esfandiari threw in the towel after Hellmuth won the third match featuring a $200,000 to win $350,000 in the three matches.
Meanwhile, Negreanu was just off an expensive crash course in advanced heads-up play after imfamously facing off against Doug Polk. Polk was dominate throughout and eventually won $1.2 million in the challenge against Negreanu.
Negreanu was looking for new challengers after that goading several players on social media into a high-profile battle. Hellmuth took the bait and was once again an underdog.
The first match featuring a $50,000 buy-in in April between Hellmuth and Negreanu was a story for the ages. Negreanu had Hellmuth on the ropes with 97,000 chips to his opponent's 3,000 chips. If there were live lines on the match, they would have been likely pulled off at this point as it seemed that Negreanu would easily seal the deal.
However, Hellmuth stormed back to win the match and Negreanu immediately invoked the option to double the stakes to a $100,000 buy-in. That match took place in May and ended on a bad beat when Hellmuth's ace-four got there against pocket eights.
High Stakes Duel Format
The High Stakes Duel format starts off with two players by ponying up $50,000 each for a $100,000 initial match.
The event mimics a deep-stacked cash game early in the action with players starting with 50,000 chips and blinds at 50/100 and increasing every 30 minutes. The action will move along quickly as each player has 30 seconds to act with five 60-second time banks available for the tough decisions.
The losing player has the first option to challenge at double stakes. If they decline, a new challenger can post up and take on the double-stake match within 30 days, or the series ends and the winner cashes out.
The winner can also cash out after three consecutive wins, or two consecutive wins if they occur later in the series when the stakes have doubles several times already.
If Hellmuth can pull off another victory, he can cash out even if Negreanu wants to play on for double the stakes. If Negreanu ends his losing streak, Hellmuth will have the option for a rematch which Negreanu will have to accept.
"High Stakes Duel" is available for PokerGO subscribers. If you're not currently subscribed, you can get a monthly subscription for $14.99, a three-month plan for $29.99, and an annual subscription for $99.99. You can also save $10 off an annual subscription by using promo code "PokerNews" at checkout.
Photos courtesy of PokerGO