Poker
Get Started on GOP3 and Receive Free Chips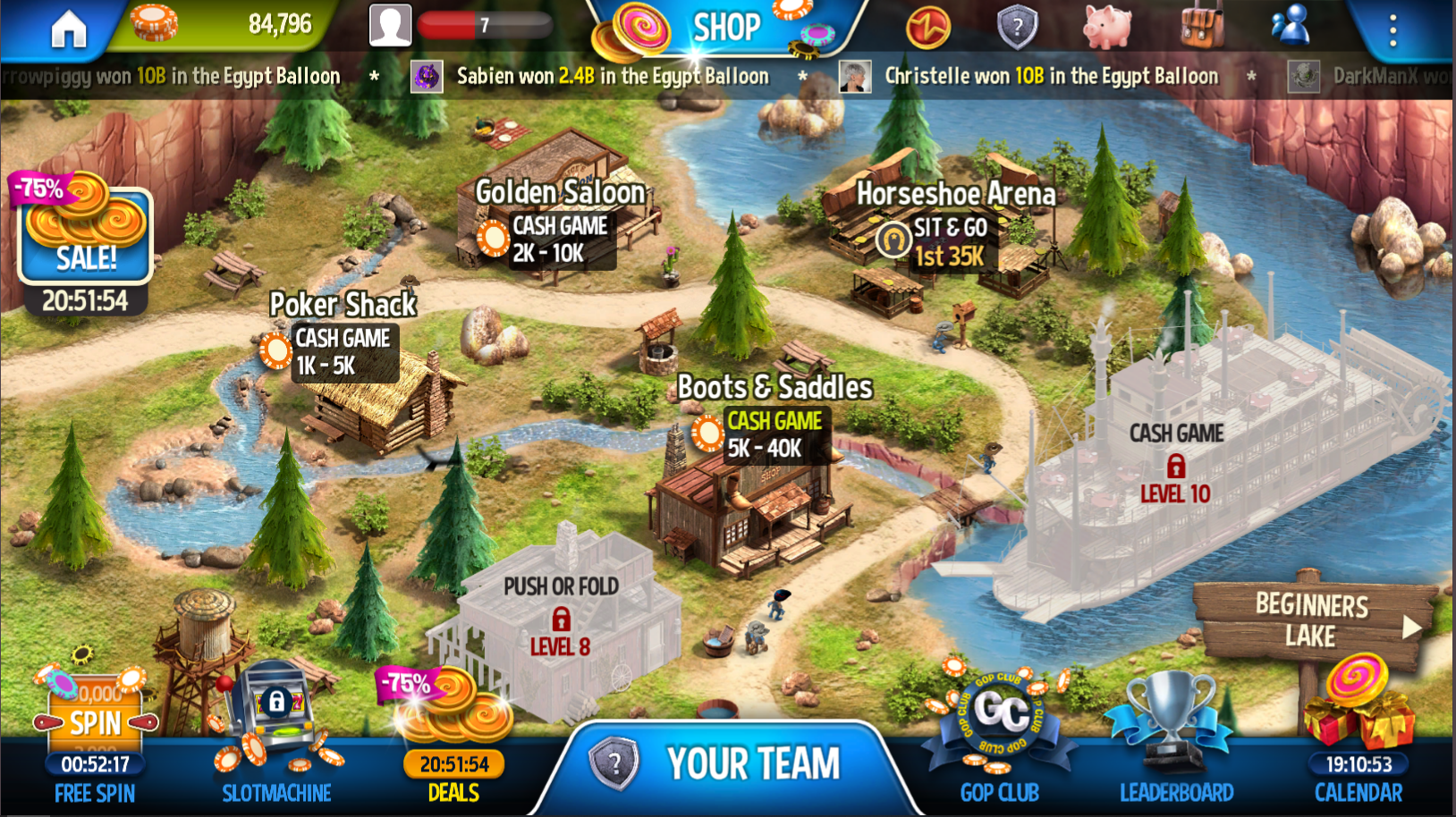 Are you thinking about joining Governor of Poker 3, or have you recently joined and want more chips, know which games you should play and so much more to get yourself started!
Here you will find all the information you need to know about joining Governor of Poker 3, gain 30,000 free chips and so much more information.
As you join GOP3, do you want to start to progress through the levels to start playing additional games and winning extra prizes as you start to build up your chips?
In this article, we'll teach you:
How to Gain 30,000 Free Chips?
Once you've registered for Governor of Poker 3, if you register through PokerNews, this gives you an additional advantage through 30,000 chips.
In addition to the other ways of gaining free chips, such as completing challenges, spinner mechanic for tones of free chips being given away, you can gain this generous help to building your chips and create yourself a big bankroll all from this 30,000-starting pot.
As you start with the 30,000 free chips, you can explore the games whether that's poker or blackjack to build your levels and experience to able to play higher levelled games with even bigger stakes!
What Games Can You Play on GOP3?
Now you've gained the starting bonus of 30,000 chips, you can now start to adventure through the different types of poker and games which are on Governor of Poker 3.
This has given you access to the different games as you continue to level up, but as you start at level 1 you can start playing upon the 'Poker Shack' – as a cash game you can start here playing from between 1000 – 5000 chips.
This continues to increase the number of chips as you win the games to level up and gain even more chips. Introducing cash games, sit & go, push and fold, and many more to choose from.
Poker Games
Among the poker games which are available to play along the journey on Governor of Poker 3, whether you play Cash Games, Sit & Go, or Push & Fold – you are able to play up to the maximum level of 53.
Although playing majority cash games, through the levels of XP you built with your levels and amount of chips that you win – you can also engage within the different events.
Through the different locations, you can indulge yourself into different events to gain even more prizes and increase your levels through the leaderboard.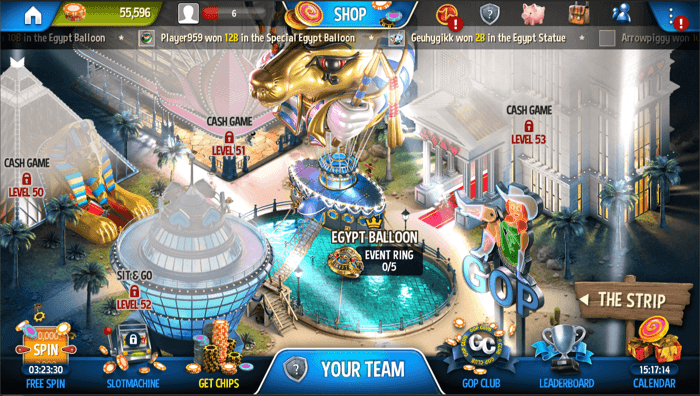 In addition to the other games and levels which you're able to play along the way, there are different events which you able to buy into – whether this is spin & go or cash games, you can buy in for different amounts of chips. This enables you to gain different event rings!
If you want to explore other poker formats, there are three additional options which may be suited for how you want to play.
Whether you want to play with your friends for fun, you can indulge yourself into the private cash games since they are inviting only you can create these games for those you wish to play.
Even if you're relatively new to the game, since the buy in is between 2000 and 10000 coins – with the bonus of 30000 chips for signing up with PokerNews, you can start playing privately today!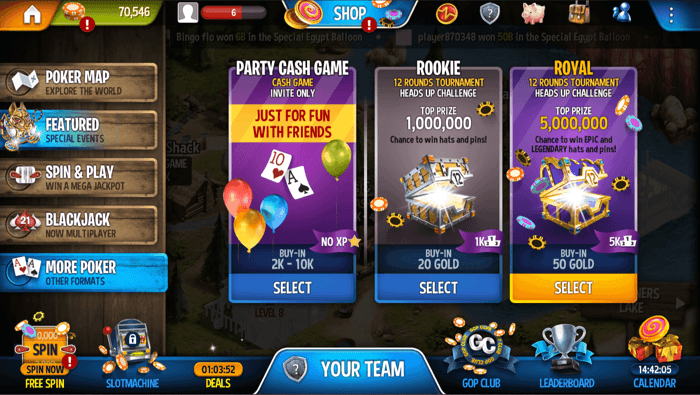 Blackjack
For other with an interest in Blackjack, or those want to learn how to play, there are varied levels from low to xtreme to build your experience, chips and XP levels on governor of poker 3.
If you're lucky for when you log into Governor of Poker, you are able to find random additions to your games and additional prizes which you can win. For instance, when logging on through the Blackjack section, there was an addition of 20% team points.
Across varied buy-in levels starting from 10K chips all the way up to 25 billion chips meaning there are those you can play with regardless of the level you're at.
In addition, the more chips you buy-in with, this will increase your potential winnings!
Slot Machines
In the midst of the other poker games, challenges and events you can get involved in, once you reach level 15, this gives you access to the fruit slot machine.
Depending on the different matching symbols you gain from the slot machine that will determine the multiplication of winnings you'll gain. Being divided over the 5 paylines, it is multiplied against the values you win.
So, once you've reached level 15, you can then start spinning away to win even more chips and XP!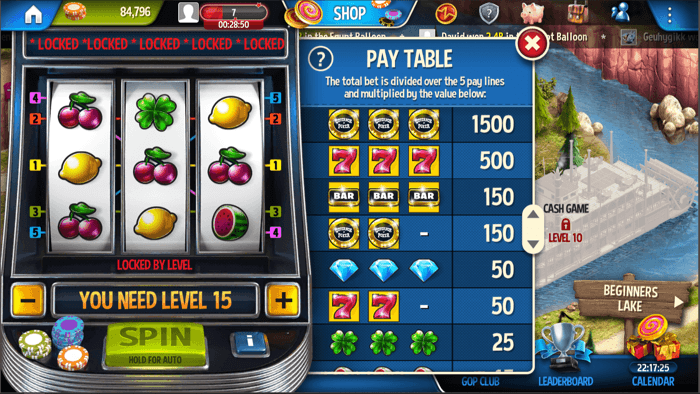 Achievements & Challenges
As you aim to gain additional levels, chips, and coins, one of the ways that you're able to do this is through the achievements and challenges which you progress towards.
Through each challenge and achievement which you achieve and unlock, there is a variety of prizes you have the potential of being able to win.
Whether it is experience, chips or gold coins depending on the tasks which you need to complete this is what you are able to do to gain these prizes and level up!