Poker
Follow The Biggest 2021 WCOOP Events Here at PokerNews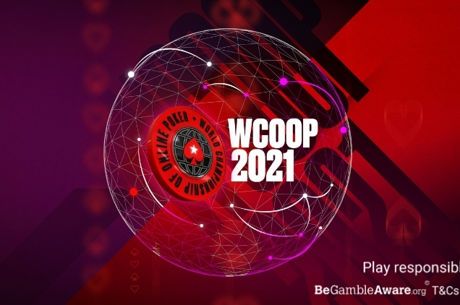 The $100 million guaranteed 2021 PokerStars World Championship Of Online Poker (WCOOP) features 102 massive events, and you can follow all of the action from the biggest of those tournaments right here at PokerNews.
PokerNews' Live Reporting team is gearing up to bring you a blow-by-blow account from 22 WCOOP events between August 22 and September 13. The events our reporters are covering have combined guaranteed prize pools of $34.15 million!
Check out the full 2021 WCOOP schedule here!
There are some huge events on our radar that we cannot wait to bring you updates from, including the $25,000 8-Max Super High Roller on August 29. Last year's $25,000 Super High Roller attracted 106 of the world's best poker tournament players, who were all outlasted by Adrian "Amadi_017" Mateos. The uber-talented Spaniard dealt with Fedor "CrownUpGuy" Holz when heads-up to secure a $543,686 prize and his second WCOOP title in as many events.
September 12 is the busiest day for both WCOOP players and PokerNews reporters because it is the day that all the 2021 WCOOP Main Events shuffle up and deal. The trio of No-Limit Hold'em Main Events pitch their first cards at 7:05 p.m. CET with the Pot-Limit Omaha Main Events kicking off two hours later.
Andre "PTFisherman23" Marques is the reigning WCOOP Main Event champion. The Portuguese star finished on top of the pile, a result worth $1,147,271. Marques struck a deal with Tonio "prrral4783" Roder ($1,082,523) and Dutch star Teun "tinnoemulder" Mulder ($1,101,528) before emerging victoriously from battle.
Tune into PokerNews' coverage from 7:05 p.m. CET on August 22, and stay with us throughout the 2021 WCOOP.
2021 PokerStars WCOOP Events Covered By PokerNews
| Start Date | Time (CET) | Tournament |
| --- | --- | --- |
| Sun 22 Aug | 7:05 p.m. | WCOOP 04-M: $530 NLHE [8-Max], $1.5M Gtd |
| Sun 22 Aug | 7:05 p.m. | WCOOP 04-H: $5,200 NLHE [8-Max, High Roller], $1M Gtd |
| Tue 24 Aug | 7:05 p.m. | WCOOP 14-M: $1,050 NLHE [8-Max, Super Tuesday SE], $1M Gtd |
| Tue 24 Aug | 7:05 p.m. | WCOOP 14-H: $10,300 NLHE [8-Max, High Roller], $1M Gtd |
| Thu 26 Aug | 7:05 p.m. | WCOOP 22-M: $530 NLHE [8-Max, Progressive KO, Thursday Thrill SE], $1M Gtd |
| Thu 26 Aug | 7:05 p.m. | WCOOP 22-H: $5,200 NLHE [8-Max, Progressive KO, High Roller], $750K Gtd |
| Sun 29 Aug | 7:05 p.m. | WCOOP 34-M: $2,100 NLHE [8-Max], $1M Gtd |
| Sun 29 Aug | 7:05 p.m. | WCOOP 34-H: $25,000 NLHE [8-Max, Super High Roller], $3M Gtd |
| Tue 31 Aug | 7:05 p.m. | WCOOP 42-H: $5,200 NLHE [8-Max], $700K Gtd |
| Thu 2 Sep | 7:05 p.m. | WCOOP 51-H: $2,100 NLHE [8-Max, Progressive KO, Thursday Thrill SE], $800K Gtd |
| Thu 2 Sep | 8:15 p.m. | WCOOP 52-H: $10,300 8-Game [High Roller], $500K Gtd |
| Sun 5 Sep | 7:05 p.m. | WCOOP 63-M: $1,050 NLHE [8-Max, Progressive KO], $1.5M Gtd |
| Sun 5 Sep | 7:05 p.m. | WCOOP 63-H: $10,300 NLHE [8-Max, Progressive KO, High Roller], $1M Gtd |
| Tue 7 Sep | 7:05 p.m. | WCOOP 71-H: $2,100 NLHE [8-Max, Super Tuesday SE], $650K Gtd |
| Thu 9 Sep | 7:05 p.m. | WCOOP 80-H: $10,300 NLHE [8-Max, Progressive KO, High Roller], $750K Gtd |
| Sun 12 Sep | 7:05 p.m. | WCOOP 91-L: $55 NLHE [8-Max, NLHE Main Event], $1.5M Gtd |
| Sun 12 Sep | 7:05 p.m. | WCOOP 91-M: $530 NLHE [8-Max, NLHE Main Event], $2.5M Gtd |
| Sun 12 Sep | 7:05 p.m. | WCOOP 91-H: $5,200 NLHE [8-Max, NLHE Main Event], $10M Gtd |
| Sun 12 Sep | 9:05 p.m. | WCOOP 92-M: $1,050 PLO [6-Max, PLO Main Event], $750K Gtd |
| Sun 12 Sep | 9:05 p.m. | WCOOP 92-H: $10,300 PLO [6-Max, PLO Main Event], $1M Gtd |
| Mon 13 Sep | 7:05 p.m. | WCOOP 94-H: $1,050 NLHE [8-Max, Progressive KO, Series Saver], $1.25M Gtd |
| Mon 13 Sep | 7:05 p.m. | WCOOP 01-H: $109 NLHE [Phase 2], $1M Gtd |
Recommended for you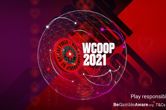 $100m GTD in 2021 PokerStars World Championship of Online Poker (WCOOP) Schedule