Poker
DorianZimmer Wins The Festival Online PKO For $13,925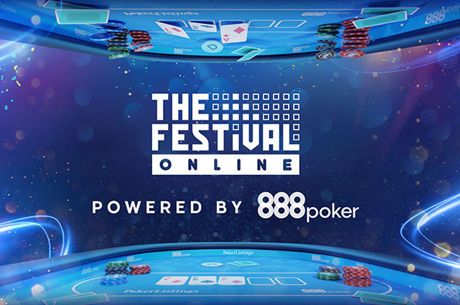 The Festival Online continues crowning champions at 888poker with Germany's "DorianZimmer" being the latest big winner. "DorianZimmer" is now $13,925 richer than a few days ago after they took down the $109 buy-in Texas Progressive KO event.
Some 1,072 players, including re-entries, bought in and created a $107,200 prize pool, which ensured the $100,000 guarantee was surpassed. The German champion got their hands on the lion's share of that pot after defeating the entertaining "dududantas95" heads-up, resigning the runner-up to a $10,406 consolation prize.
The Festival Online – Texas Progressive KO Final Table Results
| Place | Player | Country | Prize | Bounties | Total Prize |
| --- | --- | --- | --- | --- | --- |
| 1 | DorianZimmer | Germany | $7,177 | $6,748 | $13,925 |
| 2 | dududantas95 | Brazil | $7,177 | $3,228 | $10,406 |
| 3 | skelly929 | Canada | $4,448 | $875 | $5,323 |
| 4 | Dixon6hrsSet | Brazil | $3,296 | $1,613 | $4,909 |
| 5 | alyssonspfc | Brazil | $2,438 | $200 | $2,638 |
| 6 | rOsjOn | Sweden | $1,822 | $1,321 | $3,143 |
| 7 | Limitfisher | Ukraine | $1,366 | $231 | $1,598 |
| 8 | vingadoresx | Brazil | $1,039 | $334 | $1,374 |
| 9 | HaxLife | Brazil | $793 | $456 | $1,249 |
The final table started with only eight players after a double elimination at the end of Day 1. "VERYPOTATO" and "HaxLife" crashed out in tenth and ninth-place respectively, ealving only eight players in contention for the title.
"vingadoresx" sat down with the shortest stack and was the first of the eight finalists out of the door. The hand started with a min-raise from duduantas95″ from early position, before "skelly929" clicked it back on the button. "vingadoresx" four-bet all-in for a little under 12 big blinds, and only "skelly929" called. It was pocket eights for "skelly929" and queens for "vingadores." An eight on the flop left the all-in player drawing extremely thinly, and they missed both the turn and river.
Seventh place went to "Limitfisher" of Ukraine. "Limitfisher" jammed for 14 big blinds from the small blind with queen-nine, and "dududantas95" called from the big blind with ace-five. Neither player improved their holdings, and "Limitfisher" was gone.
Sweden's "Angelegot" wins The Festival Online Opening Event
Sweden's "rOsjOn" was the next player heading for the exits. First, they lost all but five big blinds with queens versus ace-king. The Swede rebuilt slightly back to nine big blinds, which they three-bet over an opening raise from "dududantas95" with jack-nine and ran straight into the dominating king-jack.
Brazil's "alyssonspfc" ran out of steam in fifth place after a clash with "dududantas95" did not go to plan. "dududantas95" min-raised under the gun with ace-ten of hearts, and "alyssonspfc" called in the big blind with jack-eight. Both players checked the eight-high flop, with a second heart landing on the turn. "alyssonspfc" initially checked but then check-raised all-in for 12.7 big blinds after their opponent fired a one-third pot-sized bet. "dududantas95" called with their flush draw and two over cards, and hit on the river courtesy of flush-completing three of hearts.
Another Brazilian, "Dixon6hrsSet" joined the list of busted players after an ill-timed move. "Dixon6hrsSet" open-shoved for a little over 15 big blinds from the small blind with queen-jack. This pay would usually win the blinds and antes, but not this time because "dududantas95" woke up with pocket kings in the hole and they made one of the easier calls of their poker career.
Heads-up was reached soon after when "skelly929" bowed out in third. "skelly929" jammed eight big blinds with king-queen and can consider themselves unlucky as they ran into the superior ace-queen of "dududantas95."
"dududantas95" had 45 big blinds going into heads-up while "DorianZimmer" led with 63 big blinds and they never relinquished their advantage. The final hand saw "DorianZimmer" open on the button with pocket queens and instantly call when "dududantas95" three-bet shoved or 15 big blinds with ace-four of diamonds. The board ran out king-high and "DorianZimmer" became a big winner on The Festival Online series.
The Festival Online Results So Far
| Event | Buy-in | Entrants | Prize pool | Champion | Prize |
| --- | --- | --- | --- | --- | --- |
| Opening Event NLH | $109 | 1,000 | $100,000 | Angelegot | $14,692 |
| Opening High Roller | $525 | 85 | $42,500 | TrustMeBRO | $11,900 |
| Opening Event PLO 8-Max | $109 | 57 | $5,700 | fanat5371234 | $2,109 |
| Texas Deepstack | $55 | 314 | $15,700 | pivnoypuzec | $3,182 |
| PLO Deepstack | $55 | 84 | $4,200 | peters1969 | $1,260 |
| Texas 6-Max | $165 | 158 | $23,700 | algsxr | $6,162 |
| Texas Progressive KO | $109 | 1,072 | $107,200 | DorianZimmer | $13,925* |
| Texas High Roller Progressive KO | $525 | 99 | $49,500 | Raise1ln. | $14,763* |
The Festival Online Remaining Schedule
| Date | Time (BST) | Event | Buy-in | Guarantee |
| --- | --- | --- | --- | --- |
| Tue 19 Jul | 7:00 p.m. | The Festival Online PLO 6-Max | $55 | $2,000 |
|   | 8:00 p.m. | The Festival Online 6-Max Turbo PKO | $44 | $10,000 |
| Thu 21 Jul | 6:00 p.m. | The Festival Online Texas Lowroller | $22 | $10,000 |
|   | 7:00 p.m. | The Festival Online Super KO | $109 | $12,000 |
| Sun 24 Jul | 7:00 p.m. | The Festival Online Texas 8-Max | $109 | $100,000 |
|   | 7:30 p.m. | The Festival Online Texas 8-Max High Roller | $525 | $40,000 |
|   | 8:00 p.m. | The Festival Online PLO Lowroller | $22 | $1,500 |
| Tue 26 Jul | 7:00 p.m. | The Festival Online PKO 8-Max | $88 | $10,000 |
|   | 8:00 p.m. | The Festival Online PLO Turbo | $33 | $1,500 |
| Sun 31 Jul | 7:00 p.m. | The Festival Online Main Event | $215 | $150,000 |
|   | 7:30 p.m. | The Festival Online Texas 8-Max High Roller | $525 | $40,000 |
| Mon 1 Aug | 7:00 p.m. | The Festival Online Afterparty | $109 | $15,000 |