Poker
David "dpeters17" Peters Claims Third Bracelet in WSOP Online Event 25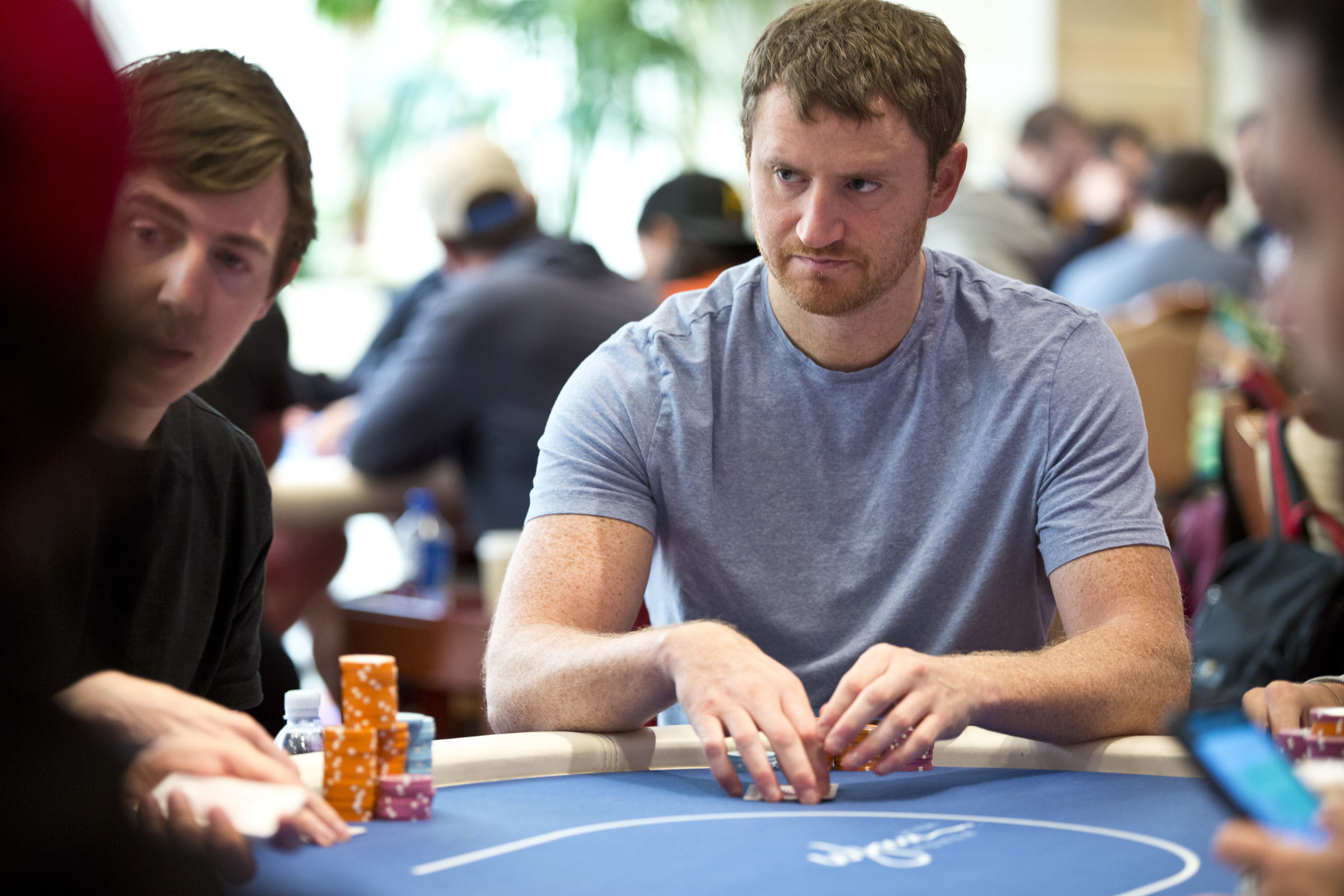 On Sunday night, the 2021 World Series of Poker (WSOP) Online Event #25: $7,777 NLH Lucky 7's High Roller proved to be a mammoth affair, with 151 entries (113 players, 38 rebuys) powering the prize pool into the seven-figure territory, with $1,113,927 up for grabs.
The tournament was the largest buy-in event on the 2021 WSOP schedule, and after more than 10 hours of play, it was poker pro David "dpeters17" Peters coming out on top to win a $283,940 top prize and his third career bracelet.
Peters, who was coming off the back of his back-to-back U.S. Poker Open Championship victories, continued with his hot streak tonight, winning his first WSOP online event he played in this series. It was no surprise to see Peters claim another victory; winning his third bracelet just adds to an already impressive resume that sees him sit seventh on the all-time money list with $34,806,289 in total live earnings, according to the Hendon Mob.
2021 WSOP Event #25: $7,777 NLH Lucky 7's High Roller
| Place | Player | Prize |
| --- | --- | --- |
| 1 | David "dpeters17" Peters | $283,940 |
| 2 | "CherryHillPd" | $175,443 |
| 3 | Ryan "protential" Laplante | $120,638 |
| 4 | Brandon "DrOctagon" Adams | $84,547 |
| 5 | Joseph "GLOOTIE" Demestrio | $60,486 |
| 6 | Christopher "Pay_Son" Staats | $44,780 |
| 7 | Galen "turkmalloy" Hall | $33,529 |
| 8 | Jason "EddieVedder" Koon | $25,063 |
After Anthony "Nowb3Athat" Spinella was eliminated on the money bubble, the 36 remaining players fell off at a rapid pace.
Among the notables to cash were WSOP bracelet winner Arkadiy "Crocofantos" Tsinis (31st – $7,797), Jeremy "Chipchecka" Ausmus (26th – $8,9111), Jesse "Patient0" Yaginuma (13th – $12,587), Dylan "TheSmith" Smith (12th – $15,484), Ankush "Rickrosstheb" Mandavia (10th – $15,484), and Christopher "beturaise" Brewer (9th – $19,494).
Final Table Action
The final table saw most players sitting fairly deep and with one of the larger first place prizes on the line, play was slow until Jason "EddieVedder" Koon, who was holding a little more than 10 big blinds, bowed out in eighth place. He jammed from the small blind with a king-three suited only to be called by Galen "turkmalloy" Hall from the big blind, holding a pair of eights
Hall, one of the four WSOP bracelet winners at the final table, was next to go after he after losing most of his stack to Ryan "protential" Laplante. He committed the rest of his short stack with ace-five off, and Laplante finished him off with a pair of tens.
From there, "CherryHillPd" went on an elimination spree sending Christopher "Pay_Son" Staats home in sixth place with a pair of ladies, and Joseph "GLOOTIE" Demestrio exited in fifth place after his snowen were melted.
Brandon "DrOctagon" Adams was next on the chopping block after he jammed preflop with ace-rag and was called by Peters holding a pair of queens. Adams couldn't find an ace and took fourth place for $84,547.
Laplante was chip leader for a significant amount of time at the final table but was left with crumbs after he flopped a set of kings only to get straightened out by Peters on the river. The very next hand saw Laplante jam with ace-nine on the button and "CherryHillPd" isolated with jacks from the small blind. Laplante turned a wheel draw but couldn't find an ace or a deuce on the river and was gone in third place for $120,638.
The heads-up match proved to be a true battle as both players rode a rollercoaster of emotions; each acquired doubles but "CherryHillPd" grew short and had to settle for the $175,443 second-place prize.
peters now has more than $35 million in live poker tournament earnings, with more than $4.5 million of that sum stemming from his play in WSOP events.
2021 WSOP Online Bracelet Winners Thus Far
| Date | Tournament | Players | Re-entries | Total Entries | Prize Pool | Winner | Prize |
| --- | --- | --- | --- | --- | --- | --- | --- |
| 1-Jul | Event #1: $500 NLH BIG 500 Kick-Off | 837 | 440 | 1277 | $574,650 | Jose "deposit" Nooa | $105,161 |
| 2-Jul | Event #2: $600 NLH Monster Stack | 727 | 311 | 1038 | $560,520 | Manig "Ohio77" Loeser | $104,313 |
| 3-Jul | Event #3: $500 NLH Turbo Deepstack | 641 | 309 | 950 | $427,500 | Donnell "Spreezy52" Dais | $90,801 |
| 4-Jul | Event #4: $500 NLH Super Turbo | 608 | 242 | 850 | $382,500 | Jeffery "Steelvikes7" Hoop | $73,861 |
| 5-July | Event #5: $1,000 NLH 8-Max | 459 | – | 459 | $648,700 | Jeremiah "freestylerr" Williams | $139,600 |
| 6-July | Event #6: $2,000 NLH Deepstack | 312 | 104 | 416 | $769,600 | Tyler "ShipTheShip" Denson | $175,700 |
| 7-July | Event #7: $777 NLH Lucky 7's | 576 | 312 | 888 | $621,600 | Michael "stiltwalk" Mercaldo | $123,574 |
| 8-July | Event #8: $888 Crazy Eights Hold'em | 514 | 268 | 782 | $625,600 | Carlos "CarlosWelch" Welch | $124,369 |
| 9-July | Event #9: $400 NLH 6-Max | 788 | 429 | 1,217 | $438,120 | Philip "wingsuiter" Beck | $81,534 |
| 10-July | Event #10: $333 NLH | 986 | 531 | 1,517 | $455,100 | Michael "njnj17" Leib | $81,645 |
| 11-July | Event #11: $400 No-Limit Hold'em Ultra Deepstack | 1,078 | 339 | 1,417 | $510,120 | Vijay "Eclypzed" Para | $86,210 |
| 12-July | Event #12: $500 NLH Turbo Deepstack | 654 | 305 | 959 | $431,550 | Bryan "Pellepelle" Piccioli | $83,332 |
| 13-July | Event #13: $1,000 NLH Freezeout | 561 | – | 561 | $504,900 | Ryan "Adopt_aDogg0" Leng | $108,654 |
| 14-July | Event #14: $500 No Limit Hold'em | 673 | 363 | 1,036 | $466,200 | Gionni "COLDWARKID" Demers | $90,023 |
| 15-July | Event #15: $5,300 No-Limit Hold'em High Roller Freezout | 188 | – | 188 | $940,000 | Justin "Jsaliba2" Saliba | $253,800 |
| 16-July | Event #16: $600 PLO8 6-Handed | 293 | 295 | 498 | $268,920 | Allen "Acnyc718" Chang | $61,394 |
| 17-July | Event #17: $400 NLH 8-Max | 747 | 378 | 1,125 | $405,000 | Justin "LappyPoker" Lapka | $75,371 |
| 18-July | Event #18: $1,000 NLH North American Open | 524 | 232 | 756 | $692,000 | James "Danfriel" Gilbert | $137,570 |
| 19-July | Event #19: $888 PLO Crazy Eights 8-Handed | 285 | 222 | 507 | $405,600 | Martin "bathroomline" Zamani | $92,598 |
| 20-July | Event #20: $3,200 NLH High Roller | 221 | 91 | 312 | $948,480 | Sang "youngkoi" Lee | $241,768 |
| 21-July | Event #21: $600 PLO 6-Handed | 281 | 270 | 551 | $297,540 | Bradley "drstrange7" Ruben | $69,148 |
| 22-July | Event #22: $600 NLH Knockout | 612 | – | 612 | $342,720 | Anthony "Lastbullet" Kennedy | $46,796 |
| 23-July | Event #23: $500 NLH Turbo | 457 | 237 | 694 | $312,300 | Ryan "hagzzz021" Hagerty | $67,207 |
| 24-July | Event #24: $400 NLH Monster Stack | 826 | 350 | 1,176 | $423,360 | Byung "bhy101" Yoo | $77,475 |
| 25-July | Event #25: $7,777 NLH Lucky 7's High Roller | 113 | 38 | 151 | $1,113,927 | David "dpeters17" Peters | $283,940 |
| 25-July | Event #26: $500 NLH The Big 500 Encore | 729 | 389 | 1,118 | $503,100 | Eric "8Bracelets" Van Auken | $93,627 |