Poker
ClubGG WSOP Main Event Stage 1 Satellites Are Underway!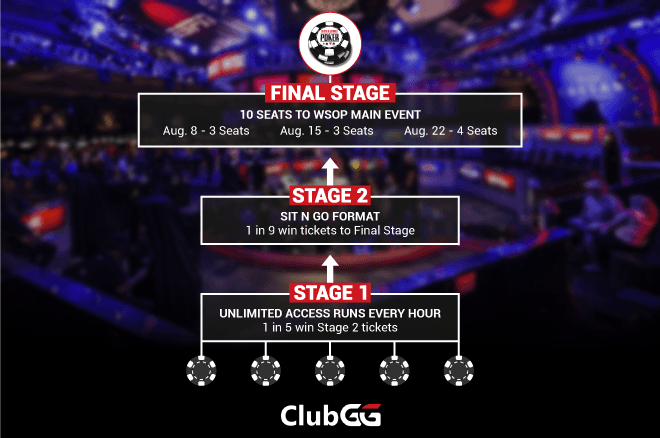 The wait is finally over. You can now start your quest to win one of ten 2021 World Series of Poker (WSOP) Main Events seats on the incredible ClubGG poker app! Stage 1 satellites are in the lobby right now, and waiting for Platinum ClubGG members to enter them.
ClubGG is a free-to-play poker app from GGPoker. It is free to play around the world, even in areas where GGPoker is not accessible. In addition to the free to play model, players can subscribe for an affordable $49.99 per month and become a Platinum member. Those Platinum members can win hundreds of thousands of dollars in live event entries for their $49.99 subscription.
Ten seats, each worth $10,000, to the 2021 WSOP Main Event in Las Vegas are guaranteed to be won by ClubGG Platinum members between today, August 2, and August 22. Three of those seats will be given away on August 8, with another three guaranteed on August 15, and the final four being won on August 22.
The ClubGG 2021 WSOP Main Event satellites take place over three stages, and the Stage 1 satellites launch on August 2. Want to know more about the stages? Then keep reading!
DON'T MISS: Unlimited Attempts at WSOP Main Event Seats for $49.99 at ClubGG
How to Take Unlimited Shots at a 2021 WSOP Main Event Seat For Only $49.99
At half-past the hour, every hour, Stage 1s run. The very first of these satellites shuffles up and deals at 4:00 p.m. GMT on August 2, so make sure you are ready to get your grind on.
Stage 1s award the top 20% of the entrants a ticket to Stage 2. The best thing about the Stage 1 satellites? Platinum members can play as many as they wish; you can play every single one if you have the time to do so! You may as well make the most of your subscription.
Make it through Stage 1 and Stage 2 awaits. This exciting stage pays out one Stage 3 ticket for every nine entrants, with these satellites taking place in a Sit 'n Go format of your choice. Decide what your strengths are before entering a 9-man, 18-man, 27-man, 36-man, 45-man, 90-man, or 180-man sit & go tournament.
Once you have conquered Stages 1 and 2, it is time for the weekly final, or Stage 3. Cards are in the air from 7:00 p.m. GMT every Sunday, and play like a traditional tournament. Up to four $10,000 seats are guaranteed each week.
Can you even start to imagine how it would feel to win a $10,000 seat to the 2021 WSOP Main Event in Las Vegas. Incredible does not even start to cover it.
How to Join our FREE Club PokerNews at ClubGG
Head to ClubGG and Start Your Journey to the 2021 WSOP
There is no time to lose if you want to maximize your chances of securing one of the ten $10,000 WSOP Main Event seats at ClubGG. Download the app onto your iOS or Android-powered device (it is also available on Windows PCs), and fire up some of the Stage 1 satellites.
While you have the app open, why not join Club PokerNews where you receive a free 100,000 chips, and get to play in fun cash games and tournaments with PokerNews staff. You can find out all the juicy Club PokerNews details right here.
*For an overview of eligible countries and states, check the ClubGG Prize Eligibility page