Poker
Celebrate the European Championships With Run It Once Poker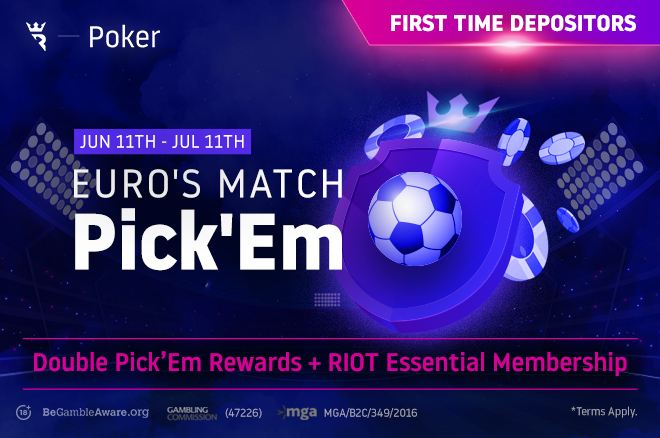 Run It Once Poker is celebrating the delayed 2020 European Championships with the Euro's Match Pick'em promotion in addition to a special offer for first-time depositors.
The European Championships kick off at 8:00 p.m. BST on June 11 when Turkey take on the might of Italy. Correctly predict the outcome of this opening match and you receive 25% more rakeback, 50% more if you make your first deposit at Run It Once between June 11 and July 11.
The extra rakeback is based on your play from 12:00 a.m. to 11:59 p.m. UTC on June 11.
Daily Prizes Up For Grabs
Run It Once is holding a trio of promotions each day there is a Euro 2020 match. You can enjoy 25% extra direct rakeback on your play that day (100% gross rake multiplied by 0.25), double the Splash the Pot winnings, and cash prizes worth up to €750 via the site's Cash Booster promotion.
Cash Booster prizes are based on your Legends Rank, Run It Once's loyalty program. The higher your Legends Rank, the more free money you receive in your account. Climb into the Clubs category, the first tier of the scheme, for a €5 cash reward. Seriously get your grind on and reach Spades for a €750 addition to your bankroll.
| Booster | Cash Reward |
| --- | --- |
| Clubs | €5 |
| Diamonds | €15 |
| Hearts | €100 |
| Spades | €750 |
Play Poker, Level Up and Get Cash with Run It Once Legends Rewards
Matches Waiting For Your Predictions
Run it Once has added Euro 2020 matches up to June 15, but will add more from June 14. All matches are handicapped, with one team enjoying a 0.5 goal start. For example. Italy vs. Turkey has Turkey at +0.5. This means if you choose Turkey to win and Turkey draw, you still win!
| Date | Fixture | Promotion |
| --- | --- | --- |
| Fri 11 Jun | Italy vs. Turkey (+0.5) | 25% Direct Rakeback |
| Sat 12 Jun | Belgium vs. Russia (+0.5) | Double Splash the Pot winnings |
| Sun 13 Jun | Netherlands vs. Ukraine (+0.5) | 25% Direct Rakeback |
| Mon 14 Jun | Spain vs. Sweden (+0.5) | Cash booster |
| Tue 15 Jun | France vs. Germany (+0.5) | Double Splash the Pot winnings |
Match Prediction Leaderboard
You receive one point for every match's outcome you correctly predict. Finish in the top 10 of the leaderboard come the end of the Euro 2020 tournament and you will receive between 5% and 25% extra rakeback on all your play from June 11 through July 11! How amazing is that?
Furthermore, the top 10 points earners gain access to Elite content on the Run It Once Training site for one month! Wait, because there is more! Finish in the top five to receive access to one of Run It Once's From the Ground Up courses, which are designed to take your poker game to the next level.
| Position | Extra Rakeback |
| --- | --- |
| 1 | 25% |
| 2 | 20% |
| 3 | 15% |
| 4-5 | 10% |
| 6-10 | 5% |
Earn Up To 110% Rakeback by Streaming Your Poker Action at Run It Once
Prizes Are Juicier For New Players
Now is the time to download Run It Once Poker and make your first deposit if you are yet to do so. All prizes mentioned above are doubled for players who make their first deposit between June 11 and July 11. This means 50% extra direct rakeback, triple Splash the Pot Rewards, and Cash Booster prizes worth twice as much as anyone else receives!
What's more, first time depositors get their hands on a 100% up to €600 welcome bonus. All your deposits for the first 30 days after your first deposit are matched 100% up to a combined maximum of €600. This is great in its own right, but you basically have forever to release the bonus into your playable account! Simply, play at least one raked hand every 30 days and the bonus never expires.
| Bonus Progression | Rake This | Get This |
| --- | --- | --- |
| €0-€100 | €25.00 | €5 |
| €100-€200 | €57.10 | €10 |
| €200-€300 | €66.50 | €10 |
| €300-€500 | €100 | €10 |
| €500-€600 | €200 | €10 |