Poker
Boosted Hours fastforward Awards 3x Cashback Points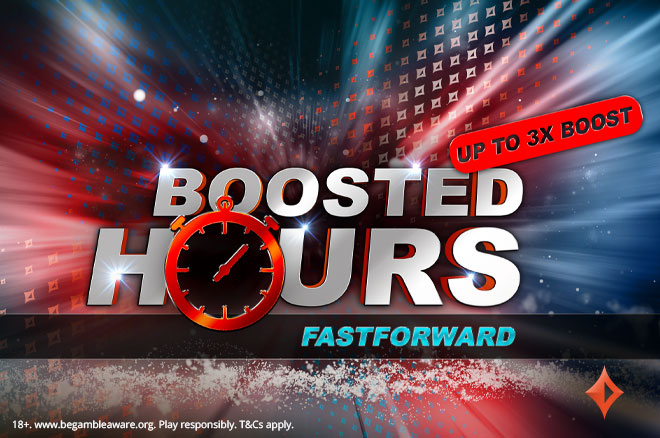 There is a new promotion running at partypoker that gives fastforward player the chance to earn up to three-times as many cashback points than usual.
Boosted Hours fastforward runs through to October 17 and sees fastforward cash game players earn double or treble cashback points during five hours during the day. Both No-Limit Hold'em and Pot-Limit Omaha fastfoward games are eligible for the boosted points, which are automatically calculated.
Boosted Hours fastforward Schedule
| Time (BST) | Boost |
| --- | --- |
| 12:00 a.m. | 2x |
| 2:00 a.m. | 3x |
| 7:00 a.m. | 2x |
| 4:00 p.m. | 2x |
| 7:00 p.m. | 2x |
There is no limit to how many boosted cashback points you can receive during the promotion, it is up to you how much you benefit.
Boosted Hours Gives Your Cashback a Shot In The Arm
partypoker's loyalty program revolves around weekly cashback rewards. Everyone is enrolled in the scheme, which awards up to 40% cashback.
You receive one cashback point for every $1 you contribute to the cash game and fastforward rake, or pay in tournament fees. Earning at least 25 points in a calendar week unlocks the first tier of cashback rewards.
| Points required | Cashback |
| --- | --- |
| 25-149 | 20% |
| 150-599 | 25% |
| 600-1,199 | 30% |
| 1,200+ | 40% |
Those of you who log plenty of volume can aim for Diamond Club level of loyalty. Diamond Club members enjoy a fixed rate of 40% weekly cashback, which is topped up to 50% once you reach $100,000 in rake in a 12 month period.
There is one tier even higher than Diamond Club called Diamond Club Elite. This special loyalty level receives 40% cashback each week, which tops up to 50% when $100,000 has been raked, then 60% when you have raked $200,000 in a 12 month period.
Diamond Club Elite players have access to dedicated 24/7 support lines, and receive a package to the Caribbean Poker Party in the Bahamas.
Start Your partypoker Career With Up To $30 of Free Play
What better way to start your partypoker career than by enjoying up to $30 of free play? Download partypoker via PokerNews, create your free account, and decide how much you want to deposit.
The partypoker welcome bonus has two tiers. Deposit $10 to receive $10 worth of SPINS jackpot sit & go and multi-table tournament tickets over the course of a week.
Day 1: 2x $1 SPINS tickets + 1x $3.30 MTT ticket
Day 2: 4x $0.25 SPINS tickets
Day 4: 1x $3.30 MTT ticket
Day 6: 4x $0.25 SPINS tickets
Increase your initial deposit to at least $20 and $30 worth of SPINS and MTT tickets are all yours.
Day 1: 1x $5 SPINS ticket + 1x $3.30 MTT ticket
Day 2: 2x $1 SPINS ticket + 1x $5.50 MTT ticket
Day 4: 1x $5.50 MTT ticket
Day 6: 2x $3 SPINS tickets + 1x$3.30 MTT ticket
Furthermore, your first deposit is matched 100% up to a maximum of $600 in the form of a releasable bonus. You need to earn four-times the bonus amount in cashback points, with the bonus releasing into your playable balance in 10% increments.