Poker
A Dream Come True for David "AtomBomb" Hendrix at Pearl River Poker Open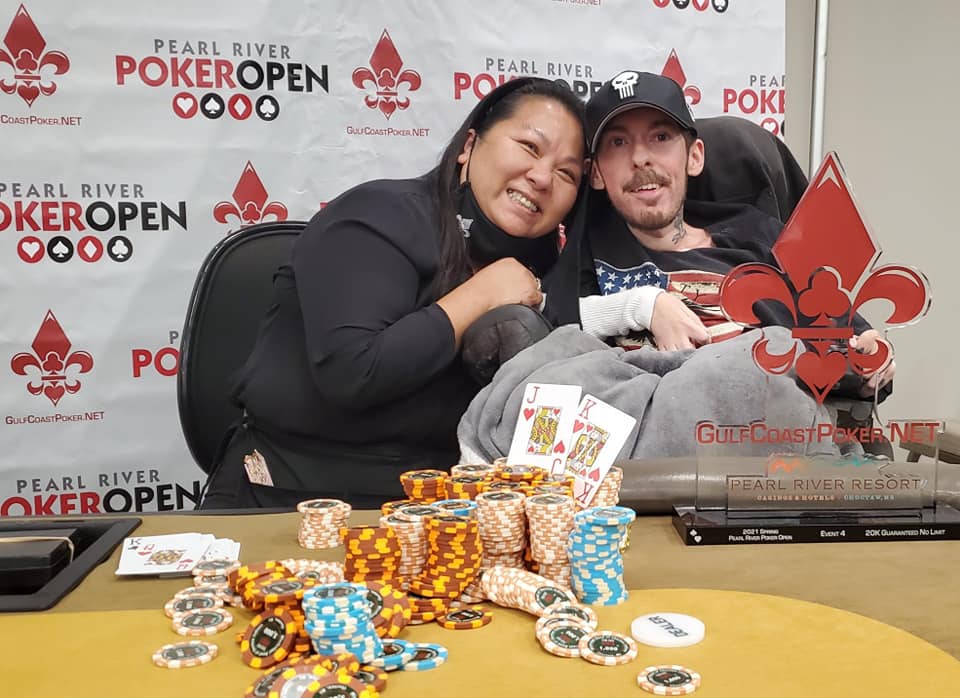 Last weekend, GulfCoastPoker.Net hosted the Pearl River Poker Open at the Pearl River Resort in Mississippi. In what has become a popular regional stop in the south, the series was comprised of nine different tournaments that awarded more than $1.1 million in prize money.
Among those to capture titles were Kenard Bowie (Event #1 for $41,225), Russell Boyette (Event #2 for $29,267), Thomas Blakenship (Event #3 for $7,211), Teddy Conner (Event #5 for $21,210), Sabrathia Smith (Event #6 for $11,334), Hiep Doan (Event #7 for $9,955), and Nicholas Hawkins (Rookies Event for $2,206). Additionally, poker pro Dan Lowery won the $600 Main Event for $72,693 (more on that below).
However, when it came to victory moments, none were more special than that of David "AtomBomb" Hendrix, who was victorious in Event #4: $200 No-Limit Hold'em $20K GTD.
Hendrix had a ton of support on the rail, many of whom were holding back tears as he took his winner's photo. That's because the 30-year-old Hendrix, who suffers from Werdnig-Hoffmann disease (also known as spinal muscular atrophy type 1), was notching his first, and some would say long overdue tournament win.
According to NCBI, Werdnig-Hoffmann disease is the most severe form of spinal muscular atrophy with symptoms that include severe motor weakness, poor muscle tone, and lack of motor development.
The prognosis for Werdnig Hoffmann disease is very poor. The disease presents before 6 months of age, and it is a progressive muscular disorder that often results in early death. Most patients die prematurely either in infancy or early childhood, often by 2 years of life.
"From what the doctors tell me I am the oldest living person in America with my exact diagnosis," he told PokerNews.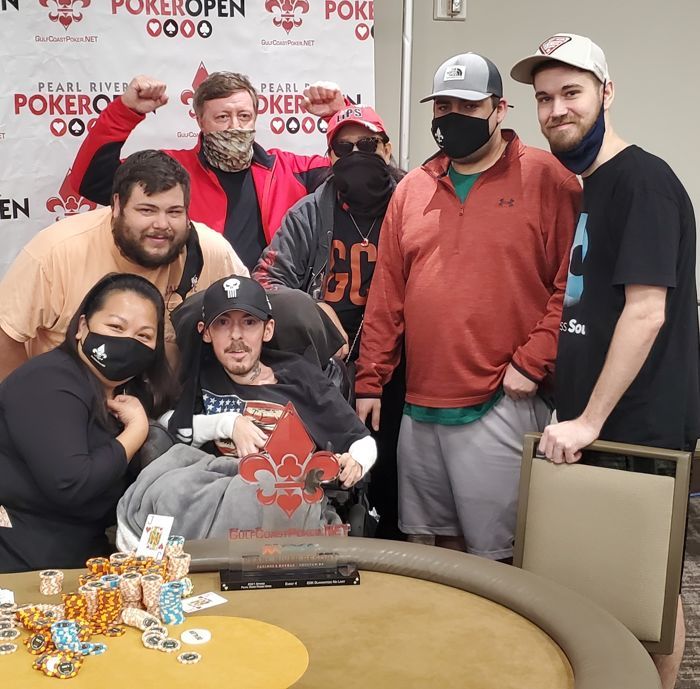 In His Element Playing Poker
When describing Hendrix, friends call him "badass" and a "resilient fighter." That's because he's been close to death multiple times in recent years but keeps bouncing back.
"I am definitely a fighter on and off of the felt," Hendrix said. When you hear his story, it's hard to disagree.
Born November 12, 1990, in Amory, Mississippi, where he still resides, Hendrix spent the first 18 years of his life in and out of Le Bonheur Children's Hospital in Memphis, Tennessee.
"I was basically adopted at six months old by my biological grandmother, Mary Elizabeth Sandlin, and her husband, which I consider my grandfather, James Larry Sandlin," Hendrix explained. "I had pneumonia a lot growing up. That is what I was in the hospital for most of the time."
"Whenever I am sitting at that table this wheelchair and disability do not even exist. I am in my element."
When he was 14, he visited a Books-A-Million store and picked up Doyle Brunson's Super System Volumes 1 & 2. Since he couldn't play sports like football and basketball, he figured poker was a viable option that put him on an equal playing field as everyone else.
"I will never forget it because that was the day I found something that I not only could do, but I could just as you as anybody else as long as I put the work into it," he said. "Whenever I am sitting at that table this wheelchair and disability do not even exist. I am in my element and I feel like I am exactly where I am supposed to be. It feels like home, it honestly does."
About the time Joe Hachem was winning the World Series of Poker, Hendrix played his very first hand for pennies sitting on the balcony in Gatlinburg, Tennessee. Two years later, while home in Mississippi, he was playing in underground games, and at the age of 18, he was sneaking into Pearl River Casino with a fake ID just to play poker.
"I was a bad boy for sure," he admitted with a laugh. Since then, Hendrix has become a staple in Tupelo home games and regional tournaments.
Showing Grandma He's Got What It Takes
Unlike most poker players, who can drive themselves to a casino or cardroom, take a seat in a game, and easily dealing with all that comes with it – such as buying in, handling cards and chips, etc. – things aren't so easy for Hendrix.
"I wasn't going to mention some of the difficulties I have while playing in tournaments and long trips, but that is how I probably get my 'badass' persona, so I might as well tell you. Whenever I sit up I have to lean on my right elbow due to my muscle deterioration disorder, which makes me weaker with age. It's like a dead weight pushing down on it, and scoliosis from the muscle deterioration disorder doesn't help. I literally bleed for the elbow every time I play long sessions. I'm probably the only player on the field that is racked in pain to the point they are literally bleeding. You know I have to love the sport to be willing to bleed for it! I am definitely not a complainer though, and only a chosen few actually know how much I go through to compete at such a high level."
Another challenge that he faces is having to adapt his own playing style due to the fact that he cannot reach his cards physically, nor can he see the players to the sides of him.
"I came up with a method where I play the seat number, not the player. I ask the dealer questions like what seat number raised? I keep that information stored in my memory bank that way I can determine how that particular player is playing."
Not only does Hendrix rely on the dealer when in action, but he also relies on his grandmother, 73-year-old Mary Elizabeth Sandlin, in order to compete in the first place. She is constantly making sure he makes it to events, assisting him, and allowing him to live his poker dreams. According to Hendrix, she's sacrificed a lot and always has.
"We argue and bicker back and forth, but at the end of the day, she is my rock. I'm sure I am hers as well," he said. What made the win extra special for Hendrix was the validation that came with it, that he could show his grandmother he has the skills and fortitude not only to compete but also to win.
"AtomBomb" is Born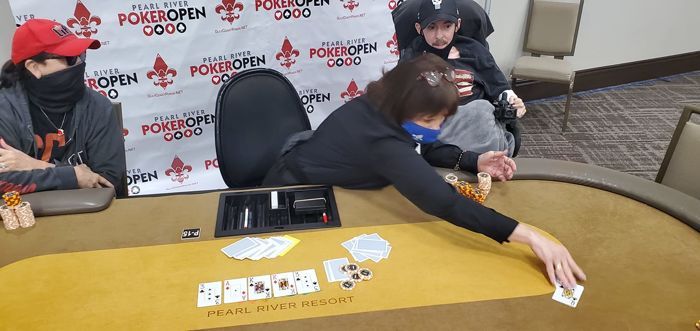 "I'm about to drop a bomb!"
If you've ever played a big pot with Hendrix, you've likely heard him utter his signature catchphrase. Players seem to enjoy it, and it led to Hendrix being nicknamed "AtomBomb" at the table.
As if having a poker nickname isn't enough, Hendrix showed his love for the game by getting a poker tattoo of the
. Ironically, it played a big part in his tournament win.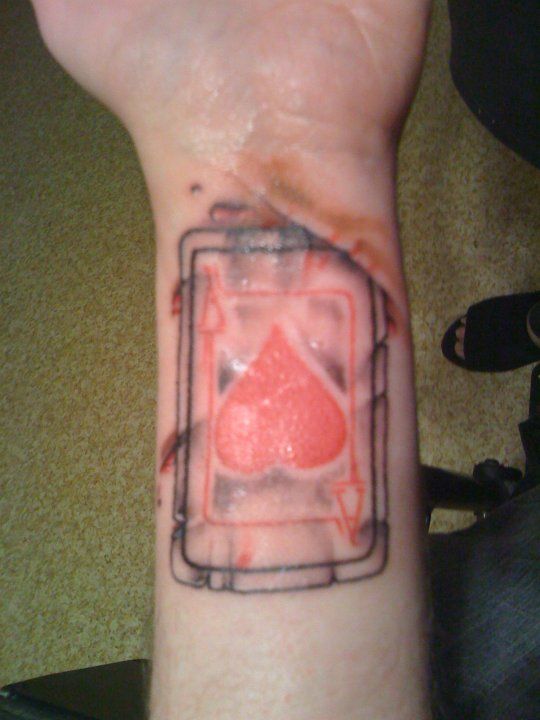 You see, 11 years ago nearly to the day of his victory, Hendrix was 18 years old and decided to have the ace of hearts tattooed on his left wrist. He wanted to be able to say that he always had an "ace up his sleeve." He was reminded of it all when a memory of that day popped up on his Facebook timeline.
Well, during the tournament Hendrix dropped a bomb with a hand that contained that very card –
.
"I made a call that I knew I shouldn't just because of that post and ended up knocking a player out with the ace of hearts," he said with a smile. "I am living in a dream. I've just been riding this high from the tournament win. It's been amazing."
By all accounts, from social media to those who were actually there, the win was a truly special moment at the Pearl River Poker Open. While there's no telling what the future holds for Hendrix in regards to his disease, he's confident things are looking up when it comes to poker.
"I believe in my heart this is only the beginning for me, and all of the hard work is yet to come!"
Event #4 Final Table Results
| Place | Player | Prize |
| --- | --- | --- |
| 1 | David Frazier | $6,150* |
| 2 | Gavin Munroe | $6,149* |
| 3 | David Champion | $6,149* |
| 4 | Ruth Hall | $6,149* |
| 5 | Chester Dilday | $2,537 |
| 6 | Tara Snow | $1,923 |
| 7 | Thomas Page | $1,473 |
| 8 | Stephen Hastings | $1,023 |
*Denotes four-handed deal
Daniel Lowery Wins Main Event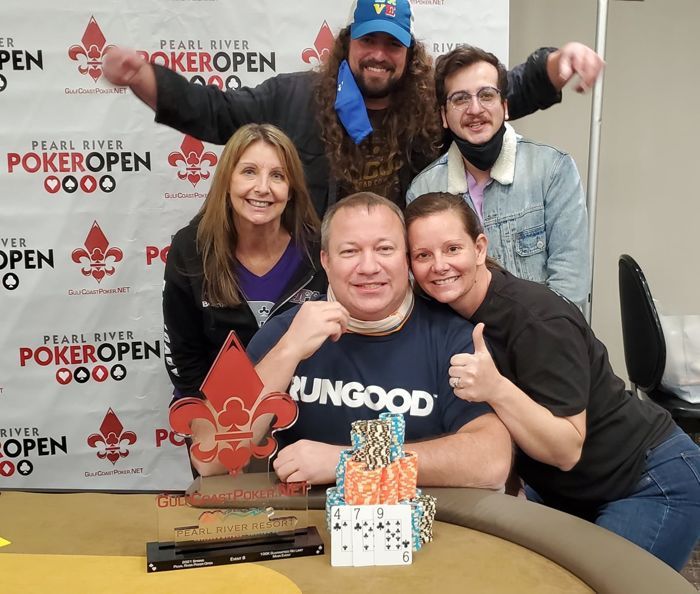 The series concluded with a $600 buy-in Main Event, which offered up a $436,000 prize pool paid out to the top 88 finishers. Among those to cash were Eric Salazar (7th – $10,900), Adam Cotant (16th – $3,924), Corey Hodgeman (20th – $3,444), Joe Saleh (24th – $3,444), Chan Pelton (28th – $2,529), Ted Leahy (41st – $1,613), Michael Sanders (56th – $1,482), and Joanne Lium (74th – $1,352).
In the end, it was well-known poker pro Daniel Lowery besting Mike Monaghan in heads-up play to win the title and $72,693 first-place prize.
"It felt good to have my wife, Krista, there with me and to have so many good friends there railing me for the whole final table and having so much fun," Lowery told PokerNews. "I like Pearl River. The staff is great, the food is good, and the players have such a pleasant attitude, it makes playing way more enjoyable. The area is a good fit for my family with a lot of outdoor activities. We plan to go back for the series they're hosting in June."
Main Event Final Table Results
| Place | Player | Prize |
| --- | --- | --- |
| 1 | Dan Lowery | $72,693 |
| 2 | Mike Monaghan | $65,000 |
| 3 | Andrew Moon | $38,368 |
| 4 | Robert Galbraith | $28,340 |
| 5 | William Latta | $21,800 |
| 6 | Brian Glasscock | $16,568 |
| 7 | Eric Salazar | $10,900 |
| 8 | Matt Higgins | $7.630 |
The next Pearl River Poker Open will be held this summer June 3-13.
*Images courtesy of GulfCoastPoker.net