Arizona Governor Legalizes Sports Betting After Signing Bill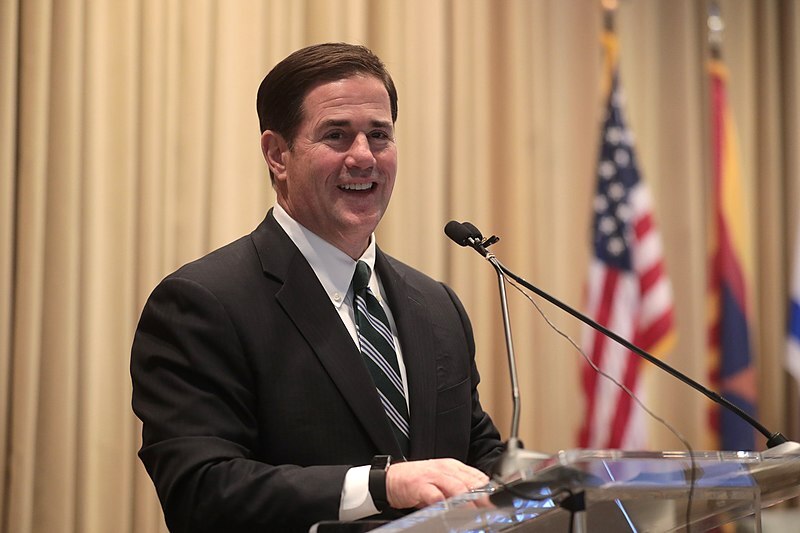 Governor Doug Ducey has signed new legislation and an updated tribal gaming compact, legalizing sports wagering in Arizona. [Image: Gage Skidmore, Wikimedia Commons]
Crossing the finish line
Governor Doug Ducey has finally given the green light to sports betting in Arizona. He signed a new bill and an updated tribal compact on Thursday, legalizing sports wagering in the state.
The legislation, HB 2772, works in tandem with an updated tribal compact negotiated by the governor earlier in the year. Together, they will allow the state's tribal casinos and professional sports teams to offer retail and online wagering.
Ducey met with tribal leaders on Thursday for a bill signing ceremony. In a post to his Twitter page, the governor expressed pride over the "historic day":
Legislators hope Arizona's market can launch by September 1. The Arizona Department of Gaming still needs to establish the details of the state's sports betting regulations before operators can go live.
What will the market look like?
HB 2772 is identical to a bill which made it past the Senate earlier this week, SB 1797. It will allow the state to offer 20 sports betting licenses, of which tribes will receive ten. The remaining permits will go to the state's professional sports teams and other sports organizations.
The passing of HB 2772 will allow Arizona's professional sports teams to offer sports betting at their venues, at a retail location within a quarter mile, and online. The state's teams include the Arizona Coyotes, Arizona Diamondbacks, Phoenix Suns, and Arizona Cardinals.
The bill allows Arizona residents to wager on both professional and college sports, excluding prop bets for the latter. It also legalizes daily fantasy sports contests and keno games at social clubs and off-track betting locations.
Although legislators knew the details of HB 2772, Governor Ducey only revealed terms of the re-negotiated tribal compact on Thursday morning. In addition to extending the tribes' gaming agreement for 20 years, the document also provides further information on Arizona's future gambling expansion.
tribal casinos can operate nearly 6,300 new slots each
It allows four new casinos to open in the metro Phoenix area, and paves the way for tribes to boost their gambling offerings outside of sports betting. Under the terms of the compact, tribal casinos can operate nearly 6,300 new slots each, with additional machines added every two years after this.
Tribal and operator reactions
During the signing ceremony on Thursday, tribal leaders made clear that the agreement resulted from tough negotiations. "We argued before we agreed. And we fought before we found our middle ground," commented Governor Stephen Row Lewis of the Gila River Indian Community. He described the final compact as "a genuine win for us all."
Meanwhile, both FanDuel and DraftKings have praised the deal on social media. In a post to its Twitter page, DraftKings thanked the governor and his team for their "multi-year efforts":
In advance of the passing of HB 2772, both operators secured market access this week. DraftKings expanded its PGA Tour deal to include the launch of a retail sportsbook at the TPC Scottsdale. The operator plans to open a "first-of-its kind" offering at the golf course. FanDuel opted for a basketball agreement, choosing to partner with the Phoenix Suns.
Nebraska legislation also progresses
Elsewhere, Nebraska senators have approved a bill which would allow the state's casinos to remain open during fairs. The move comes as two combined gambling bills, LB 560 and LB 651, progress through legislature. Together, they would legalize slot machines, card games, and sports betting.
LB371 aims to remove a historic law forbidding casino gambling within proximity of a fair
In response to the progress of the two bills, Senator Ray Aguilar introduced additional legislation in January. LB 371 aims to remove a historic law forbidding casino gambling within proximity of a fair. Passage of the bill would mainly benefit Fonner Park, a thoroughbred horse racing venue next to the Nebraska State Fair which intends to build a casino.
Senators approved the legislation by a vote of 35 to 7 on Thursday. It will now head to the office of Governor Pete Ricketts, who has the power to sign the bill into law.