Updates
UFC 264: How to Bet On Conor McGregor vs Dustin Poirier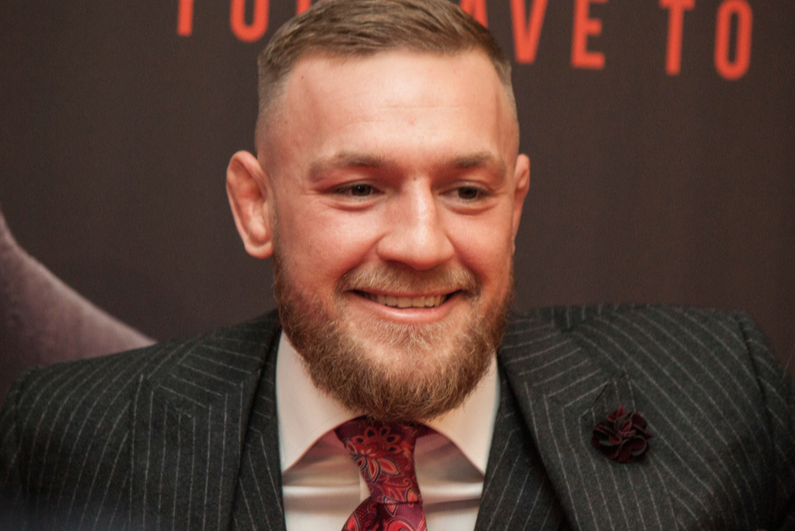 Conor McGregor is taking on Dustin Poirier for the third time on Saturday in the highlight bout of UFC 264. [Image: Shutterstock.com]
The rubber match
Conor McGregor returns to the octagon this weekend in his third fight against American Dustin Poirier, with bettors looking to get in on the Ultimate Fighting Championship (UFC) 264 action. After getting knocked out in the first round in 2014 by McGregor, Poirier earned redemption in January, returning the favor and knocking out the Irishman. Both fighters will be looking to settle the score once and for all at the T-Mobile Arena in Las Vegas on Saturday night.
this is one that even non-mixed martial arts fans will be tuning into
UFC 264 is shaping up to be one of the biggest cards of the year, with McGregor and Poirier being the icing on the cake. As the two fighters are closely matched, this is one that even non-mixed martial arts fans will be tuning into. After a fiery press conference, both fighters will be looking to leave their mark on their opponent.
When does UFC 264 take place?
UFC 264 is on July 10, 2021 at the T-Mobile Arena in Las Vegas, Nevada. Here is a look at the main card for UFC 264:
Which fighter is the favorite?
Dustin Poirier is the narrow favorite with most sportsbooks to come out on top. He convincingly defeated the Irishman their last time out and people question if McGregor still has the hunger to get back to the top of the fight game.
Just like most fights involving McGregor, experts believe that he will be extremely dangerous in the first two rounds, with his big left hand being the strike to watch out for. However, McGregor has gotten gassed in fights as they go on and has struggled to make much of an impact in later rounds. Here is a look at some of the key stats in this match-up:
How to Bet on UFC 264
There are plenty of different betting markets available for the third fight between Conor McGregor and Dustin Poirier. Here is a quick look at some of the most popular options:
Fight Winner
The most obvious market for this bout is the fight winner market, where the bettor chooses which fighter they think is going to come out on top. Currently, sportsbooks have Poirier and McGregor pretty evenly matched, with the American slightly shading it.
Most sportsbooks are siding with Poirier, with BetMGM, Bet365, and Borgata offering a best price of -125 for the Louisiana native to win. The best odds for a McGregor win is +110 with William Hill and Resorts Online.

Method of Victory
Another popular type of market is trying to predict what way the fight will end. You can also combine the method of victory with the fighter who will win. McGregor is known for his knockout power, so a win by KO/TKO for the Irishman will be a popular selection. You will get odds of +340 with DraftKings for him to KO/TKO Poirier in round one. FanDuel and PointsBet have some of the best odds for the method of victory betting markets.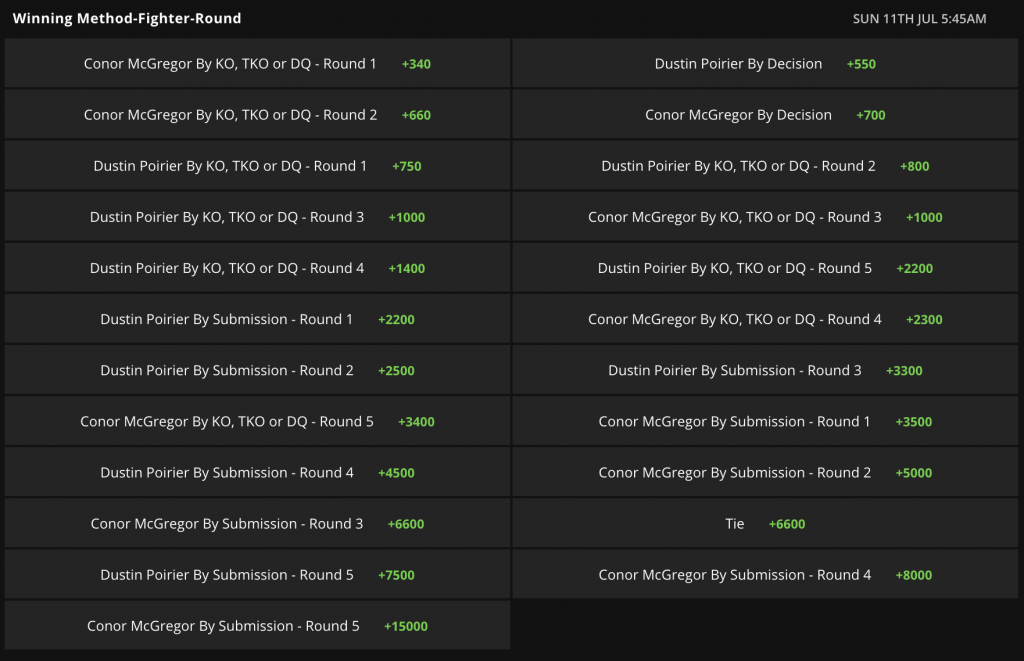 Round Betting
Attempting to predict which fighter will win and in what round is a tricky proposition, but it can yield some good returns. You can also bet the over/under on the total number of rounds that you think the fight will last, as well as place a wager on whether or not you think the fight will go the distance. BetMGM and Borgata have some of the best round betting odds currently available.