Updates
Piers Morgan, Gary Neville Bet on Premier League Winner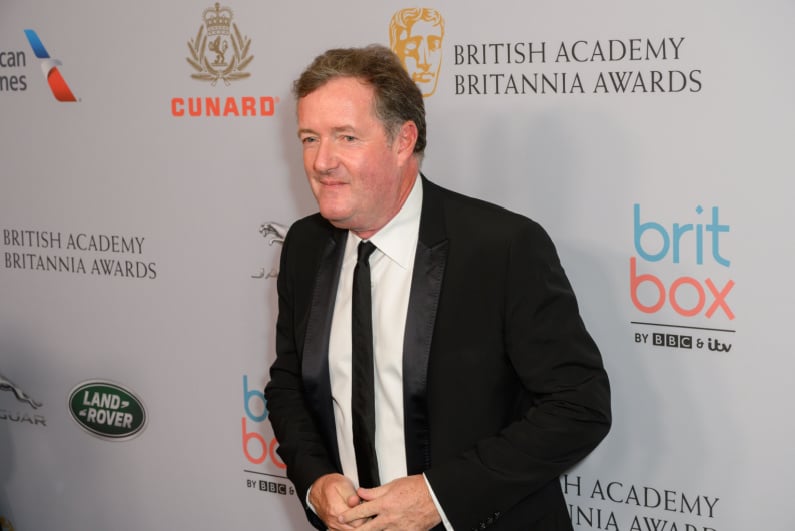 Piers Morgan called out Gary Neville to a $6,000 bet that Arsenal will win the English Premier League. [Image: Shutterstock.com]
Piers Morgan calls out Gary Neville
Piers Morgan challenged soccer pundit Gary Neville to a £5,000 ($6,098) bet that Arsenal will win the Premier League Sunday.
Arsenal holds a commanding lead in the league table
Morgan issued his decree via Twitter in response to Neville's proclamation that Manchester City will win the league title and Manchester United will finish second. The former also told the latter to "pipe down" as Arsenal holds a commanding lead in the league table.
Morgan later suggested that the winner of the wager donate the money to charity. All fun and games for the two online personalities.
Debate over Arsenal and the Premier League 
Arsenal went eight points above second-place City with a win at Tottenham Hotspur Sunday, while the reigning champs fell 2-1 to Manchester United thanks to a controversial goal from the resurgent (and offside) Marcus Rashford.
Morgan is a fierce supporter of the Gunners, who have not won the league title since their invincible seasons in 2003-04. Neville, now 47, made 400 appearances for Manchester United as a right-back during his 20-year playing career.
he hopes Arsenal wins the league but does not believe it will happen
Despite Arsenal's sizable lead and blistering form, Neville believes that City's squad depth will be their key to usurping the table-toppers. He later added that he hopes Arsenal wins the league, but does not believe it will happen.
"I'd rather Arsenal win the league than Man City," Neville said on his podcast. "I think it would be absolutely sensational for the Premier League."
Despite those sentiments, Morgan took issue with Neville's stance and likened him to the popular TV villain "T-Bag" from the show Prison Break, whom Neville resembles, while challenging the ex-United skipper.
Neville is yet to respond on Twitter but did post a poll asking his 5.4m followers if Arsenal will win the title. At the time of writing, 58.6% believe they will and 41.4% believe they won't.
The path to the title
Part of Arsenal's run to the top has been their avoidance of City, who were the betting favorites to win the title before the season started. The two foes still need to meet twice in the league (and once in the FA Cup) before the title is decided, which represents a potential six-point swing in either direction.
"The reality of it is, I think at some point Man City will hit a run," said Neville. "Once they do, they've got to play Arsenal twice. If Erling Haaland starts to kick on, if City start to purr, if the defense starts to shore up a bit more than it has done, and they need Ruben Dias back if they can, I think City will win it."
City has won 12 of the last 13 meetings against Arsenal and 12 straight meetings in the Premier League. Arsenal manager Mikel Arteta was also employed as an assistant for three years under City manager Pep Guardiola, meaning that each will have insight into the other's preferences.
Arsenal has lost just once in 18 league games
Arsenal also has to contend with Man U, Neville's predicted second-place finisher. The Red Devils head to the Emirates Sunday riding a nine-game unbeaten streak across all competitions, while Arsenal has lost just once in 18 league games. Neville thinks that a game like this could be the catalyst for Arsenal's downfall.
"At some point, there will be a very difficult period for Arsenal this season," said Neville. "Is it conceivable that Arsenal are going to continue as they are? I don't think it is."