Updates
Las Vegas Strip July Casino Revenue Reaches Record High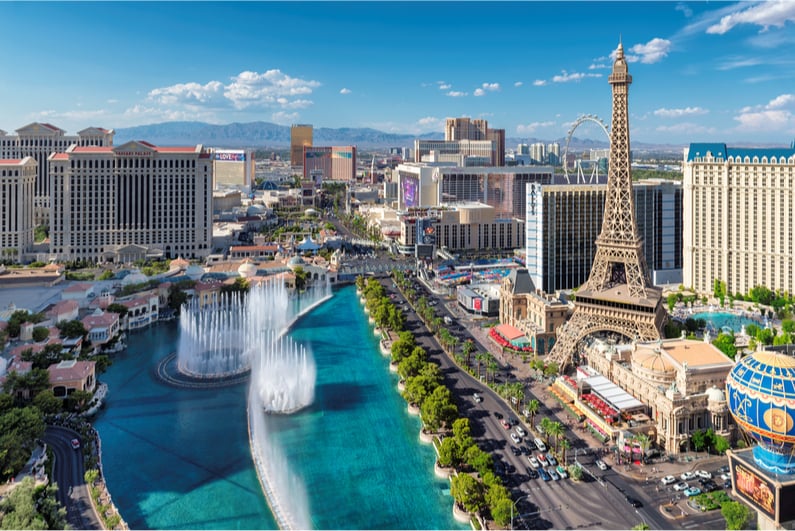 Las Vegas Strip casinos generated revenue of $793.7m in July, surpassig the previous record for monthly revenue set in February 2013. [Image:Shutterstock.com]
A record-setting month
The Las Vegas Strip is steadily bouncing back from the effects of the COVID-19 pandemic, and July saw another record-breaking month for the gambling hub. Casino operators generated more revenue during the month than ever before, both on the Strip itself and across the entire state of Nevada.
an increase of around 47% from July 2019
The Las Vegas Strip's record-setting July revenue of $793.7m marks an increase of around 47% from July 2019, prior to the COVID-19 pandemic. It surpasses the previous monthly revenue record set in February 2013 by almost $100m, or 14%.
The Nevada Gaming Control Board (NGCB) took to Twitter on Thursday to publish the new staggering figures:
In part, the growth is thanks to an increased number of visitors to the area. According to the Las Vegas Convention and Visitors Authority, the month saw 3.3 million people flock to Vegas, up from 2.97 million in June and only 10% below pre-pandemic levels in July 2019.
July represents the fifth consecutive month in which Nevada's revenue has surpassed $1bn, clocking in at $1.35bn. That's another new monthly all-time record, rising more than 13% month-on-month and up 10% from May.
Gamblers flock to Vegas
Commenting on Nevada's results, Michael Lawton, senior research analyst for the NGCB, labeled July "a perfect storm for gaming wins" in Las Vegas. He noted specifically the opening of Resorts World Las Vegas and Allegiant Stadium, as well as a number of other entertainment venues. "This, of course, is in addition to the contributing factors we have discussed in previous months, which include demand, return of leisure travel, and healthy consumers due to stimulus," he added.
As visitor numbers increased to 3.3 million in July, hotel occupancy levels also saw a rise. This reached nearly 80% on average, surpassing 88% on the weekend. In July 2019, the total reached 91% and 97% on weekends.
Over the course of the month, Strip slot revenue increased by around 39% in comparison with 2019, to $409.6m. Similarly, table revenue also saw growth at $226.1m, a 31% rise year-on-year. Slot and table game handle grew by 36% and 33% from 2019 levels, respectively. For the whole of Clark County, casinos took in $1.16bn in revenue, up 15% month-on-month.
The Strip's strong performance helped propel statewide gaming win to record levels. Over the whole of Nevada, slots generated revenue of more than $873.6m, a 60% increase from July 2020. Table games won $486.2m for casinos, representing a rise of 131% year-on-year. The state's $1.36bn in revenue eclipsed the prior all-time record of $1.23bn, set only months ago in May.
Restrictions return to casinos
July marked the second month in which casinos could welcome gamblers at 100% occupancy levels across Nevada. The local government restricted casinos throughout the pandemic, leading to a downward trend in gaming revenue which reached its most severe in December. That month, the state's revenue hit three record lows, including the lowest monthly revenue since 1997.
the reintroduction of a mandatory mask mandate
As is clear from July's revenue, Nevada's gaming market is continuing to recover from the effect of these restrictions. However, the state has seen virus cases rise over recent months, leading to the reintroduction of a mandatory mask mandate for 12 of the state's 17 counties in late July. This included Clark County, the home of Las Vegas.
Despite the return of this restriction, the Strip's casino operators have indicated that they do not expect it to reduce business going forward. Speaking during an earnings call this month, Tom Reeg, CEO of Ceasars Entertainment, described the mandate as "far less onerous" in comparison with the restrictions previously dealt with by the company.