Updates
Kentucky Derby Winner Medina Spirit Tests Positive Again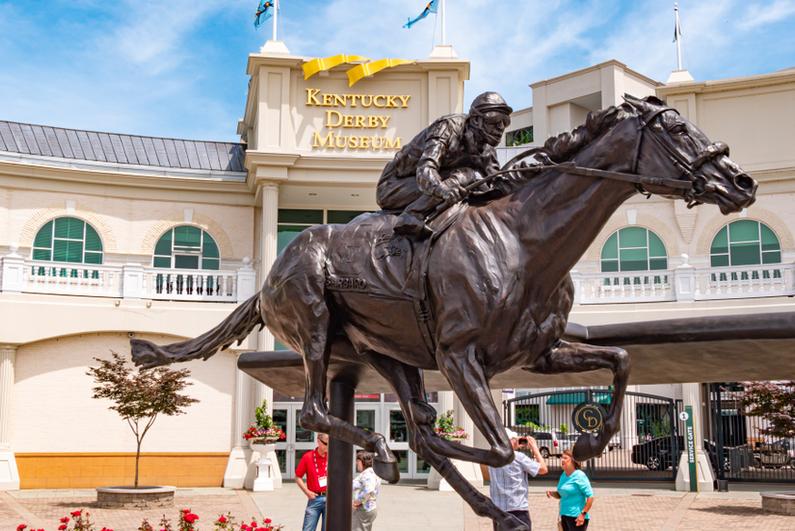 Kentucky Derby winner Medina Spirit faces disqualification after a second positive postrace test for the steroid betamethasone. Churchill downs has also banned trainer Bob Baffert for two years. [Image: Shutterstock.com]
Disqualification still up in the air
Kentucky Derby winner Medina Spirit failed a second postrace drug test and, as a result, faces possible disqualification from the world's most famous horse race. On top of that, Churchill Downs has suspended legendary trainer Bob Baffert, who won a record seventh Derby with Medina Spirit, for two years.
The Kentucky Horse Racing Commission has yet to make a decision on Medina Spirit's standing for the May 1 race. Spokeswoman Sherelle Roberts-Pierre told ESPN that the commission "values fairness and transparency and will provide information to the media and public at the close of an investigation."
Mandaloun bettors will not be able to cash in
If Medina Spirit is eventually disqualified, runner-up Mandaloun would be declared the winner of the Kentucky Derby. Even if that happens, though, Mandaloun bettors will not be able to cash in. According to the commission's rules: "A subsequent change in the order of finish or award of purse money that may result from a subsequent ruling by the stewards, judges, or commission shall not affect the pari-mutuel payout."
Of the $155.4m that was wagered on the Kentucky Derby pari-mutuel pool, $11m-$12m was put on Medina Spirit at 12-1 odds. 26-1 Mandaloun attracted $3m-$4m in bets.
Another drug test in the works
In Medina Spirit's initial drug test after the race, results showed that the horse had 21 picograms of a steroid called betamethasone in its bloodstream. That was once more than twice the legal limit, but Kentucky racing regulations were changed last summer to prohibit even trace amounts.
The second test, done at a lab at UC Davis, found 25 picograms.
It took a while for Baffert to get his story straight. Shortly after the initial failed drug test, he said that his team will conduct its own investigation. He also went on Fox News the Monday after the race and called it a "cancel culture kind of a thing."
Louisville sports journalist Rick Bozich reported
that Baffert opined that Medina Spirit could have eaten hay that had been urinated upon by a groom who had taken cough medicine.
Baffert's attorney, Craig Robertson, finally settled on an ointment called Otamax – a product that contains betamethasone – that was used to treat a skin condition the horse had. He said on Wednesday that the commission has agreed to send the original urine and blood samples to a lab to test them for other things that may show that the betamethasone is the result of the Otamax use and not injections.
As to Baffert's two-year banishment from Churchill Downs, company CEO Bill Carstanjen cited his history of horses that have failed drug tests and its impact on the public's confidence on racing being on the up-and-up.
"Given these repeated failures over the last year, including the increasingly extraordinary explanations, we firmly believe that asserting our rights to impose these measures is our duty and responsibility," Crastanjen said.
Crowds, bets returned in 2021
Medina Spirit blight aside, the 2021 Kentucky Derby was a resounding success, considering where sports and the overall state of the world have been for the past year-plus. 51,838 people attended the race in person, the largest crowd to be present at a sporting event in the United States since the start of the pandemic. It was still only about a third of the 2019 crowd, but it's a long way from 2020's zero attendance.
total handle for the entire 14-race Derby Day was $233m
The $155.4m that was bet on the race was close the $165.5m Kentucky Derby record. Total handle for the entire 14-race Derby Day was $233m, again near 2019's record of $250.9m. Online betting was way up, as one might expect, beating last year's number by 66%. TwinSpires, the online betting platform owned by Churchill Downs, reported $62.7m in handle.
Television viewers also returned in 2021. NBC Sports estimated that about 15 million people watched the Kentucky Derby from their homes, an sharp increase from 2020's all-time low of 9.3 million. Like the other figures, 2019 holds the television viewership record at 16.5 million.