German Gambling Treaty Gets Green Light for July 1 Launch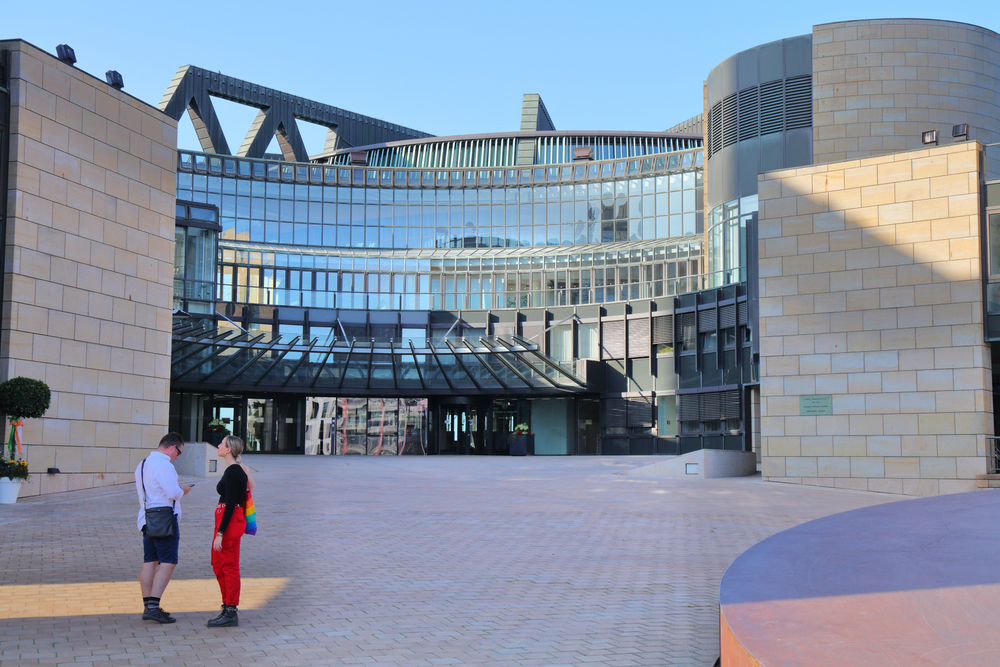 At the parliament of Nordrhein-Westfalen in Düsseldorf (pictured above), German officials have given final approval to new gambling legislation which will legalize online poker and casino across the country on July 1. [Image: Shutterstock.com]
16 states okay the legislation
Germany's Gambling State Treaty is all set to come into effect following its ratification by the parliament of Nordrhein-Westfalen in Düsseldorf. Der Glücksspielneuregulierungsstaatsvertrag (GlüNeuRStV) received approval from the 16th and final German state on Thursday. It will now take effect in all of the nation's federal states from July 1 2021.
legalizes both online poker and casino
Approved by Germany's heads of state in March last year, GlüNeuRStV will expand the country's gambling options beyond just online sports betting. It legalizes both online poker and casino, while also creating a new regulatory body to oversee the expanded market. This authority will reside in Sachsen-Anhalt's capital city of Halle from 2022.
After the introduction of an Interstate Treaty and Tolerance Policy in October last year, online casino operators are able to offer games in Germany prior to the July 1 date. However, they must comply with player protection guidelines and addiction prevention measures set out in GlüNeuRStV.
A new market with new limitations
While the treaty will allow online casino and poker operators to enter Germany's gambling market, it also includes a number of controversial elements which have caused concern among those in the gambling industry.
the tax could result in 49% of gamblers playing on black market sites
A number of operators have warned that a proposed 5.3% tax on turnover for online slots and poker will cause low channelisation levels. Entain, Flutter Entertainment, and Novomatic subsidiary Greentube commissioned a study into the potential impact of the measure. The results of that research, published by Goldmedia on Thursday, suggested that the tax could result in 49% of gamblers playing on black market sites.
The legislation also includes a number of restrictions for online slots, including a €1 ($1.21) staking limit and a spin speed average of five seconds. Operators must block the ability to play multiple slots simultaneously and impose a blanket deposit limit of €1,000 ($1,209) across all player accounts. The new regulation also bans slot jackpots.
Sports betting also included
The Regional Council of Darmstadt awarded Germany's first sports betting licenses in October last year. Sportsbook operators must also adhere to strict requirements as per the conditions of those permits, including wagering limits of  €1,000 ($1,209) per month, and maximum annual bonus amounts of €100 ($121) per customer.
From July 1, GlüNeuRStV will add some new sportsbook restrictions. Most notably, it will introduce a prohibition on all live bets other than those wagered on final result or next goal scorer – a measure previously criticized by German Sports Betting Association president Mathias Dahms.
In January last year, Dahms warned that the provision would turn disappointed consumers towards the black market, noting that live betting accounted for around 60% of all bets. He also argued that the restriction meant operators could no longer offer popular live betting markets such as tennis, handball, or basketball.
Others in the industry have also reacted to the restrictions. Commenting last year, former Entain CEO Shay Segev praised the introduction of the Interstate Treaty and Tolerance Policy for bringing "long-awaited clarity to the future of online gaming regulation in Germany." However, the company, operating in Germany through its Bwin brand, said strict operating conditions would reduce its full-year EBITDA by around £70m ($97.4m) from 2021.