Updates
G2E 2021 Roundup: Main Highlights From the Event So Far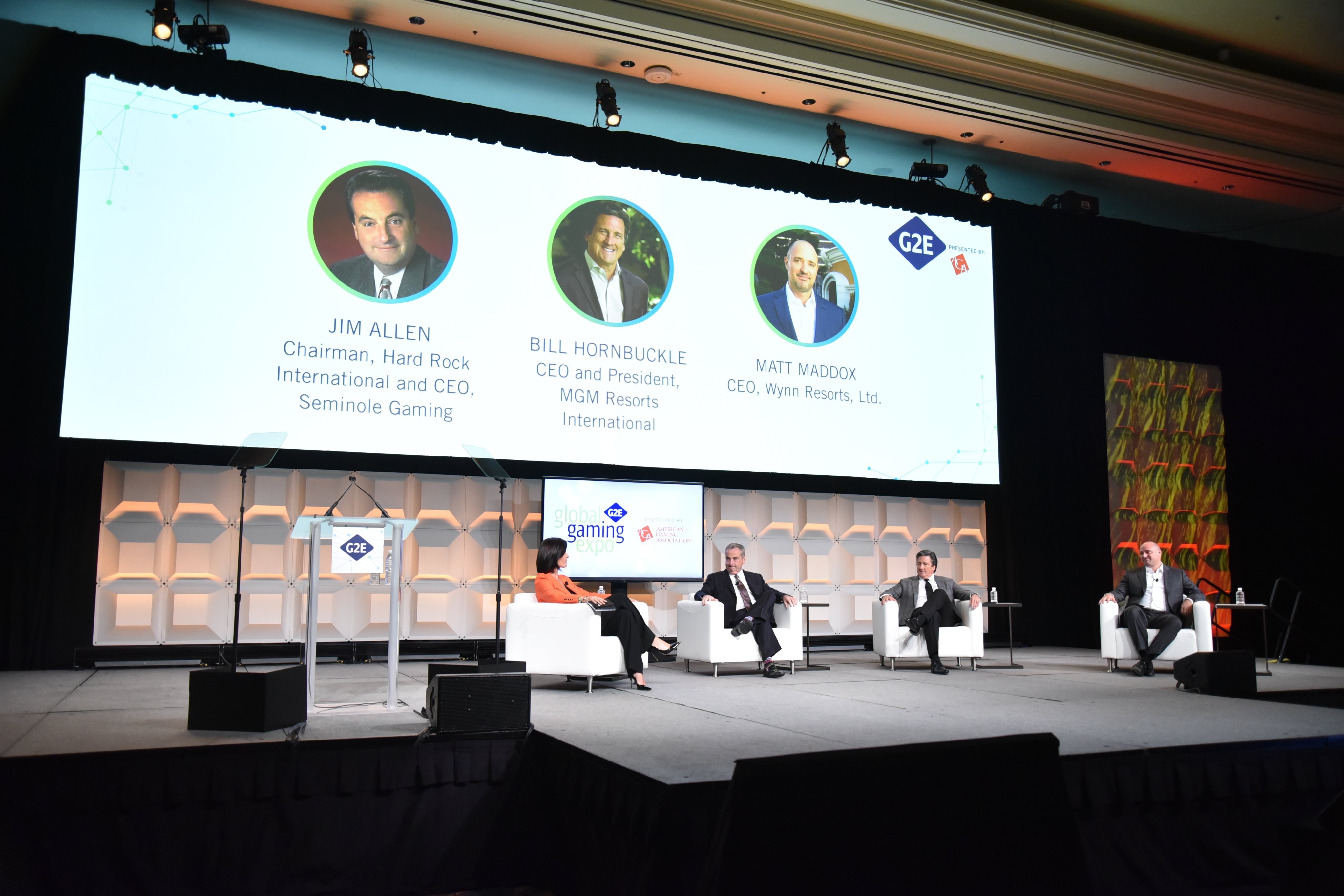 Highlights from this year's G2E event include comments from MGM CEO Bill Hornbuckle in relation to DraftKings's takeover bid for Entain, in addition to the announcement of a new NIGA task force to combat cyber attacks. [Image: Global Gaming Expo Twitter Account]
A successful return
This week, Las Vegas has welcomed back one of the gambling sector's largest and most famous events after a year's hiatus. The Global Gaming Expo, otherwise known as G2E, began on Monday at the Venetian Convention and Expo Center near the Las Vegas Strip. American Gaming Association president Bill Miller took to the stage to welcome the event's attendees:
Miller certainly won't be leaving G2E disappointed, with the 2021 edition of the show already boasting plenty of memorable moments. One such instance saw MGM Resorts International chief executive Bill Hornbuckle shed some light on the potential impact of DraftKings's takeover bid for Entain.
a new sportsbook near the Arizona Cardinals stadium
Event attendees have also witnessed multiple important announcements, including the development of a new sportsbook near the Arizona Cardinals stadium. In another significant moment, the National Indian Gaming Association informed attendees of a new task force which will take on criminal data hackers.
Of course, many G2E visitors also attend to browse the exhibition floor, and this year's event has certainly seen no shortage of exciting new gaming products.
Hornbuckle in the hot seat
During a session at G2E on Wednesday, MGM Resorts CEO Bill Hornbuckle commented on the $22.4bn takeover offer made by US gambling giant DraftKings for Entain. MGM shares ownership of its sports betting venture with Entain, and members of the audience asked if a takeover could affect BetMGM's operations moving forward.
MGM might try to buy out Entain's ownership stake in BetMGM
In response, Hornbuckle affirmed that a DraftKings takeover wouldn't harm BetMGM's operations. In fact, he explained that Draftkings would require MGM's approval to operate in the US under the terms of its deal with Entain. He also suggested that MGM might try to buy out Entain's ownership stake in BetMGM to assume full control of the betting brand.
The chief executive noted that DraftKings has until October 19 to complete the deal, unless the company gets permission for an extension. He declined to speculate on whether he believes the agreement will go ahead, but described the situation as complicated. "DraftKings can't be the owner of Entain and have other US domestic offerings as DraftKings," he said. "Something has to go."
Cardinals to get new sportsbook
Arizona Governor Doug Ducey signed sports betting legislation HB 2772 into law on April 15 this year, and the market finally received clearance to launch last month. At G2E this week, Arizona Cardinals owner Michael Bidwill confirmed that his NFL team now wants a piece of the sports betting pie.
Bidwill spoke with AGA president and CEO Bill Miller in front of an audience on Wednesday. He explained that the Cardinals intend to implement a sportsbook near their stadium to allow wagers on the NFL and other big events. The team will also license sportsbooks at three tribal casinos owned and operated by the Gila River Indians. 
Nevada Independent journalist Howard Stutz took to Twitter to post an image from the meeting:
Bidwill expects the sportsbook to begin operating adjacent to State Farm Stadium in time for next year's football season. He said it will be "easily accessible to fans and sports bettors 365 days a year." The sports arena will play host to Super Bowl 57 in 2023, in addition to college basketball's March Madness Final Four tournament in 2024.
NIGA takes on hackers
Tribal gaming is a vital part of the US's industry, and representatives from the National Indian Gaming Association have addressed the sector's issues at this year's G2E. During a session on Tuesday, the group announced that it has created a task force to combat cyber attacks on tribal casinos, which have seen a recent uptick.
During the G2E session, the National Indian Gaming Commission (NIGC) confirmed that two more tribal casinos have had their data hacked in recent months. Although the NIGC didn't name the casinos specifically, media reports have suggested that they include the Ho-Chunk Nation in Wisconsin and Tesuque Casino in New Mexico.
The new tribal task force will meet for the first time next month, according to NIGA.
New products on display
In addition to attending conferences, thousands of G2E visitors have also spent the week browsing the exhibition area for the latest in gaming technology. The G2E Twitter page posted images of the busy showroom floor on Wednesday:
One highlight from that showroom floor saw global gambling supplier IGT reveal two new cabinets. The Diamond RS cabinet allows players to switch between single-line games and five-line games starting at 25 cents per credit. Meanwhile, the Peak65 gives players the chance to wager on four video slot lines.
a curved high-defintion 49-inch monitor
Similarly, Konami has also unveiled its latest casino gambling offerings, including the Dimension cabinet series. The Dimension 49J cabinet includes a curved high-defintion 49-inch monitor, while the Dimension 49 and 27 offerings provide the same design but with different screen sizes and capabilities.
In the world of slot gaming, Aristocrat has debuted its new title based on the upcoming movie Dune. The game includes movie clips with film stars Timothée Chalamet, Zendaya, and Jason Mamoa. Ryan Scott, vice president of gaming operations for the company, has confirmed the game will go live at a number of US casinos on the day of the movie's debut.