Entertainment
Wait . . . the Fire in Olivia Rodrigo's "Good 4 U" Music Video *Wasn't* a Special Effect?!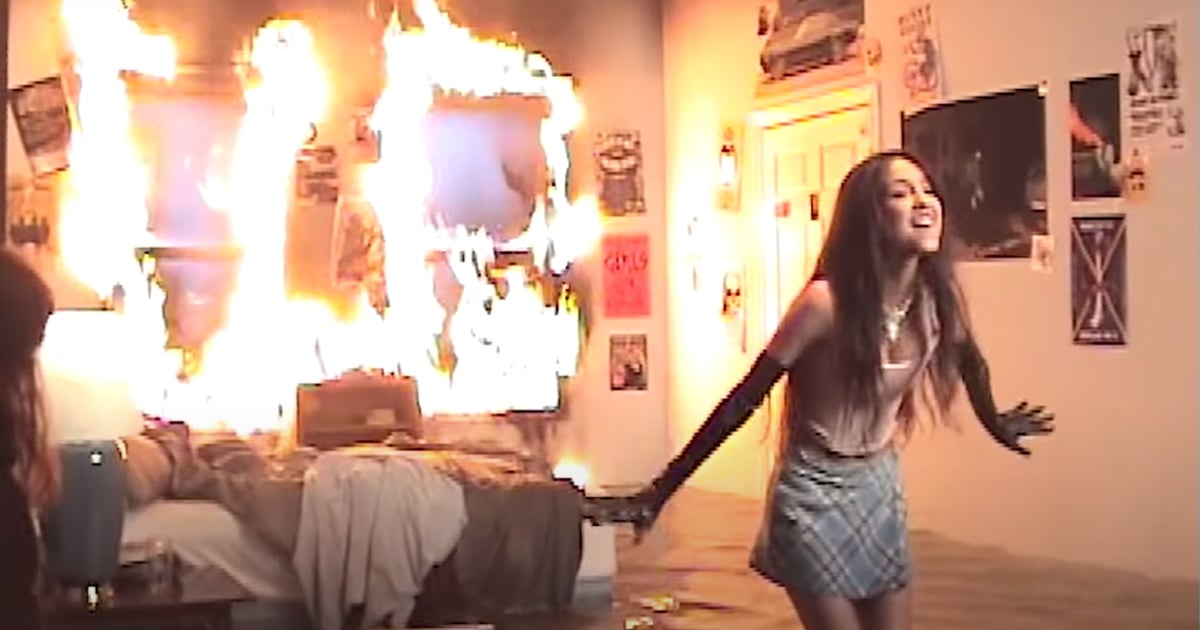 A month after its release, Olivia Rodrigo's "Good 4 U" music video just continues to get more badass. Partially inspired by the 2009 classic Jennifer's Body, the video features several callbacks to the film, including the spooky lake scene and a clip of Rodrigo setting fire to her ex's bedroom curtains. The emotional impact of seeing Rodrigo jump up and down in the flooded room with a smile on her face while the fire grew was the 2021 equivalent of watching Taylor Swift take a golf club to her ex's vintage car in the "Blank Space" video. As thrilling as it was to see the scene play out, there is one key detail that we didn't know until the release of the behind-the-scenes video on June 7: that fire wasn't a special effect.
In the video, Rodrigo can be seen standing in the flooded room as a pyrotechnician sets the curtains ablaze and walks out of the shot, which had to be filmed in the span of a few minutes to avoid any injuries from the smoke or crumbling set. With fire extinguishers and a hose on hand to put out the flames, thankfully, no one was in any danger. But knowing that the fire burning behind Rodrigo during the climax of the video is 100-percent real adds an extra "wow" factor to the entire "Good 4 U" storyline. "I just had the most fun day ever," Rodrigo says. "We flooded a room and set it on fire and it was the dopest sh*t I've literally ever done." See exactly how the scene was filmed above.