Entertainment
Kylie Jenner Celebrates Stormi's Birthday With a Giant Inflatable Slide: "The Most Special"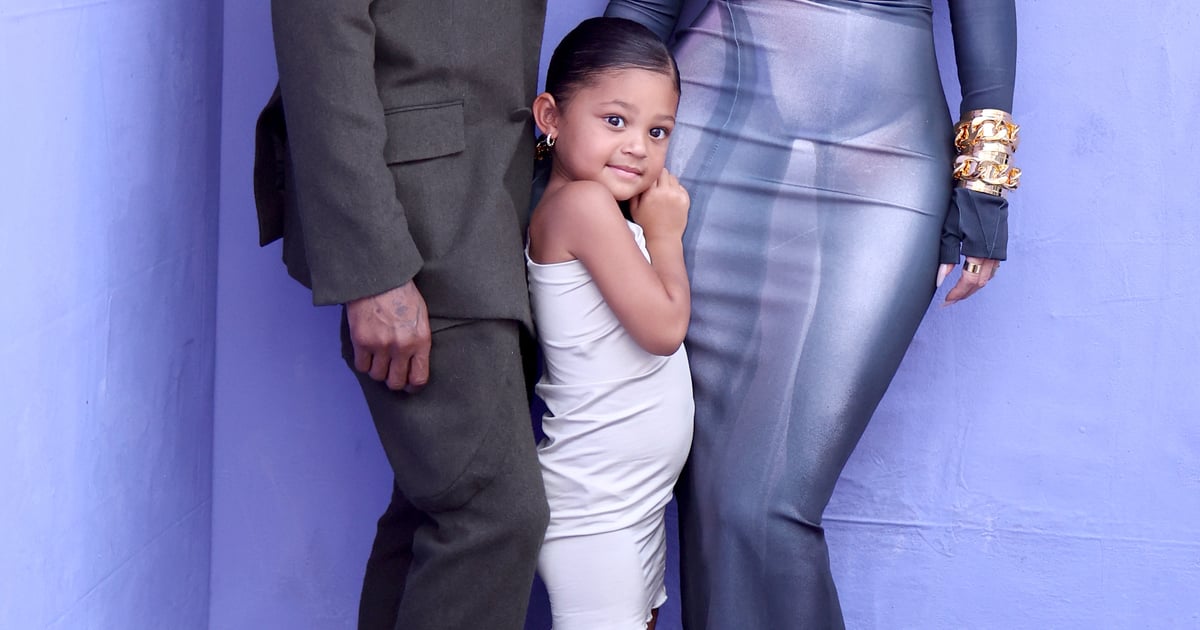 She still looks like mommy, baby. It's national Stormi day, and in honor of her daughter's fifth birthday, Kylie Jenner pulled out all the stops. According to her Instagram stories, Kylie started the day with a mountain of rainbow balloons, peppering the ceiling and floors of Stormi's room in a kaleidoscope of colors. She also gave her followers a look at Stormi's heart-shaped cake, which read "Happy 5th Birthday Stormi" in lavender icing with pastel flowers. But the real cherry on top was the not-so-subtle nod to Stormi's dad, Travis Scott, in what appeared to be a giant inflatable slide in the shape of Stormi's own head.
The design — similar to the imagery on Scott's "Astroworld" album — required a double-take, from the stone-cold gaze to the rainbow slide protruding from the inflatable Stormi's mouth. Ultimately, it's nothing new for the family, who previously debuted the same attraction at Stormi's "StormiWorld" themed birthday when she turned 2.
In addition to all the fanfare, Kylie also took a moment to post a sweet birthday tribute to her daughter. "I gave you the gift of life and life gave me the gift of you," she wrote on Feb. 1. "The most special girl. this little face. i will miss it as it keeps changing," Kylie continued, posting a gallery of photos featuring some of Stormi's happiest moments. "5 years of loving you and forever more to go. i will always be there for you storm girl."
Along with a picture of a tiny Stormi smiling up at the camera, her ears wrapped in big pink headphones, Kylie also captured her daughter dressed up as a stylish angel, wearing glittery Mickey Mouse ears with friends, holding her mom around the neck, and posing in the coolest pair of tiny sunglasses. "I love you," Kylie whispered in a final video clip, to which Stormi softly responded, "I love you, too."
Stormi's grandmother, Kris Jenner, also got in on the birthday wishes, speaking to her granddaughter's character on Instagram. "Happy birthday to my beautiful, sweet, smart, funny, adventurous, loving granddaughter Stormi!! I can't believe you are 5!" Kris wrote. "Thank you for being such a bright light in all of our lives. You are the best daughter, granddaughter, cousin, friend and big sister!! Your brother is so lucky to have you to look up to, and I can't wait to watch your bond grow as you get older. We are all blessed to have you in our lives, my precious girl."
Read on to see how Kylie celebrated with Stormi.