Entertainment
If I Can't Have Love, I Want Power: Everything We Know About Halsey's Upcoming New Album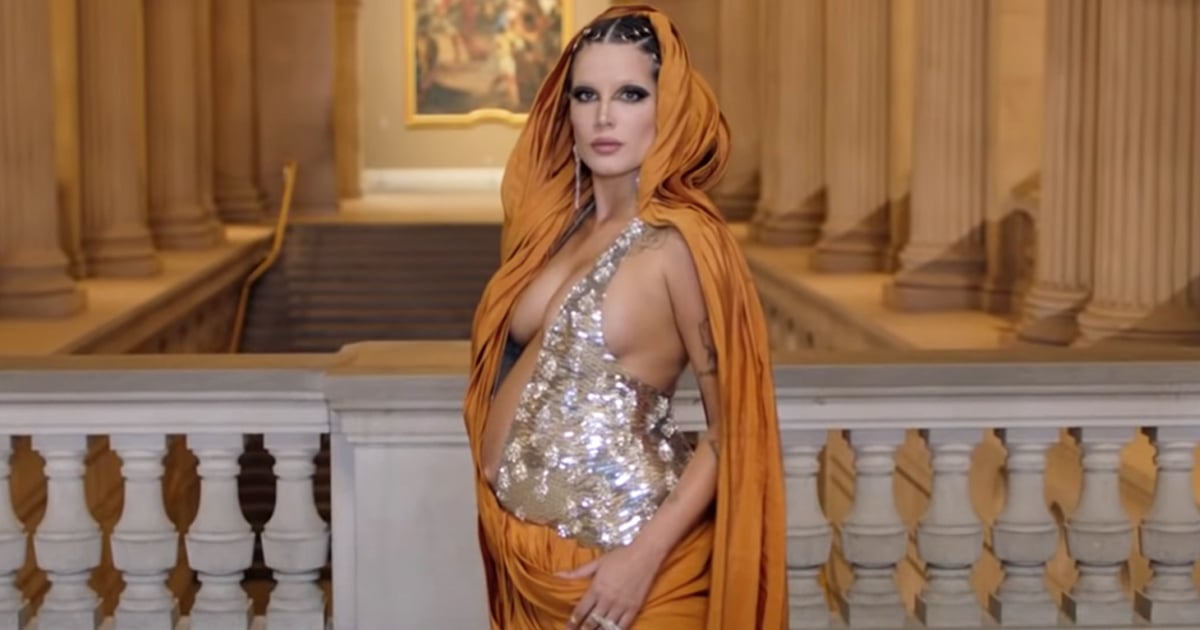 Image Source: Lucas Garrido
After the neon watercolor madness of Manic, Halsey is embracing a completely new era of art in her fourth studio album, If I Can't Have Love, I Want Power. Abbreviated as IICHLIWP, the new album — produced by Trent Reznor and Atticus Ross — is an examination of pregnancy and childbirth, which makes it fitting that the cover art, taken by Luca Garrido, depicts the mom-to-be as a combination of "the Madonna and the Wh*re," challenging the idea that women must be perceived as either saintly virgins or sexual deviants. On July 7, Halsey unveiled the stunning Renaissance-style artwork, which shows her seated on a gilded throne with a baby on her lap, at The Metropolitan Museum of Art in NYC. If the gorgeous cover art is any indication of what to expect from her new album, we're ready to listen. Find out everything we know about Halsey's upcoming album ahead.
What Has Halsey Been Up to Since Releasing Manic?
Since releasing her third studio album, Manic, on Jan. 17, 2020, Halsey has delved into her artistic side in more ways than one. On Nov. 10, 2020, Halsey released a book of poems titled I Would Leave Me If I Could, which explores topics like mental health, sexuality, relationships, longing, and love. The book debuted on The New York Times Best Sellers list, and the cover features an original piece of artwork by Halsey called "American Woman."
Further exploring her artistic side, Halsey launched about-face, a "multi-dimension makeup brand for everyone" that celebrates the beauty and diversity of humans on Jan. 25. Two days later, the singer announced her pregnancy in a series of photos on Instagram, captioning the post, "Surprise! 🍼🌈👼🏻." As part of the announcement, she tagged her boyfriend, screenwriter Alev Aydin, who commented, "Heart so full, I love you, sweetness ❤️❤️," to which Halsey replied, "I love you!!!!! And I love this mini human already!" Since sharing the news of her pregnancy, Halsey hasn't been shy about posting photos of her pregnant belly at all of its stages to showcase the beauty of motherhood, a theme that inspired her new album.
What Will Halsey's Fourth Studio Album Be About?
A true celebration of motherhood, Halsey describes If I Can't Have Love, I Want Power as a "concept album about the joys and horrors of pregnancy and childbirth." In an Instagram caption on July 7, Halsey continued, "It was very important to me that the cover art conveyed the sentiment of my journey over the past few months. The dichotomy of the Madonna and the Wh*re. The idea that me as a sexual being and my body as a vessel and gift to my child are two concepts that can co-exist peacefully and powerfully. My body has belonged to the world in many different ways the past few years, and this image is my means of reclaiming my autonomy and establishing my pride and strength as a life force for my human being."
The mom-to-be added that the cover art is meant to celebrate the beauty of pregnant and postpartum bodies. "We have a long way to go with eradicating the social stigma around bodies & breastfeeding," she said. "I hope this can be a step in the right direction!"
When Is Halsey Releasing Her Fourth Album?
If I Can't Have Love, I Want Power is set to debut on Aug. 27, leaving just enough time to analyze the album artwork and any other clues about what to expect from her new album.
Where Can You Listen to Halsey's New Album?
Halsey's fourth studio album is currently available for pre-order as a digital copy ($10), CD ($12), LP ($26), and in limited-edition packs featuring merch inspired by the new album.