HBO Max's New True Crime Series The Staircase Is Based on an Unsettling Real Story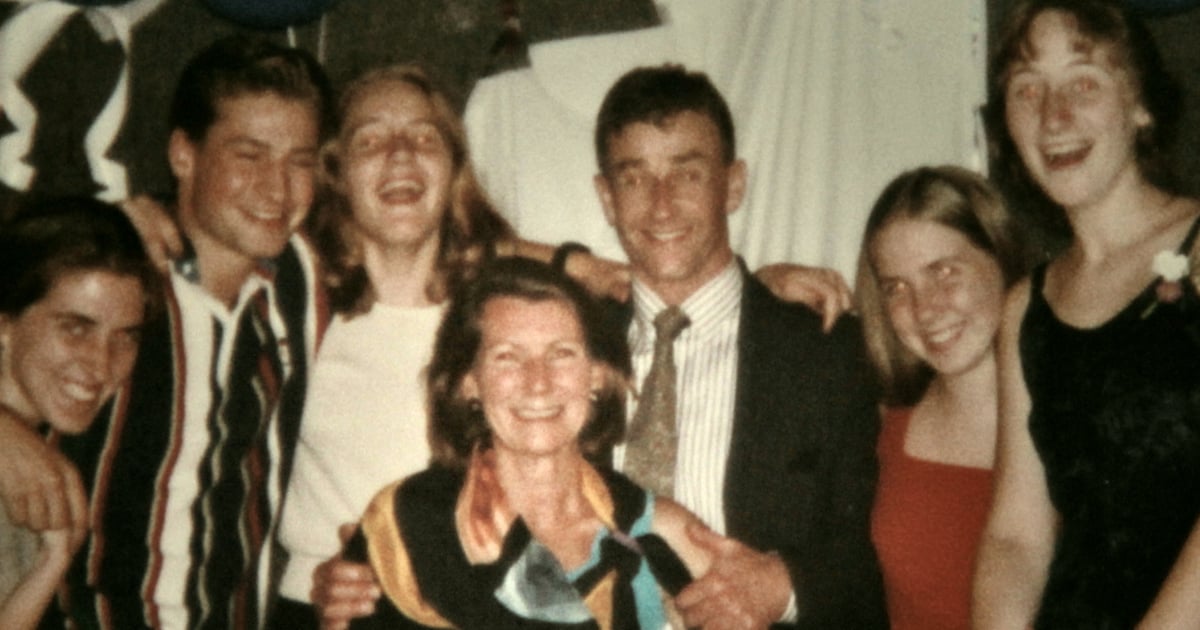 Image Source: Netflix
Seventeen years after the release of Jean-Xavier de Lestrade's docuseries The Staircase, the story of Kathleen Peterson's death is being turned into show. On March 31, Variety reported HBO Max's plans to adapt the case for an eight-part limited drama, also titled The Staircase. The recent casting news of Sophie Turner as Kathleen and Michael Peterson's adopted daughter Margaret Ratliff has people already buzzing about the show's cast. Joining Turner is Colin Firth as novelist Michael, Toni Collette as Kathleen, Rosemarie DeWitt as Kathleen's sister Candace Zamperini, Parker Posey as prosecutor Freda Black, and Juliette Binoche in an undisclosed role.
The series is set to explore the life of the Peterson family in North Carolina, the circumstances surrounding Kathleen's suspicious death, and Michael's involvement. While it's unclear just how much the infamous case the HBO Max show will cover, it comes from Christine director Antonio Campos and American Crime Story writer Maggie Cohn, so we have high expectations. Before The Staircase drops on HBO Max, likely in 2022, here's what you need to know about the strange true story behind Kathleen's murder.
The Death of Kathleen
On Dec. 9, 2001, Michael called 911 after supposedly discovering Kathleen lying in a pool of blood at the bottom of a staircase in their home. While on the phone, he told dispatchers that she was unconscious but still alive. However, by the time paramedics arrived, Kathleen was dead. He also told paramedics that Kathleen had been drinking that night, but experts found her blood alcohol content to be below the legal driving limit. Scientists also examined her body at the scene and found her injuries consistent with a death by homicide. These injuries included seven deep lacerations on her head, scrapes and bruises on her face, and a crushed thyroid. Blood drops were also found on Michael's clothing along with a bloody shoe print on Kathleen's sweatpants.
The Case
For motive, the prosecutors put forth the idea that Michael had murdered before and was looking to cash in on Kathleen's $1.4 million life insurance policy. Investigators also discovered gay pornography on Michael's computer, suggesting the idea that he and Kathleen had fought over his bisexuality. The defense brought in their own forensic expert, who argued the scene's blood-spatter evidence was consistent with an accidental fall. The investigation and trial lasted two years, resulting in Michael's conviction and a sentence of life in prison without the possibility of parole.
In 2010, Duane Deaver, the state's blood-spatter expert for the case, was accused of forensic incompetence. A judge then found that Deaver's testimony had been both misleading and a former North Carolina attorney general stated that any evidence gathered while Deaver was at the scene could be inadmissible in a new trial. After spending eight years in prison and six years out on bond, Michael's case concluded when he accepted an Alford plea to the lesser charge of manslaughter in 2017. An Alford plea concedes that the prosecution has sufficient evidence to convict but the defendant does not admit guilt. He was then sentenced to time already served.
The Other Murder
Prosecutors felt that Kathleen's death was eerily similar to the death of Elizabeth Ratliff, the coworker of Michael's first wife, Patty, and biological mother to his adopted daughters, Martha and Margaret. When Michael was being investigated for Kathleen's murder, prosecutors took another look at the circumstances surrounding Elizabeth's 1985 death in Germany, exhuming her body in 2003. A forensic pathologist that worked on Kathleen's case, Deborah Radisch, came to the same conclusion she did with Kathleen and classified Elizabeth's death as a homicide. While Elizabeth's autopsy was updated to indicate that she died from homicidal assault, and prosecutors for Kathleen's case used the evidence to draw parallels in court, Michael was never formally charged with her death.