Entertainment
Ben Affleck Praises J Lo's Strides For Latinx Representation: "I Am in Awe"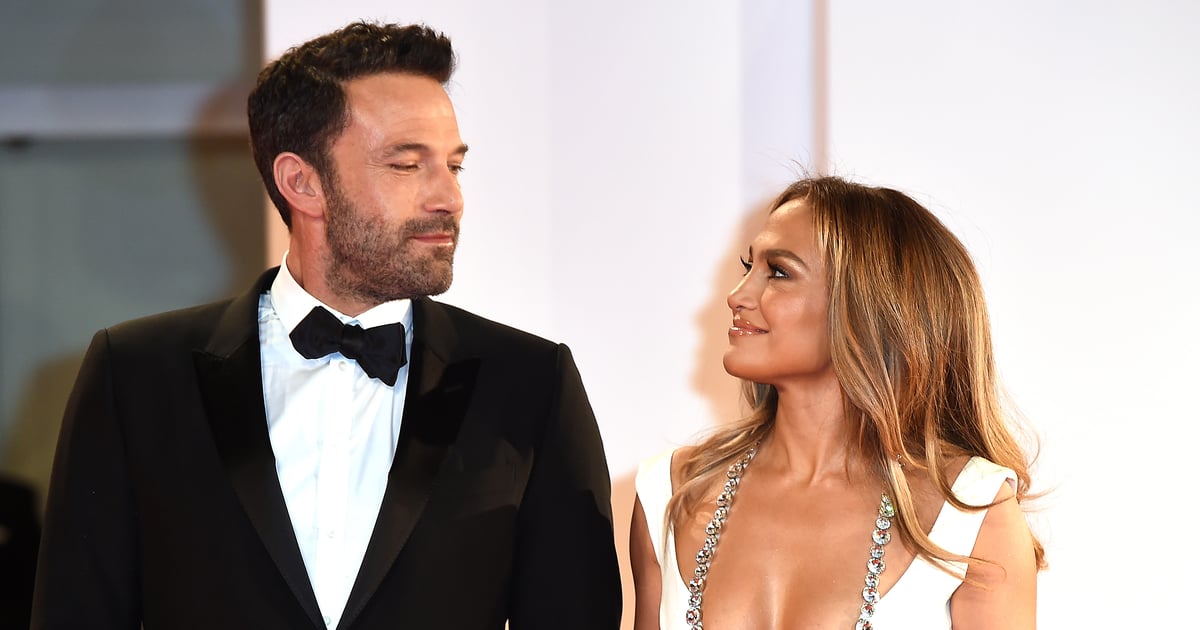 Ben Affleck can't help but sing Jennifer Lopez's praises from the mountaintops — well, in the pages of a magazine, to be more accurate. Just a few weeks after making their first joint red carpet appearance in 18 years at the Venice Film Festival, the rekindled couple were interviewed by Adweek to celebrate J Lo being honored with the publication's 2021 Brand Visionary Award. For the profile, Ben opened up about J Lo's recently announced efforts to financially support Latinx entrepreneurs via her Limitless Labs initiative, as well as her career's impact on women of color.
"I am in awe of what Jennifer's effect on the world is."
"All I can tell you is that I have seen firsthand the difference representation makes because I have seen, over and over and over and over, women of color approach Jennifer and tell her what her example as a strong woman and a woman succeeding and demanding her fair share in the business world means to them," Ben said. "I am in awe of what Jennifer's effect on the world is." He even went so far as to put her accomplishments on a pedestal above his.
"At most, as an artist, I can make movies that move people," Ben added. "Jennifer has inspired a massive group of people to feel they have a seat at the table in this country. That is an effect few people throughout history have had, one I will never know and one I can only stand by and admire with respect."
In the interview, Jennifer spoke to her many achievements as a singer, an actress, a mother, a philanthropist, a beauty-brand founder, and an all-around global icon, honing in on how the lack of representation she experienced growing up influences many of her career decisions. "Early in my career, I chose to be a brand ambassador for companies like L'Oréal and Louis Vuitton when others weren't really doing that," she recalled. "There was so much kind of taboo for real artists or actresses or recording artists to do those type of things. But I felt that it was important to start seeing somebody who looked like me in those ads, because it had been the same look for so long. And to see a Latina there, a young Latin girl, at the time for me was very, very important."
J Lo also acknowledged that her vision of uplifting women and achieving representation for underrepresented groups has reached a "tipping point" as of late, but it's not solely because of the work she's tirelessly put in through the years. "This has been a long time coming, and I think the women that came before us — my mom and her mom — they've all been pushing for this moment," the 52-year-old star said. "And then, we pushed further beyond what they thought could be. And now my kids are pushing further beyond that. It's not any one person or any one thing. It's many, many women, understanding and not being afraid, including myself, that are saying, 'I deserve a seat at the table. I have something to offer. I am worthy, I have value, I'm artistic, I am smart, I have good business sense, I'm creative, I'm forward-thinking, I'm visionary, I want to learn, I want to keep learning, I want to keep evolving, I want to keep growing.'"
She added: "We are creating a storm right now, and it is going to change things. When the storm is over, the things that need to be knocked away will have been washed away. And then there's going to be this beautiful rainbow, and it's going to be a new day."
Image Source: Getty / Dominique Charriau / WireImage