Aaron Tveit Is Getting to Live Out His Musical Dreams on Apple TV+'s Schmigadoon!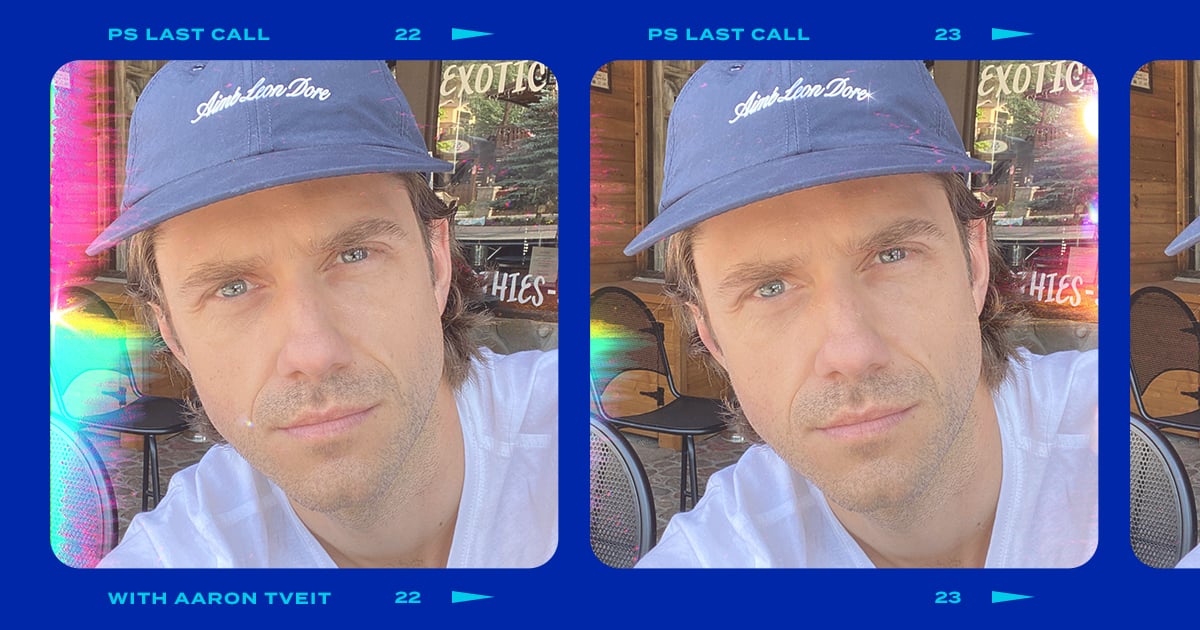 In our Q&A series Last Call, we get down to the bottom of every last thing with some of our favorite celebs — from the last time they were starstruck to the last song they listened to. This week, Aaron Tveit take our call.
Aaron Tveit has starred in many of our favorite shows, but musical theater is clearly his passion. And with Apple TV+'s Schmigadoon!, he gets to combine his love for both! The series, which premiered on July 16, follows a couple (Cecily Strong and Keegan-Michael Key) who finds themselves trapped in a town where everything is a musical. Not only does the show parody a handful of iconic musicals throughout, but even some of the characters are based off of beloved musical roles, including Aaron's Danny Bailey who takes inspiration from the main character from 1956's Carousel. "I really get to live out my Billy Bigelow dreams in this," he said, noting that the nod to Billy's soliloquy was one of his favorite Easter eggs throughout.
Following the Broadway shutdown last year — including Moulin Rouge! which stars Aaron as Christian — the actor said "it was tremendously special" getting to bring a little bit of Broadway to the screen with Schmigadoon!. "This project would have been a great project in the best of times, but the fact that we all got to come together and do something that everyone involved loves so much [during the Broadway shutdown] put it even an even greater perspective," he said. As Broadway does prepare to reopen in September, Aaron hopes the Apple TV+ series provides some much-needed joy for people. "The fact that this is coming out now when finally there's hope on the horizon for so many things, but also particularly for Broadway and theater industry that's been really just gone, somehow the timing is just so wonderful." Read the rest of Aaron's Last Call interview ahead.
What was your last day on set of Schmigadoon! like?
The last thing I shot on Schmigadoon! was actually the last [episode] of the show. It was Keegan and I, and there's a moment in the woods where I pop out in front of him and I give him a little slug because, in my mind, he stole my girl. That was the last day on set. The whole thing was a wonderful experience. It's always bittersweet when it ends.
Last thing you did for self-care?
I've been meaning to book a massage, so that might be the next thing. I was doing some work this weekend and I really got a good night's sleep last night. That was probably the last thing I did.
Last song you listened to?
When I was driving home last night from when I was working, "Return of the Mack" was on the radio station. That was an R&B song from my high school days.
Last piece of advice you received that changed your life?
I think back to when I was studying in college. There's probably been things since, but I remember there was a moment where I was maybe going to leave school to try to go work and my dad told me don't be afraid to succeed, which, at the time, I didn't really understand what he meant, but I think that as I've gotten older, that's really resonated with me more and more.
Last gift you received?
I got a wonderful piece of jewelry from my girlfriend in the fall when I got nominated for a Tony Award. It was very, very meaningful.
Last show you binge-watched?
I'm a sucker for The Challenge. I'm staying in a corporate apartment in LA for some work and I have full cable, which I don't have anymore. So I was able to binge watch the latest season of The Challenge there, on Demand.
Last thing musical you watched?
The In the Heights movie. I watched it a couple of weeks ago. I was completely blown away by the filmmaking and the storytelling. I root so hard for musicals on film and on television, and I just thought they did an unbelievable job telling that story. I just loved it.
Last photo on your camera roll?
Last photo on my camera roll actually is from last night. My buddy Brandon McLaren — we did Graceland together — we're both in LA. We were actually both in Vancouver [when I was filming] Schmigadoon! and he was filming Turner Hooch and we concocted this idea to write a little short that people who liked Graceland may appreciate. So we shot this little short the last two days. So the last thing on my phone is a shot from our filming.
Last time you were starstruck?
Last time I was starstruck. Probably when I met Alan [Cumming] and Cecily and Keegan and this incredible cast of Schmigadoon!. Some of them I know — I've know Kristin [Chenoweth] a little bit through Broadway and everything — but these people are just people that I've so admired for such a long time. Sometimes people say don't meet your idols, but these people were even nicer and cooler in person than you'd even expect them to be.
Image Source: Courtesy of Aaron Tveit