Entertainment
5 Women Directors on Why Oscars Recognition Matters — Even If They Don't Want to Care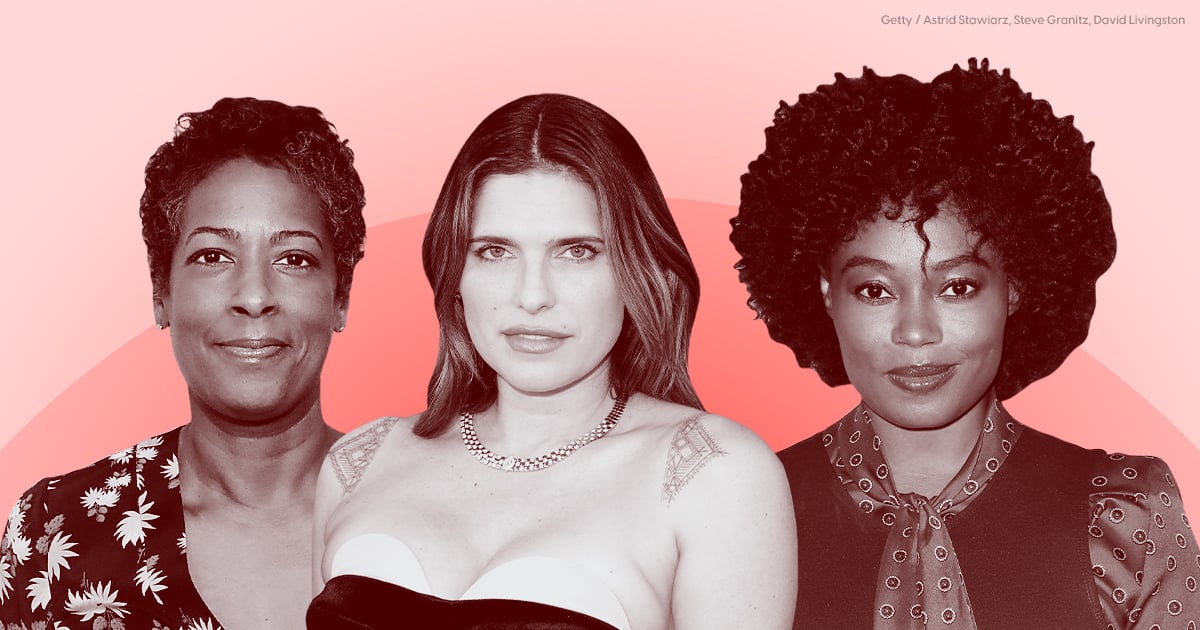 Image Source: Getty / Astrid Stawiarz, Steve Granitz, David Livingston and Photo Illustration: Aly Lim
Growing up, director Evelien Kong saw white people, animals, and even Coneheads in popular movies, but no Asian actors. The only Asian character who made an impression on her was the incredibly offensive and racist portrayal of a Japanese photographer by white actor Mickey Rooney in 1961's "Breakfast at Tiffany's." And when she started working behind the camera in the early 2000s, she knew of very few successful Asian directors or producers; she feared entering an already competitive industry as a Chinese woman. Years later, she's worked with stars like Miley Cyrus and Kerry Washington — but the journey hasn't always been easy or welcoming.
It's no secret that Hollywood struggles with inclusivity. Women, LGBTQ+ individuals, and people of color have been discriminated against for as long as the industry has existed. Sure, many things have changed since the first film release at the end of the 19th century, but many agree that progress has been disturbingly slow.
The lack of inclusivity is rampant all year behind the scenes, but it becomes most publicly discernible during award season. One clear example: the continual discredit and disregard of women directors' talents.
"I've always battled with myself, like, 'Why do I care so much about a godd*mn Oscar or Golden Globe?'"
In their 95 years of existence, the Academy Awards have only nominated seven women directors in the best directing category, and only three women — Kathryn Bigelow, Jane Campion, and Chloé Zhao — have won. This year sparked outrage once again when no women were nominated in the category, despite incredible work from directors such as Chinonye Chukwu for "Till," Gina Prince-Bythewood for "The Woman King," and Charlotte Wells for "Aftersun." Sarah Polley's "Women Talking" is the only film of the 10 nominated for best picture with a woman director. (The Academy of Motion Picture Arts and Sciences did not immediately respond to POPSUGAR's request for comment.)
"It's much harder to be seen, in any capacity," Kong, who is also a producer and the creator of the podcast "Reppin," tells POPSUGAR. "I think being a woman and also a woman of color, if someone brings their A game, you have to bring your A-plus-plus game."
A lack of representation in awards isn't exclusive to the Oscars. Between 2008 and 2022, only 8.9 percent of directors nominated at the Oscars, Golden Globes, Critics' Choice Awards, and Directors Guild of America (DGA) Awards were women, according to a report from the USC Annenberg Inclusion Initiative.
Some may argue the Oscars and other award shows are becoming increasingly irrelevant, but doing so ignores entrenched ideals of success within the industry, as well as the significant impact winning these awards can have. Prince-Bythewood's "The Woman King" received a 94 percent on Rotten Tomatoes and an A+ CinemaScore (decided by polling moviegoers opening night) — yet wasn't nominated for a single Oscar. She told The Hollywood Reporter last month what that snub meant to her.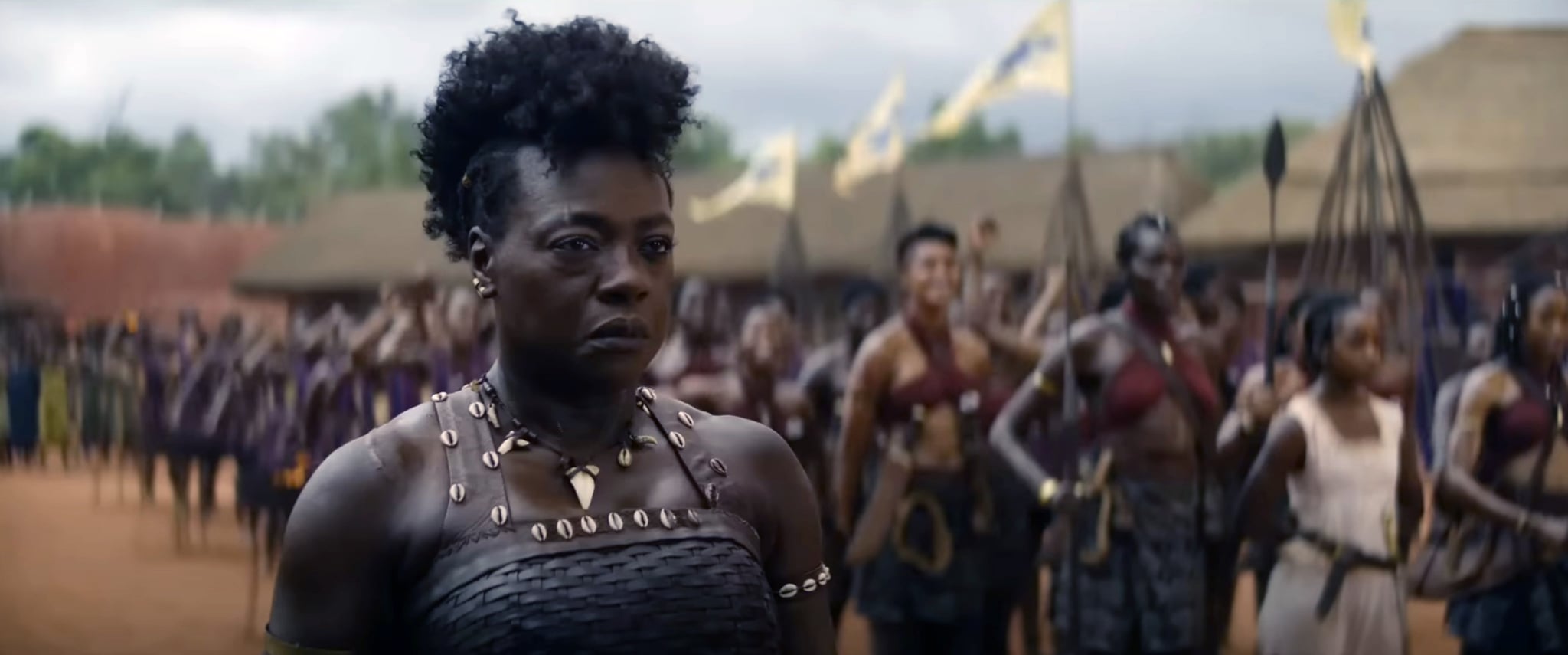 A still from Gina Prince-Bythewood's "The Woman King," starring Viola Davis. Image Source: TriStar Pictures / Courtesy Everett Collection
"It's a difficult thing to know, for every Black filmmaker and definitely every Black female filmmaker, that your work is not valued in the same way," Prince-Bythewood said. "The question we need to ask is, 'Why is it so hard to relate to the work of your Black peers?' What is this inability of Academy voters to see Black women, and their humanity, and their heroism, as relatable to themselves?"
Director Numa Perrier used to question why she still assigns value to awards but found clarity in Prince-Bythewood's remarks. "I've always battled with myself, like, 'Why do I care so much about a godd*mn Oscar or Golden Globe? I dream of being on that stage, and I dream of being on that red carpet. I dream of everything that comes with that," Perrier tells POPSUGAR. "Why? Why do I care so much about something that was really born out of racism? Why? Why do I want to be accepted by these people so much? And she hit the nail on the head because those are our freaking peers. This is my livelihood."
Perrier, who directed the forthcoming Netflix rom-com "The Perfect Find" with Gabrielle Union, started out as cofounder of the indie YouTube production Black & Sexy TV. After almost a decade creating streaming content, she looked to peers like Barry Jenkins and Ava DuVernay and realized that in order to show the industry her voice, her talent, and who she was as a director, she needed to make a feature film. The successful result, her semiautobiographical "Jezebel," led to other opportunities for her in Hollywood, she says.
This year, though, the Oscars have, yet again, ignited a conversation about what "success" really means. Digging deeper, that success is just one piece of a much larger puzzle for many women directors. They say the odds feel stacked against them at every stage — from first getting opportunities behind the camera to managing a set to, finally, getting recognized by major awards.
Navigating Set as a Woman — and Its Ripple Effects
The lack of recognition from Hollywood's award-deciding elite mirrors the lived experience of many women directors on set. Perrier says that, as a Black woman director, entering an already-established television set has brought everything from surprised faces to men outright asking her why she's the one in that position.
Kong echoes the difficulties of coming on to direct as a woman of color, as well as facing stereotypes that Asian women are quiet and won't put their foot down. "I have to be much more serious and much more adamant in order to get somebody to perhaps put a little bit more weight into what I'm asking them to do," she says. "But then I have to be worried that I'm coming off stern."
"There's always somebody who's resentful that you're the female in charge."
Women are told from birth how they are supposed to act — namely, self-deprecating, apologetic, and small. Actor and director Lake Bell noticed this internalized messaging when she wrote her first feature film, 2013's "In a World…" By the early 2010s, she was already a well-regarded actor. But although she desired to direct, Bell didn't consider herself for the job. She went for it only after her agent suggested it, and she wrote and directed the short film "Worst Enemy" as a trial run.
"I think this is very female. I wouldn't ever have the audacity to direct a full-length feature without having done a short film or something," Bell tells POPSUGAR.
Existing as a woman director also brings barriers postproduction. According to Bell, a film festival pulled her second written and directed feature, "I Do… Until I Don't," because her pregnancy precluded her from flying in for it. Films with women directors are also often pushed less when they're released. A 2016 study from Slated looked at 1,591 films that premiered between 2010 and 2015. Movies with a budget under $25 million and directed by men were shown in three times as many theaters as films with the same budget directed by women.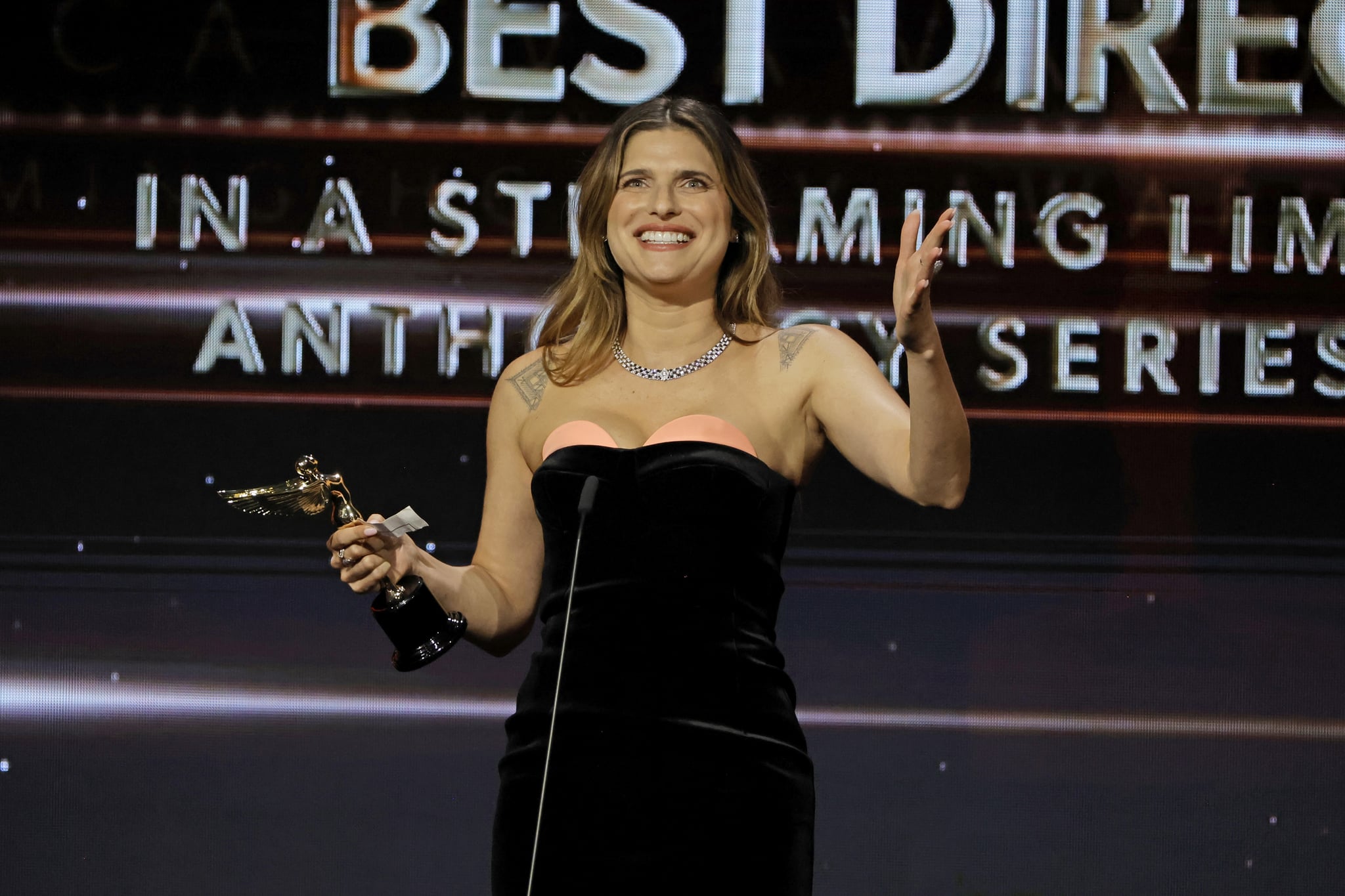 Lake Bell accepts the award for best directing in a streaming limited series or movie during the HCA TV Awards in August 2022. Image Source: Getty / Kevin Winter
Julie Hébert started directing in Hollywood through a paid internship program for women and people of color. She remembers rampant sexism when she was starting out in the early 2000s: snide comments by white men that the women should've "stuck to their dollhouses." Even as an established director, she recalls working with a team of white men who refused to do her shot or changed it for "the better" during lunch without asking her.
It took two decades of working in the industry, Hébert says, to experience a sexism-free set. She was in Vancouver getting ready for her last day directing an episode of "Man in the High Castle" and thought something felt "weird" about the shoot.
"Then I realized what it was: there was no sexism for the entire thing. There was no misogyny," she recalls. "It was wonderful and amazing. It was also kind of startling to me that I had never experienced that before. There's always somebody who's resentful that you're the female in charge."
Perrier has also had that aha moment. While shooting the show "Reasonable Doubt," an actress approached her to say that a woman had never directed her, and she was so happy Perrier was there. "It was a totally different experience for her, even though I don't think I was doing anything that drastically different," Perrier says. "But maybe I was taking a little more time with her. Maybe I was listening to her more."
A Genre Rewriting the Norm
There is one area of filmmaking with greater movement toward equality: documentaries. According to the Center for the Study of Women in Television and Film's most recent Indie Women report, women-led documentaries were screened or streamed at festivals in almost equal numbers to those led by men during the 2021 to 2022 season. Women were also more commonly employed in every behind-the-scenes role compared to indie narrative movies. The number of women directors reached 44 percent, a jump from 28 percent in the 2013 to 2014 season. And in this year's Oscar nominations, women directed four of the 10 documentaries in the best feature and short film documentary categories, and another was codirected by a woman.
"Documentary is different in that we have the opportunity to get projects going ourselves," documentary producer and director Dawn Porter says. "You don't ask permission; people aren't going to tell you no."
Porter — whose historical films like "37 Words" and "The Lady Bird Diaries" have been lauded as groundbreaking — brings her background as a lawyer and journalist into the role. She credits part of her attraction to directing to the importance of having "a multiplicity of voices" telling stories.
"That's not to compare or minimize other people's experience," she explains. "It's just to say that mine is valuable, too."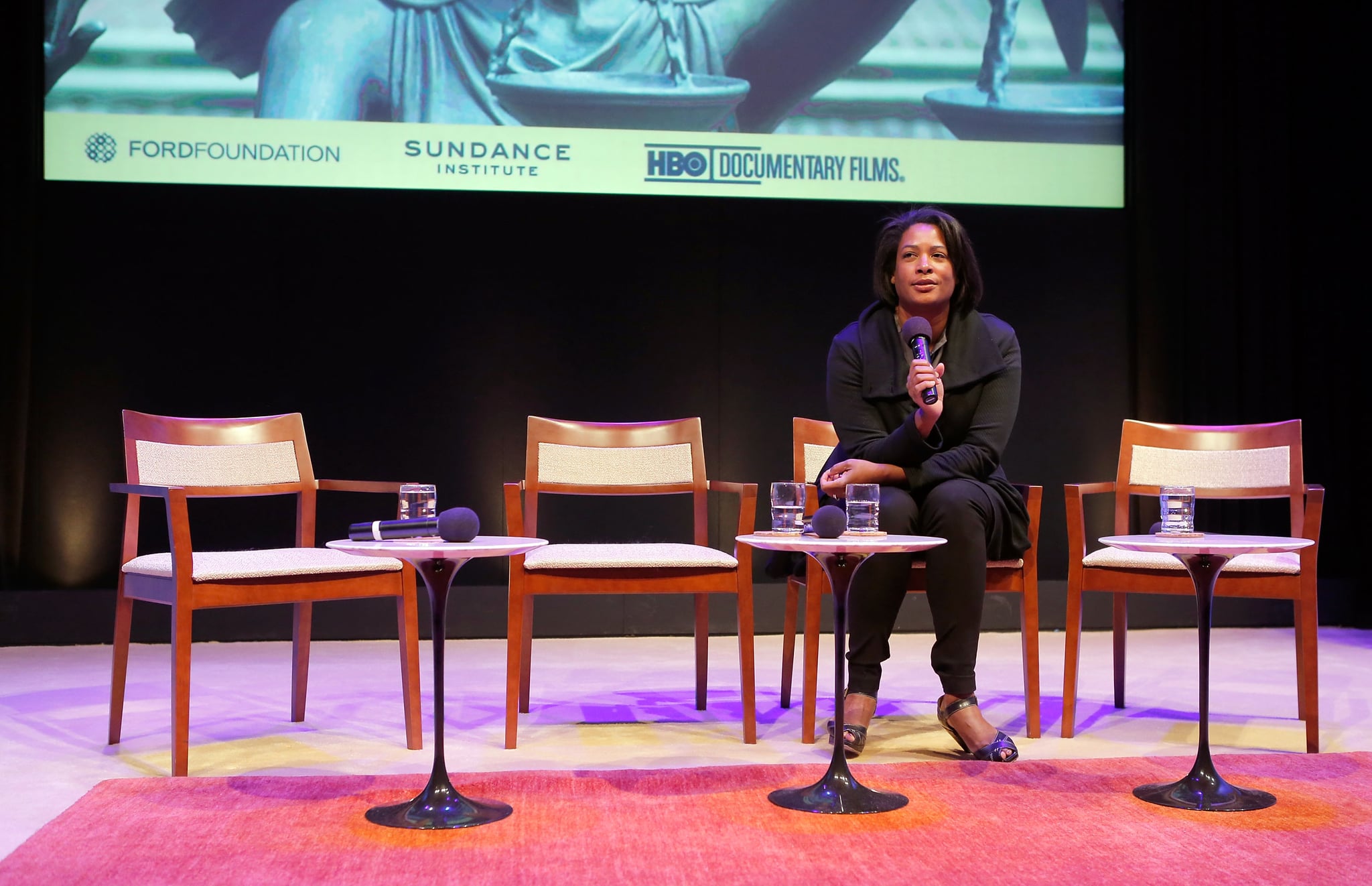 Dawn Porter participates in a panel discussion after a screening in 2012. Image Source: WireImage / Jemal Countess
That's not to say Porter hasn't dealt with similar issues of racism and sexism on set or felt frustration by award shows. For her, it's more important to prioritize working with people with similar values who will respect the story and subjects involved.
"You can give a lot of energy to negativity, or you can try and kind of play your game, set your game until there's a real obstacle, and it really needs to be confronted," she says.
The Path to Greater Equality
Of course, award shows are far from the only mark of achievement these directors use. For Kong, it comes down to representation across the board; she reflects on walking out of the theater after seeing "Crazy Rich Asians" and feeling pride in her culture.
"When you get that kind of attention, you get more work."
Perrier says that, for her, gratification comes when her work hits and becomes noticed. For Bell, it's having opportunities to work and getting funded. And Hébert points to how she and those involved in her films feel: "If it's affecting me emotionally, if it's affecting me intellectually, if it's affecting me aesthetically, that's my measure."
Still, unequal representation is an issue that's deeply entrenched in Hollywood. And to enact significant change requires a concerted effort across the industry — the responsibility cannot and should not fall solely on the women trying to create their art. Perrier sums up that sentiment like this: "I would love to see an in-depth interview with 10 white male directors speaking about this, because it's always us that are talking about it and having to navigate possible solutions or navigate it at all."
It's clear that there's still an essential misunderstanding around these issues, too. "I've heard in the industry, 'I'm a white man, and I can't get hired,'" Bell says. "And it's like, OK, well, you can get hired. It's just a little bit harder, in the same way that it's been harder for every other group of people their entire life if you're not a white man."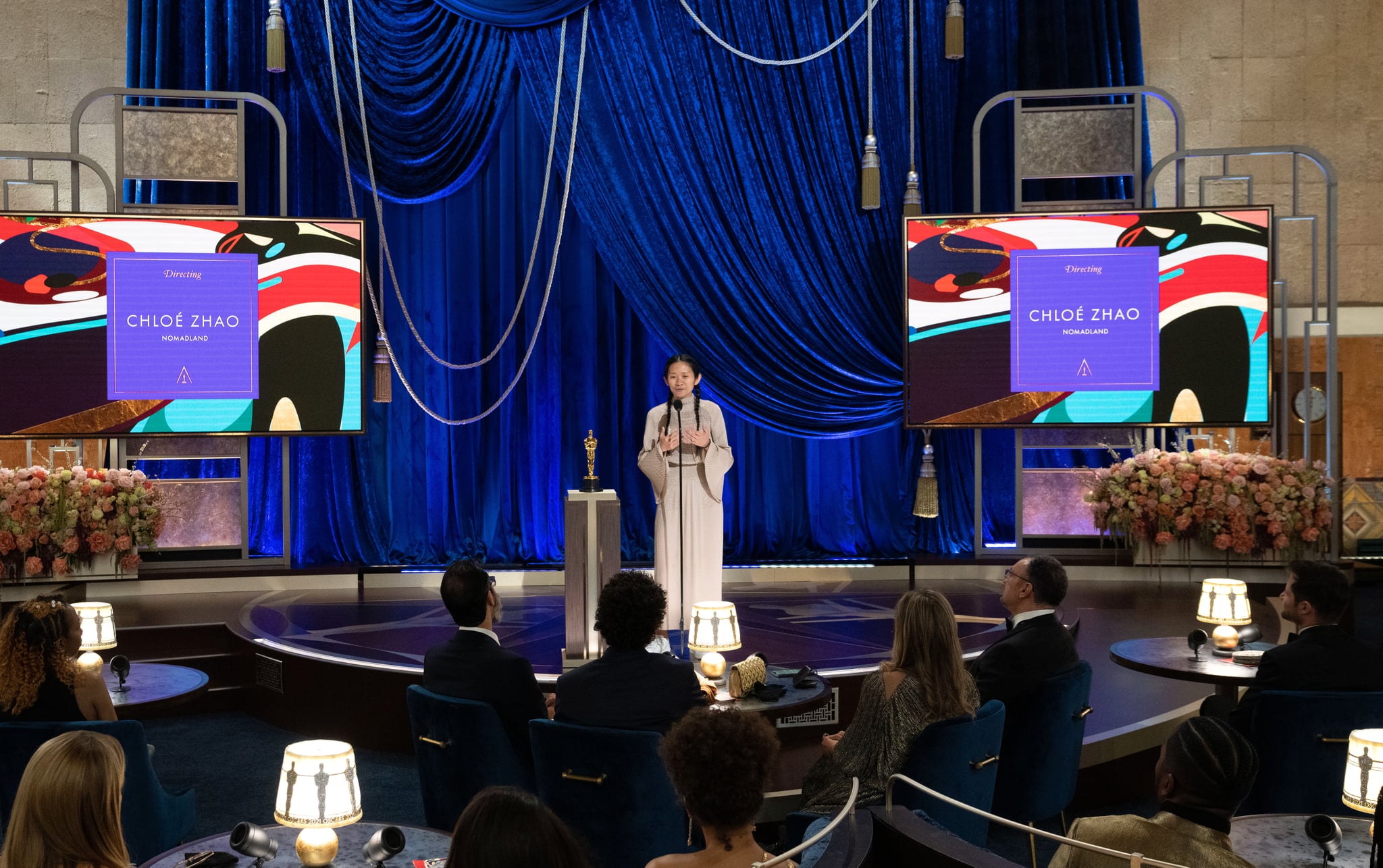 Chloé Zhao becomes the first woman of color to win the best directing award at the 2021 Academy Awards. Image Source: A.M.P.A.S. via Getty Images / Todd Wawrychuk
Allyship, these women directors agree, is deeply necessary. Take the internship that got Hébert's foot in the door of Hollywood. Producer John Wells of shows like "The West Wing" and "ER" created it, and each intern had the opportunity to direct one episode of his shows. Similarly, it's why Hébert herself started Look What SHE Did!, a nonprofit sharing short films about remarkable women in history. Bell, for her part, recently joined the production company London Alley, which is committed to uplifting women in Hollywood.
In addition to the fundamental fairness of equal consideration, award shows provide a platform for directors to get the financial backing for projects. As Hébert puts it: "When you get that kind of attention, you get more work." In the Hollywood Reporter piece, Prince-Bythewood also emphasized that her crew may struggle more to get their next gigs due to the lack of recognition.
The film and media industries still focus primarily on remakes, sequels, or known entities, like specific celebrities, Porter says — a pattern that often excludes new or lesser-heard talented creatives. She hopes "people are remembering to make room for those new ideas. And along with that comes new voices and new people. So I think we have to intentionally remember to be a little disruptive."
Bell agrees; she says she's had difficulties fundraising for her third feature film. "If a company or an industry wants to really bolster a marginalized community, then they need to give them money and support them with not just words, but actions," Bell says. "Green light female filmmakers' projects. Give women of color and women and nonbinary participants in this industry and creators, give them money."
Then once a project is done? It should be simple. The work must be seen and evaluated fairly, Porter says.
At every point in production, award season, and long after a film is released, women directors deserve to have their work taken seriously. "This is my contribution to this planet, the art that I'm creating," Perrier reiterates. "[Voters] are deciding that it's just not for them. And there's no true inclusion in that way. But they are our peers, and we are their peers, and it does matter, it will continue to matter, and we'll continue to care, and we'll continue to reach for those stars, whether they want us there or not."
One day, Hébert hopes, a group of solely women will be nominated for best director — and, just as they did this year when it was only men, people will say, "Well, those happen to be the best ones."