Crypto
XRP Price Prediction: XRP/USD Lacks the Strength to Sustainably Surge past a $0.50 Resistance Level – InsideBitcoins.com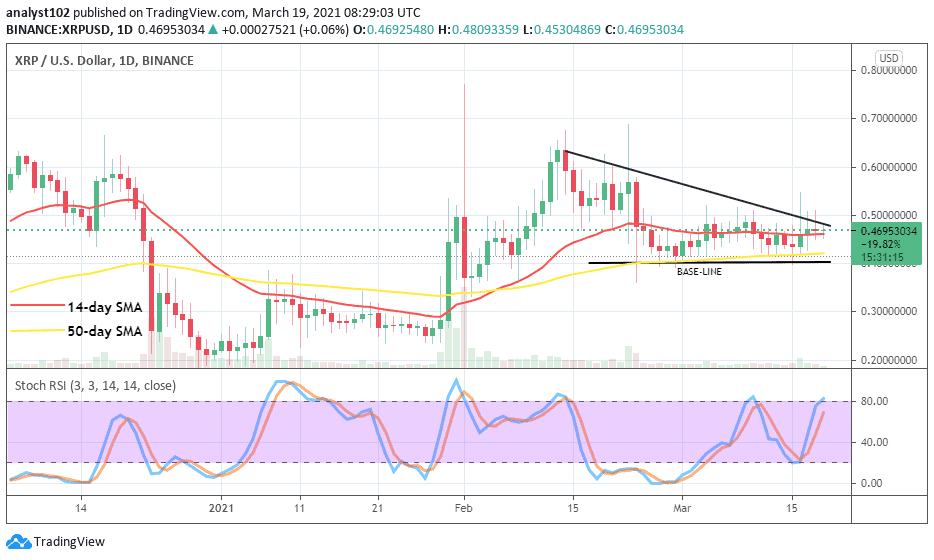 XRP Price Prediction – March 19
There have several attempts being made by XRP/USD to push northwardly beyond the main resistance trading value of $0.50 over time.
XRPUSD Marke
Key Levels:
Resistance levels: $0.55, $0.65, $0.75
Support levels: $0.35, $0.30, $0.25
XRP/USD – Daily Chart
The XRP/USD daily trading chart reveals that there seems to be a formation of a bullish flag coupled with a base-line for price support where an uptrend is to be decently picking up. However, being as it is, The moving outlook of both two SMA trading indicators within the $0.50 and $0.40 points gives a bit more clearer picture in line with the ranging trend presently. The 14-day SMA is situated over the 50-day SMA pointing towards the east direction. The Stochastic Oscillators have moved to the north to touch range 80. They now show a sign to cross the hairs around it. That may eventually bring about seeing a consolidation move more in the crypto-market.


Will there soon be a change in the current XRP/USD trade moving pattern?
Most of the trading indicators have not signaled a significant change in the XRP/USD trading operations until the present time of writing. The $0.50 resistance line has recently been the tough zone that the bulls need to add more forces to breakout past to the north. Otherwise, there will be indefinitely prolonged range price movements around the resistance value mentioned earlier.
The present trading situation shows that both the two XRP/USD market-movers now push around definite upper and lower range marks. As a result of that, the bears will be expected to build on a sudden price reversal breaking downward past the $0.40 lower range line for confirmation and safe move while looking for a bearish direction.


XRP/BTC Price Analysis
It is still apparent that the market trading weight between XRP; as the base-crypto and, BTC; as the counter-crypto features in a range-bound moving outlook until the present. Meanwhile, the trading chart gives it to the counter-crypto as still having stronger stand pairing with the base-crypto as there have continually being a show of lower-lows below the sell signal line of the 14-day SMA. The 50-day SMA indicator is located over the smaller SMA. The stochastic Oscillators are seemingly attempting to cross the hairs around range 40. That suggests that the featuring of lower lows is not yet over.
Remember, all trading carries risk. Past performance is no guarantee of future results.