Crypto
Top low market cap coins to watch – CNBC Crypto List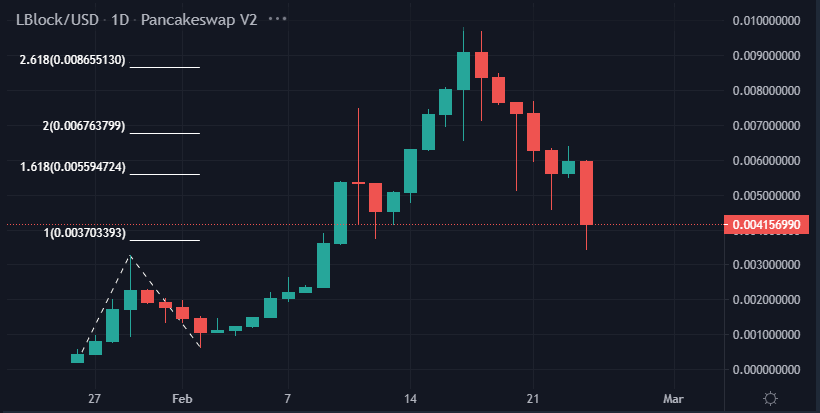 The confirmed news of Russia invading Ukraine has caused a sell-off in the stock market and risk on assets such as Bitcoin and altcoins.
Both financial asset classes, stocks and crypto have always recovered from panic selling – for example after the 2020 covid crash just under two years ago, the S&P 500 made a new all-time high and Bitcoin went on a rally from $4,000 once the dust settled, to $69,000.
BTC is now trading at $35,000, and the total crypto market capitalization (market cap) $1.5 trillion. Past performance is not an indication of future results, but if history repeats this could be a good time to invest and 'buy the dip'.
CNBC's top low market cap coins
CNBC TV have released in their cryptocurrency market insight section a list of its five best low market cap coins to watch. It includes four coins ranked between #100 and #400 on Coinmarketcap.com.
Rounding out the list, the lowest market cap coin on their list is Lucky Block (LBLOCK) which Coinmarketcap ranks just inside the top 3000 crypto coins at #2914. CNBC point out the Lucky Block crypto lottery project's token surpassed a market cap of $100 million within days of launch on decentralized exchange Pancakeswap.
Still a cheap low market cap coin, LBLOCK's fully diluted market cap is currently $400k, having corrected from just under $1 billion before news of the Ukraine Russia crisis worsening.
This may be a good time to invest in Lucky Block as it appears to have flipped its previous all-time high at $0.0032 as support, putting in a strong bounce and candle wick on the daily chart before that, front-run by interested buyers.
That also lines up with a 100% Fibonacci extension of the current impulse move which started in early February from under $0.001. That Fib level is currently at $0.0037 (see graph above). That confluence of different technical indicators could mean the bottom is in.
The new crypto project also has fundamental updates on its roadmap scheduled for March, including the beta release of its app, its first crypto lottery jackpot prize draw, and yesterday announced an upgrade to its transaction tax and news of its NFTs launch.
LBLOCK has been among the top low market cap coins of 2022, up over 20x in a month since launch and trending on crypto Reddit, with room to grow and make high gains.
CNBC's other top low market cap coins included the Nervos network's native coin (ticker CKB), Ergo (ERG), Nano's native token (XNO) and FLUX. Read the full article 'Crypto coins not on top 100 list but worth keeping on radar' on CNBCTV18.com.
Use a dollar cost averaging strategy (DCA) to gradually scale into a position during these periods of high volatility, as it's hard to time the exact bottom in crypto markets. Low market cap coins are particularly volatile as they have lower liquidity.
Cryptocurrency markets are highly volatile and your investments are at risk.