Crypto
Top 5 Up and Coming Cryptocurrencies to Buy Now June 2021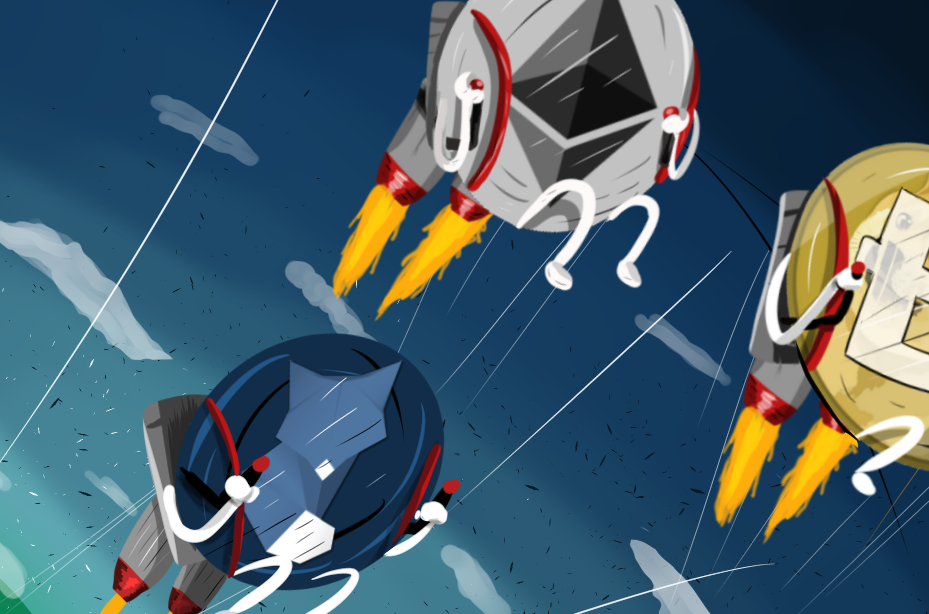 Cryptocurrencies have sparked a new financial movement, and everyone wants in on them. But investors struggle to find the best cryptocurrencies to buy now especially in a market slump.
According to a listing by crypto aggregator website Coinmarketcap, there are over 10,000 digital assets, and the number keeps growing by the day. With so many digital assets in the crypto market right now, it can be hard to decide which one to invest in.
This article explores the best five up-and-coming cryptocurrencies you can buy right now for as little as a dollar in some cases.
1. BitTorrent (BTT)
#1 on our list of the best cryptocurrencies to buy now is a popular decentralized peer-to-peer (P2P) file sharing and torrent platform BitTorrent. The crypto protocol was originally founded in 2001 and later acquired by Tron CEO Justin Sun in 2018.
BitTorrent has seen remarkable growth since the launch of its native cryptocurrency token BTT in 2019. Looking at its core niche, BitTorrent aims to disrupt the legacy entertainment industry by allowing content creators to connect directly with their user base.
Under the Tron leadership, BitTorrent has also launched several paid services, including its popular BitTorrent Client. In addition, users can tap into virtual private network (VPN) capabilities and ad-free browsing.
Looking into its performance in the last six months, BTT has grown, with the broader crypto market surging to an all-time high of $0.01068 during the April crypto bull run.
It has since plunged with other digital assets to $0.003604, showing a 4.40% deficit on the 24hr trading chart. With a market valuation of over $2 billion, BitTorrent ranks forty-eight on the chart. A crypto bull run could see BitTorrent turn out a good deal.
2. PancakeSwap (CAKE)
Our next top 5 up-and-coming cryptocurrencies to buy now is Binance-owned decentralized exchange (DEX) platform PancakeSwap. PancakeSwap is an automated market maker (AMM) that enables users to provide liquidity via farming and earning fees in return. In addition, PancakeSwap also allows users to exchange tokens on its decentralized finance (DeFi) platform.
Shunning the traditional order books, PancakeSwap uses liquidity pools which allow users to stake liquidity and earn tokens in return.
These digital tokens can then be used to reclaim their pool share, alongside the trading fees. In addition, PancakeSwap also enables users to farm additional tokens called CAKE and SYRUP.
Riding on the crypto boom of April, PancakeSwap's digital token CAKE traded as high as $43.92, increasing by 25.04% within a month.
However, it has since seen a major market correction and trades at $17.27 with a 5.11% deficit on the 24hr trading chart. With a $3 billion market valuation, PancakeSwap may be one small-cap crypto asset you need to watch out for.
3. Elrond (EGLD)
Third, on our list is blockchain protocol Elrond with the ticker symbol EGLD. Elrond aims to provide fast transaction speeds with sharding technology. Beniamin and Lucian Mincu say that Elrond is a technology ecosystem for the rapidly emerging Web 3.0. It offers smart contract execution, processes transactions faster with 15,000 throughputs, and takes less than a dollar in fees.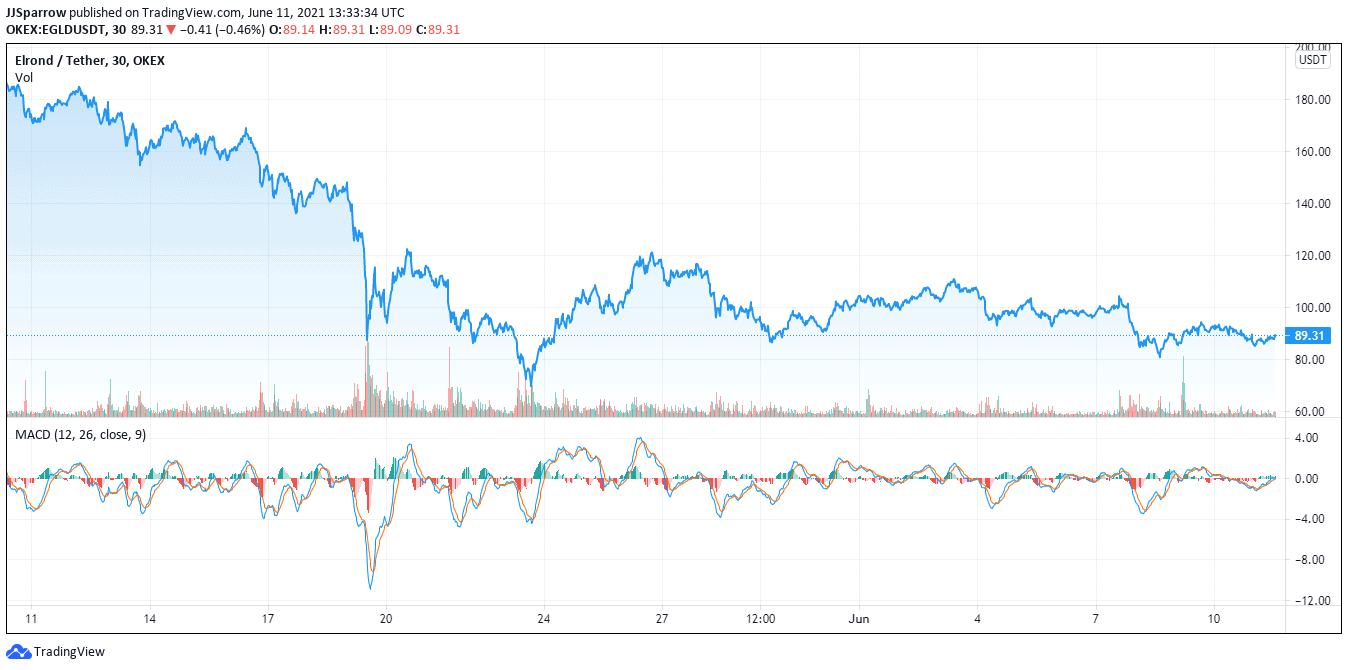 Elrond's EGLD token has surged in the last six months following the Bitcoin rally to $65,000 in mid-April. Surging to ATH of $243.40 on April 12, EGLD broke its previous record of $206 ATH increasing 15% under a month.
EGLD has not fared any better as large-cap crypto-asset Bitcoin has plunged, followed regulatory crackdown in China and questions surrounding its energy consumption. Going into a major market correction, EGLD has slumped 4.5% on the 24hr trading chart at $88.13. With the project gaining wide adoption and having a presence in 29 countries, Elrond's current dip justifies its inclusion as the best cryptocurrencies to buy now for investors.
4. Siacoin (SC)
Moving away from the norm, Siacoin is the native utility token of the Sia blockchain network, which is a distributed, decentralized cloud storage platform.
Sia is a secure network where users can buy unused storage space on the cloud. Following the decentralized ethos, Sia uses smart contracts to enforce the trades that occur on its platform.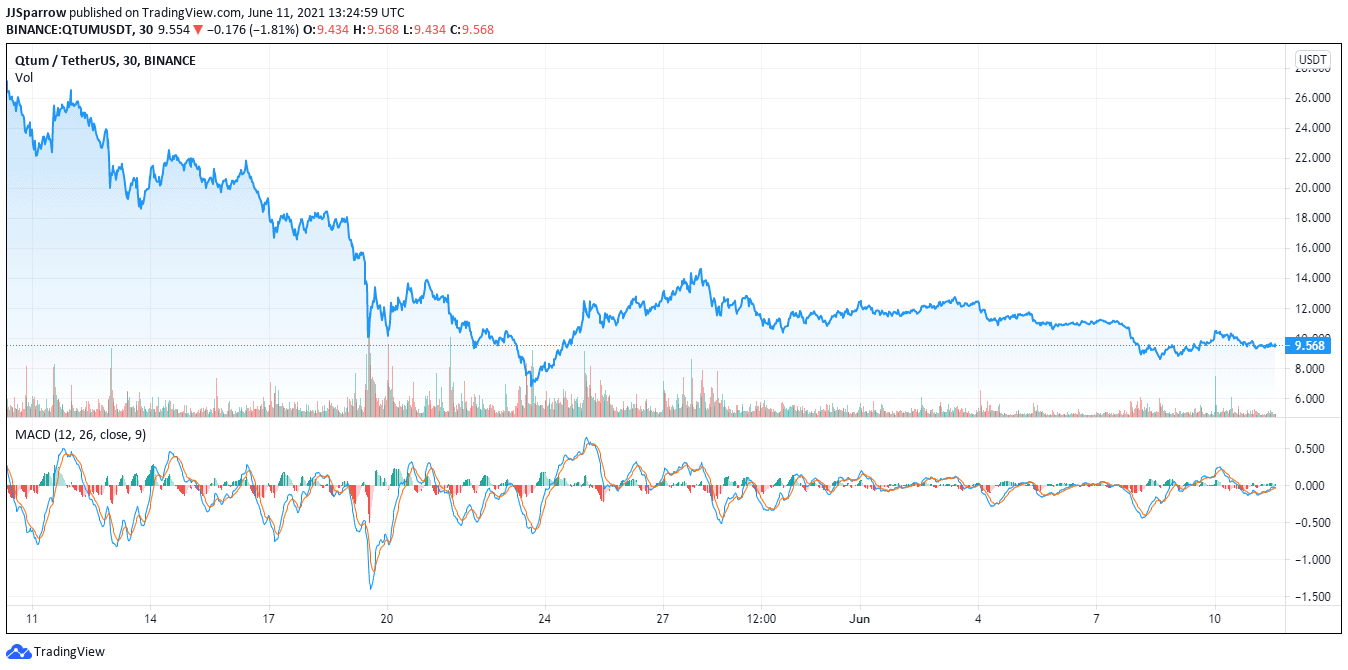 According to the crypto protocol, they aim to become the "backbone storage layer of the internet." Competing with centralized storage solutions like Google, Sia offers competitive rates. In addition, the growing adoption of decentralization in enterprise operations has seen Sia benefit during the crypto boom.
Breaking its previous record of $0.0295, Sia surged to $0.0982 in Jan. 2018. Although it has not been able to reclaim its former glory, Sia is a crypto protocol to be watched and trades at $0.01602 on the 24hr trading chart.
5. Qtum (QTUM)
Our final crypto project on our best cryptocurrencies to buy now is Qtum (pronounced "quantum").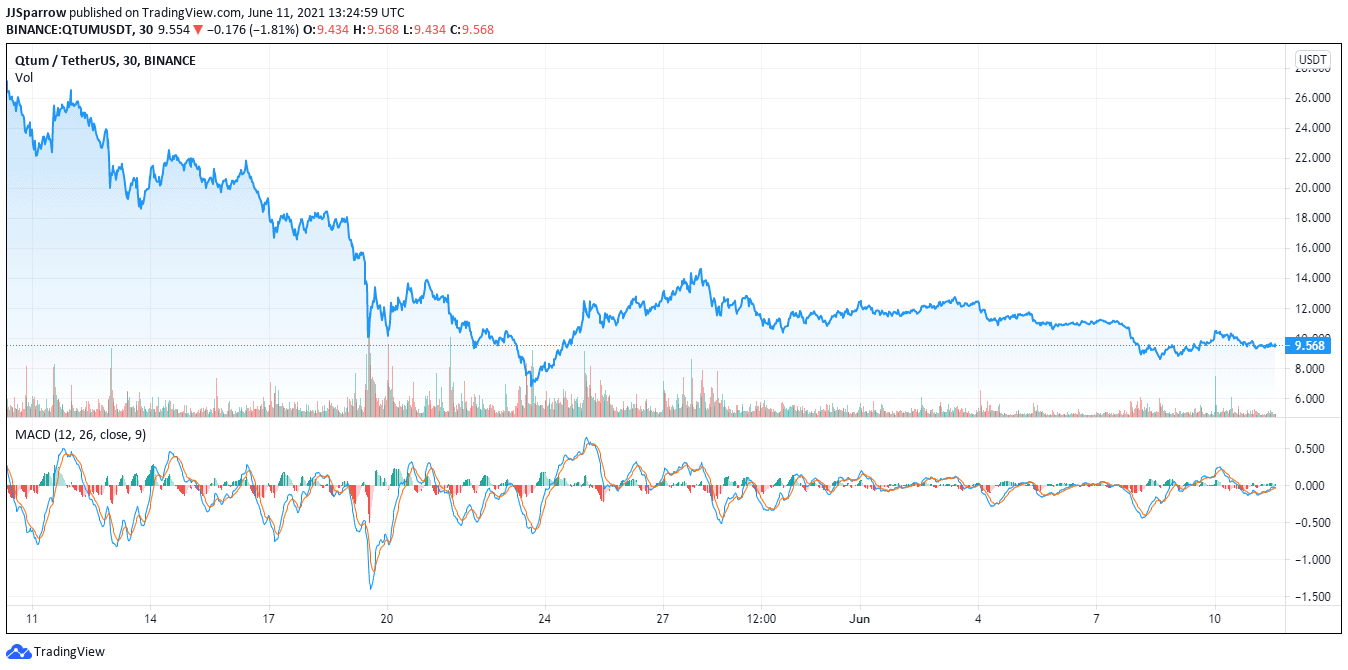 This blockchain platform aims wants to harness the technological strengths of Bitcoin and Ethereum. Leveraging Bitcoin's transaction model and Etherum's smart contract functionality, Qtum aims to solve the blockchain trilemma of interoperability, scalability, and security by enabling smart contracts to use in real-life applications.
Following the crypto boom in the past months, QTUM has surged to $27.09 in May, and even though it takes at $9.49, the crypto protocol still has a lot to prove in the long term.
Looking to buy or trade Crypto now? Invest at eToro!
75% of retail investor accounts lose money when trading CFDs with this provider