Crypto
Therapy for "crypto addiction" is now provided in upscale recovery facilities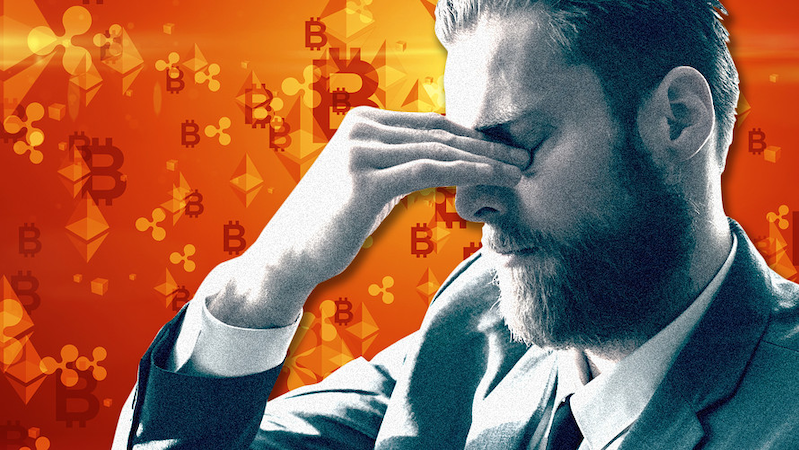 Mike once invested as much as $240,000 per week in cryptocurrency exchanges. He had sporadic sleep and would get up early to check the stock market and the value of his wealth. Before long-haul flights, he remarked, "I'd start to sweat because I wouldn't be able to use the internet."
Mike works for a business that handles transactions involving central bank digital currency (CBDC). He wished to stay anonymous because he was concerned that his remarks may cause investors to react negatively. He did not want to use his true name.
He claims that towards the middle of 2022, he entered a "downward spiral," at which point he made the decision to get help. The answer was a four-week stay at The Balance, a sizable rehabilitation facility on the Spanish island of Majorca that employs dozens of people.
Mike had his own butler and cook and resided in a secluded villa. The cost of his treatment, which included counselling as well as massages, yoga, and bike rides, was almost $74,000 in all.
The Balance, which was established in Zurich and has locations in London and Majorca, touts itself as a "safe zone facilitating health and fulfillment." The landing page features images of a seaside property, a spa, and raving reviews from previous customers. The center provides a list of therapy options for eating disorders, post-traumatic stress disorder, depression, burnout, and anxiety.
Mike claims it assisted him in "weaning off crypto."
A trading frenzy in digital currencies has been sparked by the pandemic and a turbulent cryptocurrency market. Luxury rehab facilities are already springing up all over the place, promising to treat "crypto addiction."
The majority of the rehab facilities appear to be of the upscale sort and include care for eating disorders, alcoholism, and other addictions in addition to drug addiction. It appears that treatment facilities and  addiction clinics are now reporting receiving hundreds of inquiries on the subject over the previous two years, according to a study conducted by BBC.
However, addiction specialists question if cryptocurrency trading calls for such a costly intervention.
According to Anna Lembke, chief of the Stanford Addiction Medicine Dual Diagnosis Clinic and professor of psychiatry at Stanford University:
The therapy for crypto addiction is identical to that for other addictions.
Since it is a biopsychosocial disease, a biopsychosocial intervention is necessary, which may include medication, individual and group psychotherapy, modifying one's environment and routines, or introducing healthier alternative activities.
But sometimes the price is not worth it, she continues. She and other experts contend that it should be handled similarly to gambling.
According to Lia Nower, head of the Centre for Gambling Studies at the Rutgers School of Social Work, "They are making money off desperate people." Your symptoms and course of treatment will be much the same whether you're "addicted" to gambling on sports, cryptocurrencies, or the lottery.
Managing withdrawal symptoms, which may include anxiety, anger, and insomnia, should be the first step in treating crypto addiction, Ms. Lembke added.
For at least four weeks, refrain from seeing or trading cryptocurrencies to allow the brain a chance to reset reward circuits. The symptoms of [withdrawal] are typically temporary and can be controlled with emotional support and assurances that they will eventually disappear.
Long-term treatment would also incorporate better financial investing options, she continued.
Being a new industry, treating cryptocurrency addiction does not yet call for any particular credentials. The majority of the therapists and administrators of treatment facilities interviewed in the BBC study identified themselves as licensed counselors for mental health and a range of addictions, including alcoholism, drug misuse, gaming, and gambling.
The centers contend that while crypto addiction shares many similarities with gambling, it is also more addictive for several reasons, including the fact that it is more thrilling due to its extreme volatility and the fact that trades can occur at any time.
Excitement and enjoyment
Crypto trading has an aura of legitimacy, but gambling is more frequently discussed as being potentially harmful, according to Jan Geber, CEO of Zurich-based treatment facility Paracelsus Recovery.
Because crypto trading is mainly unregulated, he continues, seeking assistance is also less frequent. In contrast, several nations demand that gambling establishments and casinos proactively identify and ban problem gamblers or offer guidance and management tools on how to deal with addiction symptoms. The symptoms of a crypto addiction are also very similar.
Those who are addicted to cryptocurrency trading grow to depend on it more and more for "excitement and enjoyment in their lives," according to Aaron Sternlicht, who along with his wife, Lin, runs the New York-based Family Addiction Specialist.
He claims red flags include dishonesty, theft, debt, trouble unwinding or falling asleep, constant attention to cryptocurrency values, and trading at the expense of friendships, possibilities for a profession, and educational opportunities.
For instance, Mike looked into therapy alternatives when his girlfriend dumped him in 2022 after learning about the huge losses he had accrued during the crypto slump.
In order to convince her spouse that she was having an affair, Gerri, a 32-year-old Londoner whose name has been altered at her request, admitted to going on "trading benders" that lasted three to four days.
It was made worse by the fact that I was unable to explain to him what I was truly doing. Despite the fact that the truth is now public, our relationship never entirely recovered.
In 2014, Gerri began purchasing cryptocurrency. In the beginning, she only put down a few thousand dollars, but by the end, she could stake hundreds of thousands of dollars on a single trade.
She eventually turned to Paracelsus Recovery, whose four to six-week programs for crypto addiction cost $105,000 every week. The hourly rate for online treatment sessions is $650. She continued, describing the strategy as a "360-degree approach" to mental health, and adding that treatment includes blood tests, individualized nutrition programs, yoga, acupuncture, and medication when necessary.
Cryptocurrency addicts frequently require assistance in establishing boundaries, such as time limitations for trading and stop-loss limits, orders with instructions to close out a position when it hits a specific price, to protect investors from disproportionate losses.
Kerry, who also wished to remain anonymous, claimed that while he initially sought treatment at Paracelsus Recovery due to a dependency on sleeping pills, the true cause was actually crypto addiction.
The 50-year-old claims that during the Covid-19 lockout, he developed a crypto trading addiction.
"We were all by ourselves. Trading in secret was made simple by this." – he says.
I didn't realize how irregular I had become until my children came to stay with me over Christmas. They were concerned that I was sleeping for days on end because I was antagonistic towards them. But none of us ever considered that my trading was a contributing factor to the issue.
According to Abdullah Boulad, chief executive officer and founder of The Balance, the therapists at the facility assist clients in creating these boundaries. He did, however, emphasize that they do not demand that customers give up using their gadgets altogether or go cold turkey.
Experts mention also that other disorders are frequently used to identify crypto addiction.
Related
Fight Out (FGHT) – Move to Earn in the Metaverse
CertiK audited & CoinSniper KYC Verified
Early Stage Presale Live Now
Earn Free Crypto & Meet Fitness Goals
LBank Labs Project
Partnered with Transak, Block Media
Staking Rewards & Bonuses