Crypto
Tamadoge Overtakes Shiba Predator in Market Cap : Shiba Inu Next?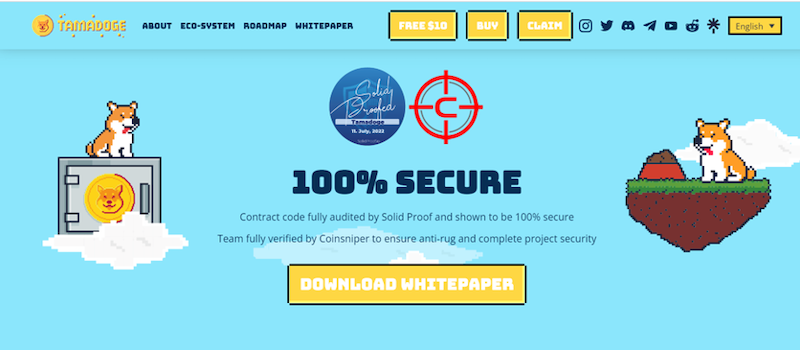 Only a few days after the token went live on the OKX exchange, Tamadoge managed to overtake the Shiba competitor, Shiba Predator, in less than a week. Currently standing strong at almost a 3x market cap than its $22M rival. 
Tamadoge underwent a presale that began on July 26 and has soon fostered excitement of becoming the next big meme coin, already surpassing many popular names such as Pitbull, Hoge Finance and Doge Dash.
Only yesterday, on 2nd Oct, the coin managed to almost double in price, blessing the wallets of investors who grabbed the early opportunity of investing in the presale. Currently, the token is trading at $0.067, with a market cap of over $65 million. 
What is Shiba Predator?
Tamadoge overtook Shiba Predator only recently and is only continuing to increase in rank- surpassing many other recognisable meme coins. As of today, Shiba Predator is trading at $0.00000003815 with a fully diluted market cap of $38 million. 
So, what is Shiba Predator? And why did it fail to attract investors- being around for much more than its competition? 
The credibility of a token can very well be understood from the intention behind its inception. Memecoins in general don't have any inherent utility, and are more often than not, a product of hype meant to make quick gains. 
The same reasoning can be extended to Shiba Predator. The coin was created to flip Shiba Inu- a coin that got notably popular this year, and by itself, tried to flip Dogecoin. But remained unsuccessful. Even the website says ONE GOAL – FLIP SHIB MARKETCAP. 
At the same time, the project does not fail to make exaggerated claims such as redistributing wealth and restoring balance in the financial system, while being nothing but a mere pump and dump coin. As apparent as it is, there's no surprise why the coin couldn't attract investors and get them to trust it with their money. 
Contrastingly, Tamadoge challenges this exact narrative. Bringing the much-needed utility, otherwise absent in the memecoin economy. 
What is Tamadoge?
Tamadoge has set a course to change the way investors perceive memecoins. Departing from the common scheme of pump and dump, Tamadoge introduces a play-to-earn game, NFTs and a metaverse. All powered with their official token TAMA. 
In the play-to-earn game, players can breed, raise, care for and trade their Tamadoge pets, and eventually battle them against other players. Each Tamadoge pet is tokenized as an NFT and they will be available in a basic form initially, and players can then level them up with toys, food and cosmetics. Available to purchase in the Tamadoge store.
As the pets hit new levels, or win battles, the player's ranking increases on the leaderboard, making them entitled to a larger portion of the reward pool. Along with this, Tamadoge also features a metaverse called the Tamaverse, where players will be able to see their pets and interact with them in real time. 
Tamadoge also has a deflationary mechanism for its tokens, with a 5% burn rate for internal Tamadoge transactions. This helps keep the price of the token high and maintains scarcity. Additionally, 30% of the tokens are directed towards marketing, while 65% are sent towards the P2E prize pool. 
With so much utility for its users, Tamadoge really comes out to be the better alternative when compared to most other memecoins. 
Investors can buy Tamadoge at OKX exchange and the worldwide users who aren't able to access CEX version can buy the crypto at DEX version of OKX exchange.
However, is it good enough to take over them? Well, let's compare it with the 2nd most popular memecoin: Shiba Inu.
Will Tamadoge Overtake Shiba Inu?
Shiba Inu is the second biggest memecoin by market cap, behind only Dogecoin- the number one memecoin popularly endorsed by Elon Musk. 
As of today, the coin is trading at $0.00001095 with a market cap of $6 billion and has maintained a steady performance throughout the week. In comparison to TAMA, the coin is more than 90 times larger by market cap, as per the latest figures. While the contrast in the supply of both coins is extremely enthralling. 
So far, Tamadoge has grown by almost 4x in less than a week, and this trajectory is indicative of the highs it could achieve. Shibu Inu, for example, managed to increase by almost 15 folds last year, in just about a month. And it wouldn't be surprising for Tamadoge to trace a similar pattern, given the attention and hype around it. 
Even if the token manages to increase another 15 fold, it would only need a 6X increase to surpass Shiba Inu. And while this is a decent estimate, it might be realistic only on a long enough time scale. Yes, TAMA won't cross Shiba Inu in a few weeks, but the coin definitely holds the potential to switch positions in a matter of months. Given, it continues to receive such deserving attention. 
Inventors interested in being part of an exciting high-growth project can unquestionably consider Tamadoge to be their ideal investment. 
Read More
Tamadoge – Play to Earn Meme Coin
Earn TAMA in Battles With Doge Pets
Maximum Supply of 2 Bn, Token Burn
Now Listed on OKX, Bitmart, Uniswap
Upcoming Listings on LBank, MEXC