Crypto
IOTA Price Up 20% on Week at $1.25 – Where to Buy IOTA

IOTA price holds up well on the weekly chart – that's reason enough to buy the coin right there. Registering a 20% appreciation on the week, it is currently priced at $1.25, which is no mean feat.
It follows news of the Internet-0f-Things-focused crypto network hitting a major milestone in delivering on its 'Nectar' (de)centralisation promises – more on that below.
Meanwhile, the sellers are out in force today after Elon Musk dropped one of his tweet bombs, dragging the entire market lower.  This time it was a broken heart emoji tweet referencing bitcoin that did the damage. Some might be forgiven for thinking that Musk now has it in for bitcoin, notwithstanding Tesla's ownership of circa $1.5 billion of the crypto asset.
But despite the Musk-downer on the market going into the weekend when it has recently been at its most fragile, IOTA is a relative outperformer, keeping its 24-hour loss in single figures so far.
The current sell-off presents a buy the dip opportunity, but timing might be affected by the weekend effect and what bitcoin is doing, so you may want to leave IOTA on your watchlist and action on Sunday evening. Just saying! Alternatively if taking a longer-term view, then IOTA is a strong buy given how far below its historic high it is still trading.
IOTA is getting itself out of a tangle
Yesterday (2 June)  the IOTA Foundation announced the release of its IOTA 2.0 Development Network, dubbed Nectar.
For anyone who has been following IOTA from the beginning, knows that its Tangle technology is not strictly a blockchain but is instead based on Directed Acyclic Graph technology. DAG allows for much faster transactions speeds but is arguably not as secure as blockchain. Nectar moves the network closer to a decentralised architecture.
Described as a "decentralised, feeless, permissionless, and secure Tangle protocol", it goes some way towards answering the criticisms it has faced over the years for the centralised role of the 'Coordinator' feature at the heart of transaction verification.
As mentioned at the top, IOTA is designed with internet-of-things connected devices in mind, which should give it a future-proof addressable market.
IOTA price: Strength above 100-day moving average
IOTA market participants have responded enthusiastically to the network upgrade news. Yesterday the price was up 9% at $1.36 (see chart immediately below) but has since pulled back in sympathy with the general decline in the crypto market today (see second chart).
The price is currently priced at 1.25 as the market looks to try a recovery from the latest Musk missive. Well above its 100-day moving average, IOTA is a buy.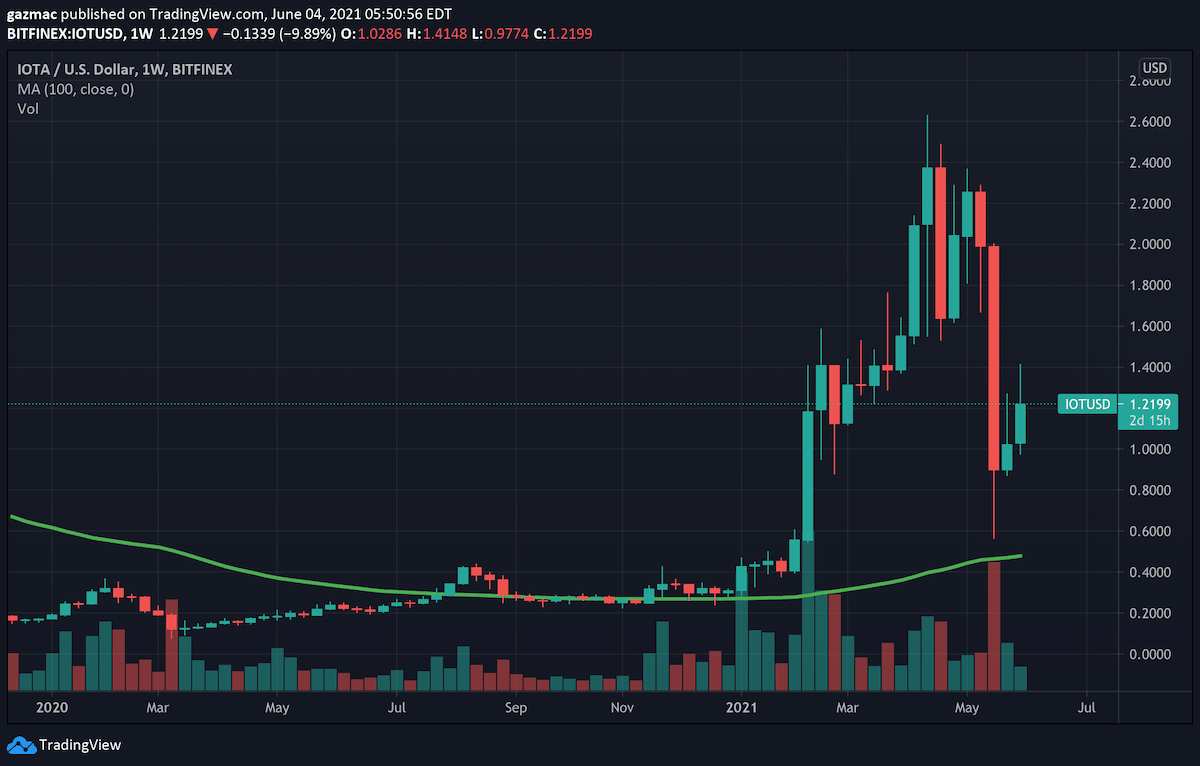 Where to buy IOTA
Buy IOTA on eToro
The native token of the MIOTA project – IOTA – can be bought on  investment platform eToro. The platform has no deposit charge and has no trading fees. However, there is a spread to pay on the difference between the buy and sell price in a market. eToro lists 23 cryptocurrencies at this time, and recently added four new coins to its tally.
The platform has a large international  footprint with more than 15 million customer around the world. Its reputation for ease of use and strong community and educational offering explains its growing popularity.
etoro also has a self-custody crypto wallet, so you can easily get your coins off the platform, if for example you want to transfer an asset such as ethereum in order to take part in swap transactions on Uniswap, another coin also available on eToro.
Buy IOTA on Binance
Binance lists more than 500 cryptocurrencies – although this depends on region – and is one of the largest crypto exchanges.
It charges between 0.02% and 0.10% in trading fees, while buying crypto directly with a credit card debit card will incur a charge of between 3% to 4.5%.
If you use the exchange token – BNB – to pay your trading fees, then you receive a 25% reduction. BNB is one of the best-performing coins this year and is now ranked fourth.