Crypto
How can I use Bitcoin to buy food?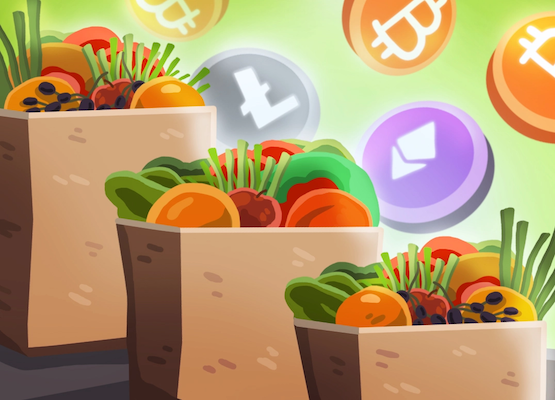 Users have the option of paying their bills with cryptocurrencies directly from their wallet or through a payment processor that serves as an online gateway for cryptocurrency payments.
Bitcoin is a flexible financial asset that has the capacity to function as both money and a commodity. For instance, while El Salvador declared Bitcoin legal cash in 2021, the Securities and Exchange Commission (SEC) categorizes BTC as a commodity.
Does this thereafter qualify BTC as a store of value or a means of exchange? It is capable of both — On the one hand, BTC can be used as an inflationary hedge by treasuries. On the other hand, it might also be used in retail to cover recurring costs.
The first individual to use Bitcoin for a commercial transaction was Laszlo Hanyecz, who spent 10,000 BTC for two pizzas, or the Bitcoin pizza as it is known in the crypto world, almost ten years ago. However, in the modern world, no one truly needs so many BTC to purchase food. Why? Because consumers now understand that they should only pay what a product is actually worth, neither more nor less.
This post will go through many methods for utilizing Bitcoin to purchase food. This post will outline all available alternatives to effectively use cryptocurrency for eating out, from cryptocurrency debit cards and gift cards to cryptocurrency food delivery platforms.
Several methods to use cryptocurrencies to purchase food
Various methods exist for using Bitcoin to purchase food, depending on the user's requirements and preferences. The next three methods for paying for daily expenses like groceries with cryptocurrency are as follows:
Bitcoin cards
Similar to traditional debit or credit cards, cryptocurrency cards enable customers to make purchases using their cryptocurrency. They essentially take cryptocurrency out of the user's wallet and send fiat to the retailer. It makes it easier for customers to pay their regular bills with cryptocurrency without having to search for businesses that accept the currency. Additionally, several crypto card providers also include mobile apps that enable customers to spend Bitcoin anywhere.
Bitcoin gift cards
Customers can use bitcoins to buy gift cards for a number of meal delivery businesses. Then, they can use the redeemed gift cards to make online payment for their meals. Gift cards for bitcoin make it easier for customers to buy and sell goods from participating merchants. Gift cards are sold by a variety of businesses, making it simple for customers to choose one that meets their needs.
Website for delivering meals using cryptocurrency
Cryptocurrency food delivery services are linked to numerous restaurants and bars in many different areas. It functions similarly to a website or app for ordering takeout from nearby restaurants and paying the platform with cryptocurrency as opposed to the takeout vendor.
How can I use a crypto card to buy food?
Bitcoin transactions on a variety of real-world goods are made possible using crypto cards. However, customers must do certain actions in order to use Bitcoin on a crypto card for necessities like food: The first step is to create a merchant account and a digital wallet. Given that there are numerous crypto cards on the market. Therefore, it is best to do your homework and pick an alternative that fits both your needs and your budget. Download the app to register, then satisfy the Know Your Customer (KYC) requirements. The user can quickly access their funds and make transactions online or in-person by registering for the card and opening an account with the supplier. Users have the option to schedule regular transfers into their accounts in addition to setting a spending restriction.
Customers may instantly convert cryptocurrency to fiat using almost all crypto cards. But how can one pick a crypto card that would serve their needs? While some clients would like cash-back incentives, others might favor offering services.
Since many cards function as purchase reward cards that let users get money back on purchases, they are great for frequent shoppers. After that, some cards also permit account holders to earn interest on cryptocurrency holdings.
Furthermore, be sure to verify multi-coin functionality when using a crypto card's usefulness. The ideal crypto card would support a variety of cryptocurrencies, including Bitcoin (BTC) and Ether (ETH) and  Litecoin (LTC) etc.
BlockFi and Gemini are two businesses that provide cryptocurrency credit cards. More businesses, such as Coinbase, Crypto.com, BlockCard, Binance Visa Card, and BitPay, however, now provide cryptocurrency debit cards.
How do I use a crypto gift card to buy food?
Crypto gift cards can be redeemed at any participating restaurant or retail location because they are filled with digital currency. They provide users a simple option to spend their cryptocurrencies in a comfortable fashion and are easy to use. The following are some starting points: select a website that has a solid reputation and satisfied users. Along with ratings, keep an eye out for shops that are offering deals before signing up to purchase a gift card from your preferred service provider. The customer then receives their cryptocurrency gift cards. The recipient can use the gift to pay for products and services by visiting the same website, entering the information on the card, and making payment.
While retailers like Amazon and Walmart do not directly accept Bitcoin, they do accept cryptocurrency gift card services. After that, consumers can utilize Bitrefill to immediately pay for food in BTC using a cryptocurrency gift card. This website provides over 1600 products across 170 nations with gift cards, prepaid cell refills, and Bitcoin Lightning Network services.
How do I use a crypto portal for meal delivery?
Using cryptocurrency gift cards and meal delivery services are similar in many ways. Both link customers to businesses that accept payments made using cryptocurrency. The next several stages are also very similar: picking a platform, joining up, and funding the wallet. Customers also have a variety of alternatives when using a crypto-delivery platform to order food. Both options make crypto delivery portals convenient for making crypto payments, from simply ordering food with cryptocurrency to buying groceries on credit and then paying those goods off with bitcoin.
An alternate method of buying meals with cryptocurrencies is through websites like Hungry? in the UK, Sprigz in the US, BiteMyCoin in Australia, and Eats24/7 in Canada that let customers place orders with restaurants directly and pay for them with cryptocurrencies.
Should you use cryptocurrency to buy food?
Whether or not consumers should utilize cryptocurrency payments to purchase food is a gray area. Nevertheless, there are advantages and disadvantages to utilizing cryptocurrencies to buy groceries.
On the plus side, most cryptocurrency transactions go quickly and simply. The ability to trace the history of transactions is made possible by the fact that cryptocurrency transactions are stored on the blockchain. Additionally, crypto payments do away with the necessity for middlemen like banks by connecting the client and the merchant directly.
On the other hand, cryptocurrency payments carry the risk of financial loss due to hacking. The digital asset class is also very volatile, which could make it challenging to conduct everyday transactions. Therefore, people should conduct their homework before adopting cryptocurrencies as a form of payment for everyday spending.
Related
Dash 2 Trade – High Potential Presale
Active Presale Live Now – dash2trade.com
Native Token of Crypto Signals Ecosystem
KYC Verified & Audited