Crypto
Ethereum Price Prediction: ETH/USD Reverses Against Its Uptrend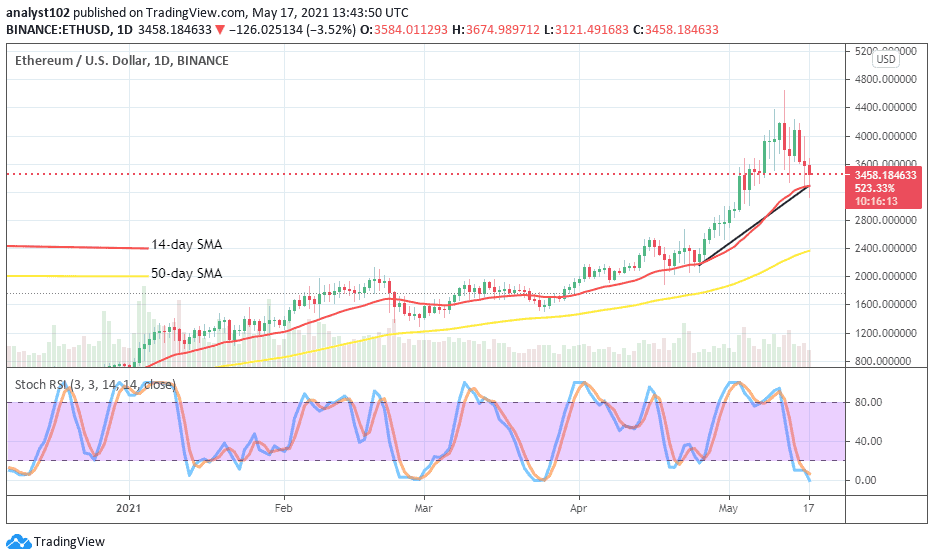 Ethereum Price Prediction – May 17
As the ETH/USD market worth got hiked to touch slightly past the high level of $4,500, the crypto's point shortly started to make different reversal movements toward a lower support near above of the $3,000 level. The market present loss stands at about -4.18% at the value of $3,434.
ETH/USD Market
Key Levels:
Resistance levels: $3,800, $4,200, $4,600
Support levels: $3,000, $2,800, $2,600
ETH/USD – Daily Chart
The ETH/USD is in another correctional moving outlook at higher trading zones of between $3,000 and $4,500 levels. On May 12, the base crypto lost momentum after hitting resistance around the higher level earlier mentioned. The critical point demarcating the further tangible downs from upsides is at $3,200 line. And, the bullish trend-line and the 14-day SMA trend-line are placed around the market value to affirm its crucial stance in the trade. The 50-day SMA indicator is located at a lower $2,400 support level. The stochastic Oscillators are down in the oversold region very lightly pointing to the south to suggest a less-active downward pressure is ongoing in the crypto-trading activities.

Will the ETH/USD trade get a rebound quickly?
The ETH/USD market is at the first stage that its rebounding attempts are expected not to encounter many difficulties in the next sessions. However, bulls needed to build up muscles against any further breaking down of the market level of $3,200 during a volatile session. A slight breakdown and, quick rebounding efforts are most likely going to occur around the line mentioned earlier on.
Seeing a further falling pressure of the market beyond, means bears are to hold strong the crypto-market below the current immediate resistance point of $3,800. Variant price rejections around that level will put bears to gaining the market's control for profits for a short time. Therefore, holding a sell position long appears not technically ideal as the Stochastic Oscillators have dipped into the oversold region.


ETH/BTC Price Analysis
On the scale of comparison, the ETH/USD chart has depicted that the base crypto is still taking a lead presently in the crypto-trade space as paired with its counter trading instrument. As of writing, the market seems to be experiencing a pit stop at a higher trading level of B0.08000. Nevertheless, the trend is bullish as the 14-day SMA trend-line and the bullish trend-line are closely located pointing towards the north below the trading higher level the base tool has pushed against its counter instrument. The 50-day SMA is located far underneath them. The Stochastic Oscillators have unwittingly moved down slightly touching into the oversold region. That could probably be that the ETH is getting set to re-launch a position for its next upward movement against BTC; the chief countering cryptocurrency.